CUP: Johnson Dominates, Comes Up Short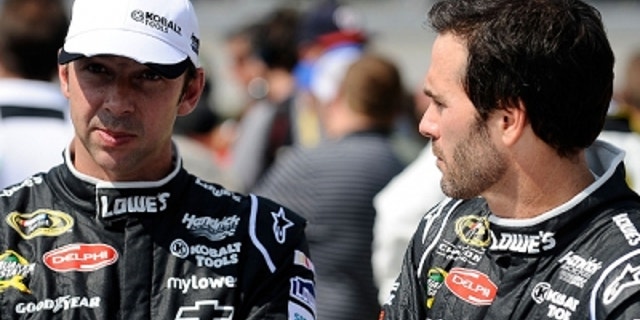 For most of Sunday's GEICO 400 at Chicagoland Speedway, Jimmie Johnson put an old-fashioned butt-kicking on the field in the first round of the Chase for the Sprint Cup.
It was exactly the type of whup-ass that Johnson used to win 20 of the first 80 Chase races dating back to 2004 and, of course, his five NASCAR Sprint Cup championships.
But then the unexpected happened.
After leading 171 of the first 230 laps around the 1.5-mile track, Johnson came down for his final pit stop, his No. 48 Hendrick Motorsports Chevrolet getting four tires and fuel, turning the lead over to second-place Brad Keselowski.
One lap later, Keselowski pitted his No. 2 Penske Racing Dodge, again for four tires and fuel. But Keselowski came out ahead of Johnson and once the round of green-flag stops cycled through, it was the Blue Deuce out front and Johnson second, which is how it ended.
Johnson looked like he was going to deliver a statement; instead he had to settle for second place, which is decidedly un-48-like. But that's the reality of what happened. In fact, over the final 30 laps, Keselowski pulled away and Johnson was unable to close on the Penske Dodge
Afterwards, Johnson downplayed his disappointment.
"Overcame some adversity through our practice sessions, sat on pole, led a lot of laps today, fell some on pit road, race strategy, you name it, we had a very, very solid day," Johnson said. "Of course we would have loved to have won the race, but we'll take second and go on. This is a fantastic way to start the Chase."
Johnson, a veteran of the Chase wars dating back to his battle with Kurt Busch in the inaugural running of the format in 2004, said he just wanted to get a solid start to this year's title battle.
"There's not a lot of pressure now, and the first race is really an opportunity to separate the field," said Johnson. "You hope that happens if you have a good run. I saw a lot of Chase contenders going down a lap. I saw the 11 (Denny Hamlin) rolling around out of gas at the end.
"My philosophy is just to stay in the hunt," said Johnson. "Let's get midway through this Chase and see who's where and what to do. Brad definitely was loose coming into the race, and he should be. He should be confident on these bigger tracks. He's been very strong on them over the last four or five months, and they did a good job today."
And you can bet that over the final nine races, you'll see the 48 and the 2 battling a lot more, perhaps even settling the championship between them.
Tom Jensen is the Editor in Chief of SPEED.com, Senior NASCAR Editor at RACER and a contributing Editor for TruckSeries.com. You can follow him online at twitter.com/tomjensen100.