CUP: Harvick Glides To Unlimited Win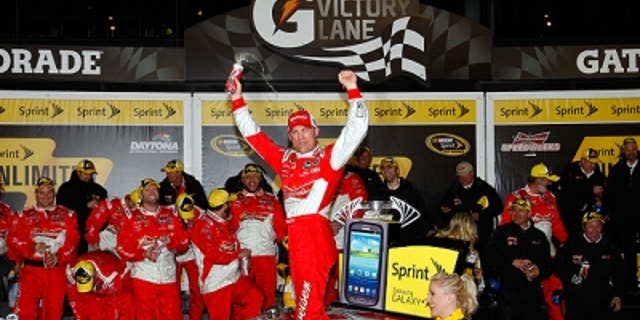 On a cold Daytona Beach night that ushered in another season of Sprint Cup racing, Kevin Harvick held the hot hand.
Harvick took charge of the event in the 25-lap second segment and held the lead at the start of the night's final run, setting up his 20-lap march to victory, his third in five years in this non-point race.
Following at the night's end were Greg Biffle, Joey Logano, Tony Stewart and Matt Kenseth.
Harvick swept across the line to lead Biffle, Logano, Stewart and Martin Truex Jr. at the end of the second of three segments.
Stewart's car ran well throughout the segment despite the fact he made contact with Dale Earnhardt Jr. late in the run.
The race's first segment – 30 laps – ended with only 12 of the 19 cars that started the event still on the track.
A nine-car crash on the 16th lap took out Mark Martin, Jimmie Johnson, Jeff Gordon, Kyle Busch, Denny Hamlin and Kurt Busch, making the Sprint Unlimited suddenly Quite Limited.
The crash was sparked near the front of the pack as Stewart cut left in front of Marcos Ambrose. Ambrose tapped Stewart's car. Both regained control, but several cars behind them slowed and wound up in trouble, hitting the wall and/or each other.
"Once someone bobbles, we're all on top of each other, so everyone's braking point and reaction time is going to be different," Hamlin said. "And then guys start getting run over. That was kind of the case."
Kyle Busch said a lot of learning time was lost. "We're all learning and trying to figure out how we can pass with these things and what we have to do to make moves and everything," he said.
Kenseth led most of the segment, but Stewart, obviously recovered from his early-race problem, charged late in the 30-lap run to lead at its conclusion.
Mike Hembree is NASCAR Editor for SPEED.com and has been covering motorsports for 31 years. He is a six-time winner of the National Motorsports Press Association Writer of the Year Award.