CUP: Gordon Still Battling Deficit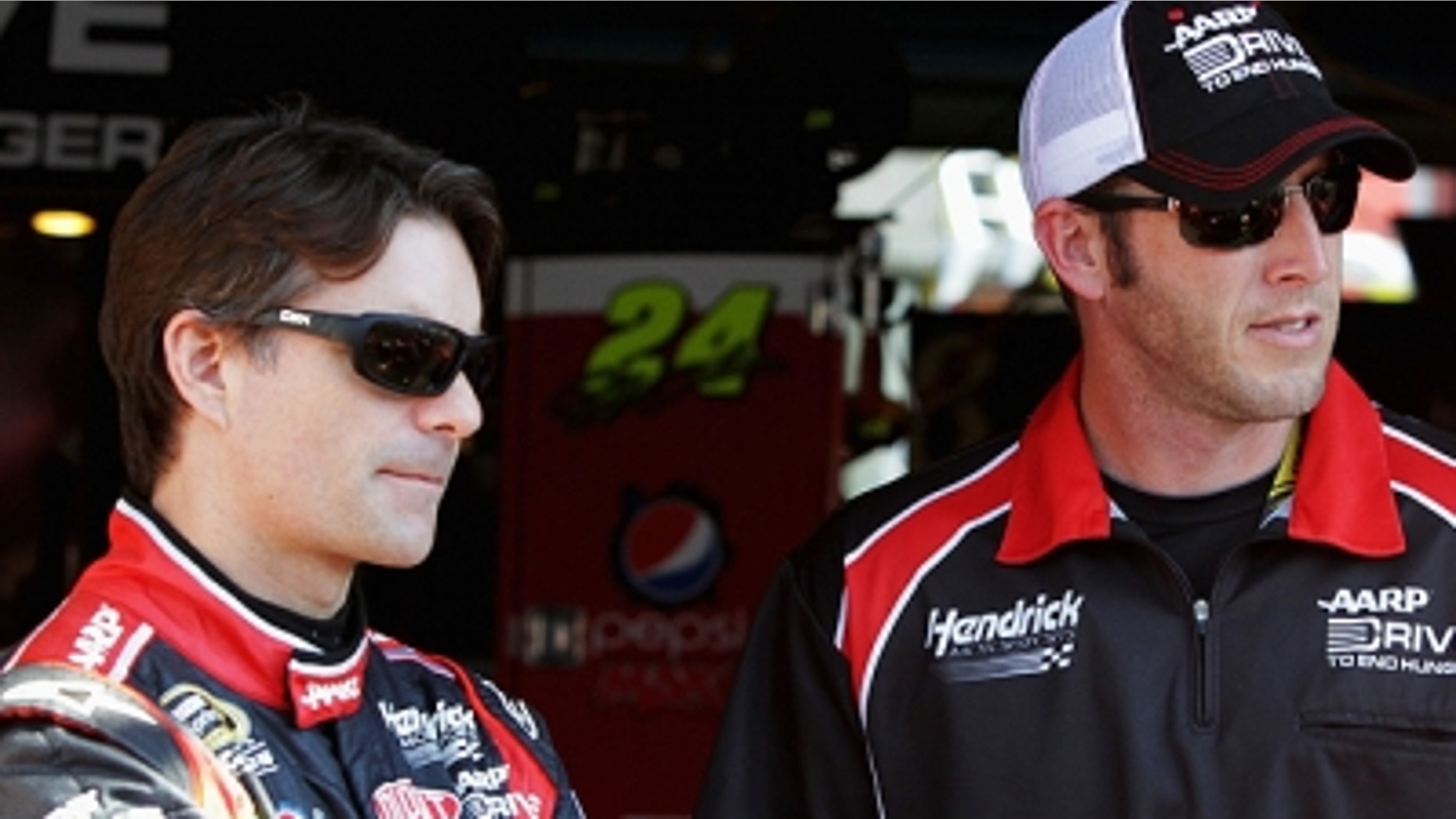 No one, not even point leader Brad Keselowski, has a better average finish over the past two Chase races than Jeff Gordon.
Gordon was third at New Hampshire and second at Dover.
Yet the point standings are not a fun place for Gordon entering Sunday's fourth race in the Chase, the Good Sam Roadside Assistance 500 at Talladega Superspeedway.
Thanks to a wild-card start and a 35th-place finish in the Chase opener at Chicagoland, Gordon is 10th in the standings, 48 points behind leader Brad Keselowski.
He's not totally out of the race for the championship, but he's not totally in it, either. If he's going to contend, Sunday would be an excellent time to make a move. And Talladega, with its potential for wacky accidents, could be the place.
"That's the difference between where I'm at in points and where the guys in the top five are in points," Gordon said. "They're sitting there going, 'OK, we can't afford to get caught up in the big one,' and I'm sitting there going, 'I can't afford to not be leading laps, running up front and not win this race.'
"So, we've been saying from the beginning right after Chicago, where we had our trouble, that we've got to put solid finishes together, go for wins, and we're going to need a little bit of help from the other guys having issues. This is a weekend that anything can happen.
"This place can either be your best friend or your worst enemy."
One of the problems at Talladega, Gordon said, is that different drivers are on different game plans.
"The problem is trying to get everybody on the same page," he said. "Everybody has different agendas. You've got guys that are outside the Chase that say, 'It's all pretty much about wins here.' You've got some guys that don't like restrictor-plate racing and say, 'I just want to survive.'
"You've got guys in the top five in points that just want to come out of here with a top 10. Then you've got guys like myself that are in the Chase but further back and say, 'What do we have to lose? We've got to come out of here with a strong finish or our season is done.' So, to me, I'd rather be in this position and not be overthinking it and just in there to win and be aggressive."
Although some drivers choose to roll around at the back of the pack for the majority of the laps at Talladega then make a late-race move, Gordon said that probably is not a proper approach for him this Sunday.
"For us, I just don't really see it being an option," he said. "Now, that can change when they drop the green flag. You never know. It depends where we qualify. It depends on a lot of things and what's happening out there in the field. Coming into this weekend and knowing where we're at in points, what approach and plan we've had in the past couple of races here that have not worked, we're going to try to switch it up a little bit and see how that goes."
Mike Hembree is NASCAR Editor for SPEED.com and has been covering motorsports for 30 years. He is a six-time winner of the National Motorsports Press Association Writer of the Year Award.