CUP: Ford Drivers Adjust Targets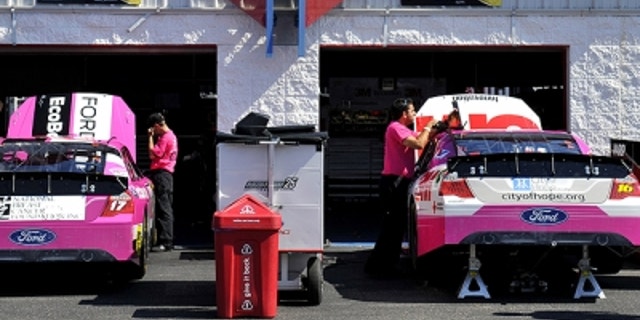 Ford drivers Matt Kenseth and Greg Biffle have had to do some recalibrating after miserable starts to the Chase, but, as both said this week, there's still plenty to race for.
"You're not out of it until you're mathematically out of it," Kenseth said. "Seven races is still a lot, obviously. It feels like we're racing for a top-10 spot probably more so than the first spot right now, but I think we'll get through this weekend and then look at it again.
"If there isn't a big swing in the points in our favor, a very big swing, realistically you're probably out of the championship hunt. But there are still seven races left with this (Sunday's race at Talladega) being one of them, and I think Kansas is going to be kind of a wild card, as well, so hopefully we can run here like we ran in the first three plate races, get up front and lead some laps, and have a shot at a win."
Kenseth is 12th in Chase points, 72 behind leader Brad Keselowski. Biffle is 11th, 51 out of first. Biffle is only 19 points out of fifth place, however. And a top-10 finish in points is important because it puts the team on stage for the end-of-season awards banquet in Las Vegas.
"I feel we're racing for a top-five finish in the points," Biffle said. "We really want to get in the top five in points. Can we win the title? Sure. I mean, obviously we can, but the deck is kind of stacked against us.
"We've got a big hill to climb, but nobody here is saying that we're not going to try or we're not going to do it. We're going to have to try all we can to get in the top five.
"Look at the guys from 13th and back that aren't in the Chase – they're trying to win, too. Everybody shows up to win and do the best they can, so we're going to show up and do that, as well. I think that realistic target would be getting in the top five, and that would be pretty satisfactory if these guys continue to run like they're running because we still have to make up a fair amount of points to get there."
It's not simply about Biffle and Kenseth doing well; it's also about drivers in front of them having problems.
"I have to finish roughly seven spots in front of Keselowski for seven races straight to beat him," Biffle said. "So every race track we go to I've got to finish at least that far ahead of him from here to Homestead. Now, he could have a disastrous day and you leapfrog a bunch – maybe 25 points, which is three races worth – but you've still got four more races where you have to finish seven spots ahead of him – and then you're only even. That might seem like something that's pretty far out there, but we'll do our best and see what happens in the end."
Mike Hembree is NASCAR Editor for SPEED.com and has been covering motorsports for 30 years. He is a six-time winner of the National Motorsports Press Association Writer of the Year Award.