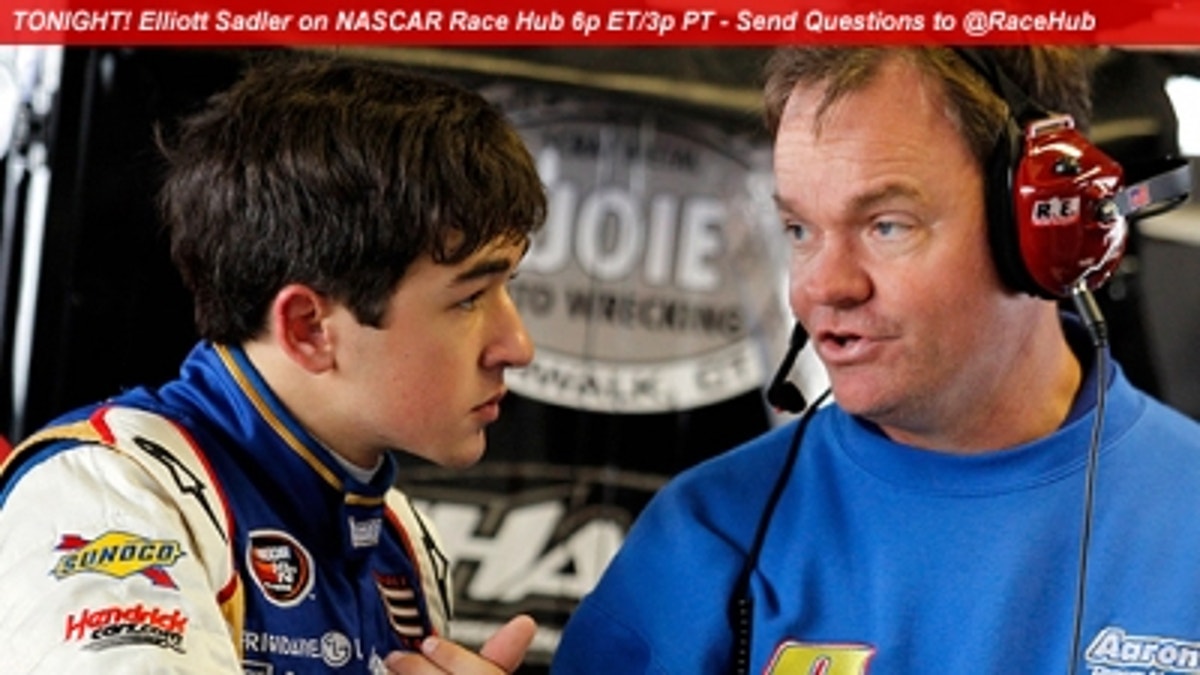 If you want some idea of the high regard Chase Elliott already is held in at Hendrick Motorsports, consider the following.
When Elliott came to SPEED's office for a recent round of interviews, the Hendrick public relations team sent an e-mail saying — and I'm paraphrasing here — "Please don't refer to Chase as a Hendrick Motorsports developmental driver. He is a Hendrick Motorsports driver, period."
That's high praise, indeed, given that Elliott is just 16 years old, even if his father is the legendary Bill Elliott. And there's also the fact that other four Hendrick Motorsports drivers are guys named Earnhardt, Gordon, Johnson and Kahne. Heady company to be included with, for sure, especially since Elliott and the team's four NASCAR Sprint Cup drivers are the only active racers Hendrick has under contract right now.
But Chase Elliott is clearly a young man very much on his way up the stock-car racing ladder.
With nine of 14 races in the books for the 2012 K&N Pro Series East season, Elliott is second behind Brett Moffitt in the points standings, with 330 points to Moffitt's 352. So far, Elliott has amassed two poles, one race victory, three top-five and six top-10 finishes. In the ARCA Series, Elliott has two top fives and three top 10s in only three starts.
Make no mistake about it, being aligned with the powerhouse Hendrick outfit gives Elliott resources other teams could only dream about. His K&N Pro East car is sponsored by Aaron's and his crew chief is Lance McGrew, who was Dale Earnhardt's NASCAR Sprint Cup crew chief.
In the end, though, the driver still has to get it done on the track and Elliott most certainly has been doing that.
Off the track, Elliott is equally impressive, with a maturity far beyond his age. And like all great racers, he isn't satisfied with how he's been racing, despite having a lot of success already.
"It's pretty good. Not as good as I'd like it to be at this point," Elliott said of his season so far. "Obviously, I want to be better. … We're going to have to step up our game, for sure. I'm going to have to do better behind the wheel. Try to really get the guys good information during practice, because the competition is tough."
As for the points, Elliott isn't focused on that as much as he is each individual race.
"I think it's a little too early to be worried about that (points)," he said. "There's a lot a lot of racing left. Lot of short tracks. Lot of unknowns."
Elliott can't race in any of NASCAR's top three division until he's 18 years old and even then might be too soon. As Joey Logano found out, moving up too far, too fast might not be in your best career interests, long term.
Asked about his future, Elliott was blunt.
"I have no idea," he said. "At this point, I'm kind of stuck in a box with my age. … In a box, but I don't think that's all bad. We get to go race at Phoenix, and Dover and Loudon and stuff. So I think if we kind of take that and I can learn, I think that will help me be better prepared for later on."
Elliott got hooked up with Hendrick following the 2010 Snowball Derby late-model race in Florida. There, NASCAR Sprint Cup team owner James Finch saw Elliott race and called Rick Hendrick and told him about Elliott.
By mid-February 2011, Elliott was under contract with Hendrick.
"I've always admired Bill's ability in a race car and how he handled himself with the fans," said team owner Rick Hendrick. "I see those same traits in Chase, with his natural driving talent and an awareness of what he needs to do away from the track to be successful. He comes from a great racing family, and it shows."
"It was really kind of cool starting to talk to Mr. Hendrick," said Elliott. "I kind of got a good relationship there and he's a real cool guy to be around. And right off the bat, he wanted to do something."
Elliott insisted there's no pressure on him to potentially be the next new Sprint Cup driver at Hendrick Motorsports.
"I don't think so," he said. "To me, just do my best, have fun with it. Race these next couple years and see where it goes. That's all you can ask for."
And it's an awful lot more than most young men his age could ever envision.
Tom Jensen is the Editor in Chief of SPEED.com, Senior NASCAR Editor at RACER and a contributing Editor for TruckSeries.com. You can follow him online at twitter.com/tomjensen100.