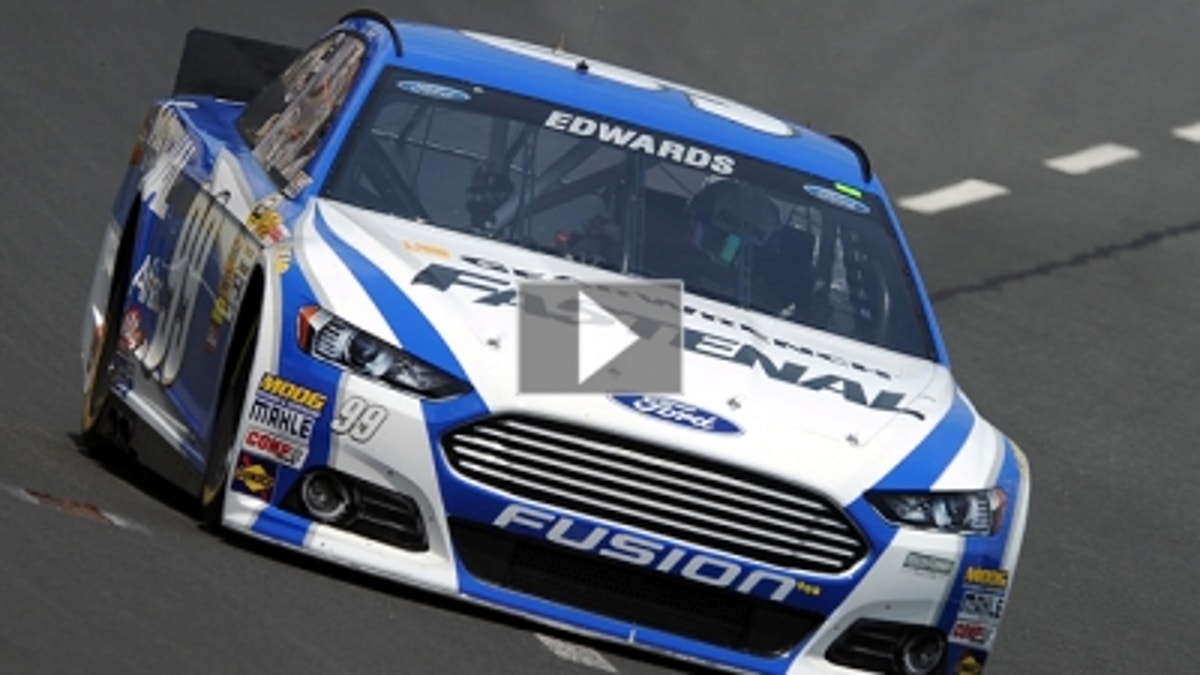 document.write($AllStarArticleAdContent);
In a wacky qualifying session that saw cars flying onto pit road at more than 155 miles per hour, Carl Edwards had the hot hand Friday night, winning the pole for Saturday's Sprint All-Star Race at Charlotte Motor Speedway.
The qualifying session consisted of three high-speed laps and a four-tire pit stop. The pit stops were seriously different from those during regular races as drivers were not limited as to the speed they could run on pit road before or after the stop. So drivers dropped off the track banking onto pit road at speeds of around 155 mph and roared to the pit stall.
Some carried too much speed, sliding through the pit and beyond, costing extra seconds as teams pushed their cars into the pit box. Defending race champion Jimmie Johnson was among those who failed to stop in his pit box.
Edwards had a fast entry speed, a quick pit stop and good lap times on the track. His average speed was 145.556 miles per hour.
"This is really fun," Edwards said. "I vote we qualify like this at every track."
Edwards carried the name of the late Dick Trickle on his car. Trickle died of a self-inflicted gunshot wound Thursday. Jimmy Fennig, Edwards' crew chief, was Trickle's crew chief in 1989.
Several members of Edwards' team are Wisconsin natives, and, like Edwards, Trickle often raced with the number 99.
Dale Earnhardt Jr. put up a speed second to Edwards', but his No. 88 team left a lug nut loose and was hit with a five-second penalty, dropping him to 15th on the list.
Kurt Busch, who ran 157 mph entering pit road as the first driver in the qualifying session, will start alongside Edwards on the front row Saturday night.
Edwards described his run as "petrifying. All everyone was talking about was how fast Kurt Busch hit pit road in practice. I was pretty certain I would have to get pretty insane to beat that."
Following Edwards and Busch in the top five were Greg Biffle, Kyle Busch and Joey Logano.
In qualifying for Saturday's preliminary Sprint Showdown, Martin Truex Jr. led the way at 193.424 miles per hour. He and Jamie McMurray will start on the front row for the 40-lap race.
The first two finishers in the Showdown will advance to the All-Star Race.
Mike Hembree is NASCAR Editor for SPEED.com and has been covering motorsports for 31 years. He is a six-time winner of the National Motorsports Press Association Writer of the Year Award.