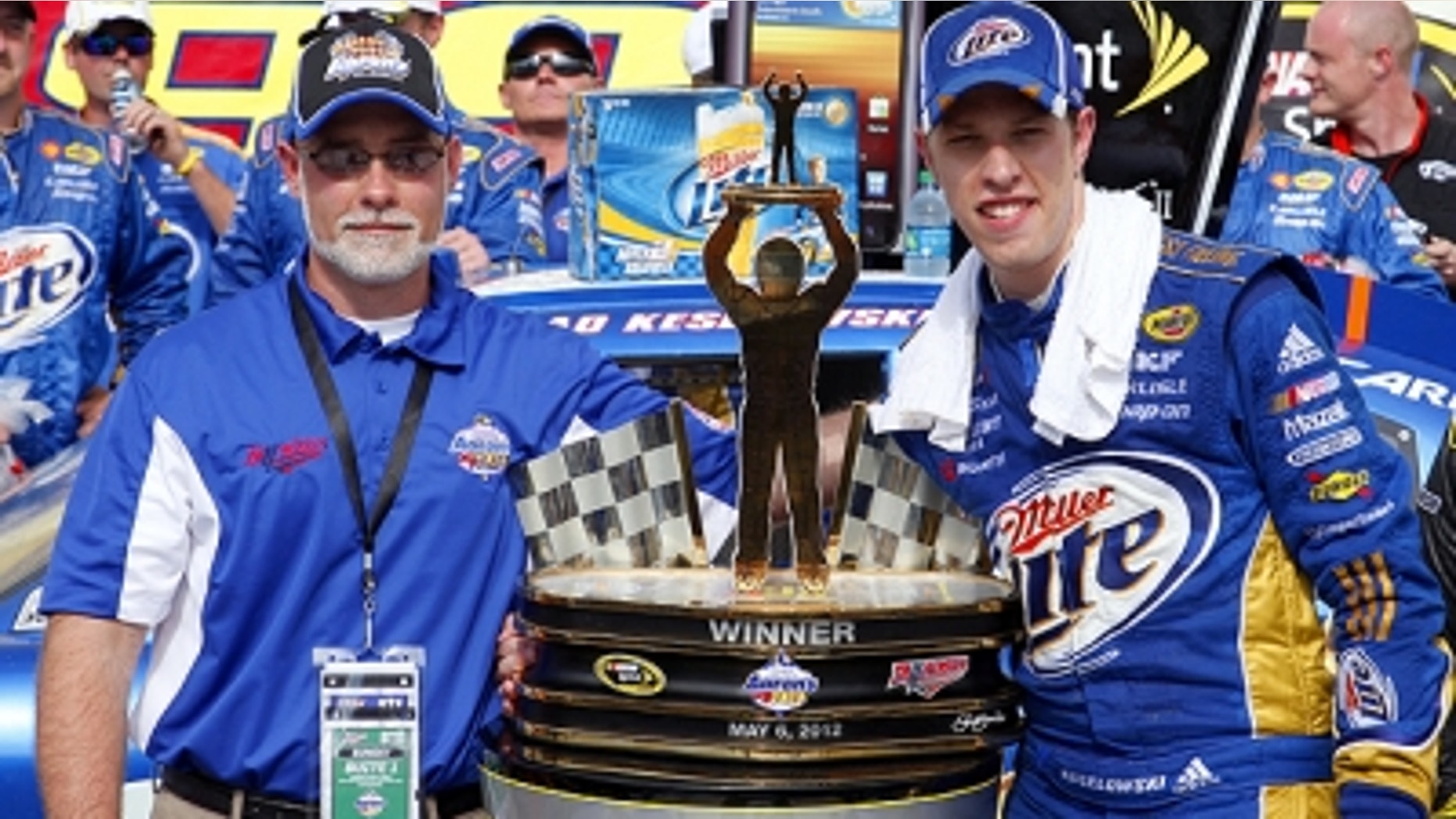 The general thinking is that victory moves at Talladega Superspeedway happen on the spur of the moment and are made in the twinkling of an eye.
Not so with the Brad Keselowski move that conquered Kyle Busch – no slouch in such situations – on the final lap of Sunday's Aaron's 499 Sprint Cup race at NASCAR's biggest track.
Keselowski said he had thought about and dreamed about and plotted such a move many times. And, to his credit, he made it work.
Keselowski and Busch had drafted past Ford teammates Matt Kenseth and Greg Biffle with two laps to go to make the decision one they would determine between themselves, and Keselowski ditched Busch from the draft in the third turn on the last lap before Busch had a chance to make a move of his own. Keselowski won by .304 of a second, leaving Busch frustrated.
"I had this move all worked up in my mind," Keselowski said. "Now everybody has seen it and they know it, but I'm glad I was able to get a win with it. I went into turn three high and pulled down off of Kyle and broke the tandem up. That allowed me to drive untouched to the checkered flag. It wasn't easy to convince myself to do that, but it was the right move."
Roger Penske, Keselowski's car owner, certainly thought so.
"If you look at the rules today, I would say he ran a perfect race," Penske said of Keselowski. "He ran the bottom lane all day. When it was time to go, he had it figured out. For me, that's what we hire these guys for, so it was a good job."
Penske called Keselowski a "world-class driver" and said he could give Penske Racing its long-sought first Sprint Cup championship.
Busch admitted that Keselowski made a smart move to win the race but said he was a little confused about how he lost the win.
"I just tried to keep pushing Brad to the front straightaway, where I knew I could make a move," Busch said. "Just, unfortunately, I must have screwed something up, because we got to turn three and came unhooked. Just gave the win away over there. Not sure exactly what happened. We definitely need to go back and figure out what it was."
Kenseth, who dominated the day by leading 73 of the 194 laps, said he lost the race by failing to stay connected with Biffle on the final restart.
"I was just too stupid, I guess, at the end to keep a win," Kenseth said. "I think we had the winning car. We just didn't have the winning driver. … As soon as we became clear, it wasn't long after that I looked forward for a second and when I looked back, Greg and I were separated. With nobody behind him, he lost his speed. Me not paying attention and keeping us hooked up just cost us a shot at the win."
Mike Hembree is NASCAR Editor for SPEED.com and has been covering motorsports for 30 years. He is a six-time winner of the National Motorsports Press Association Writer of the Year Award.