CUP: Could Kurt Busch Be This Year's Cinderella?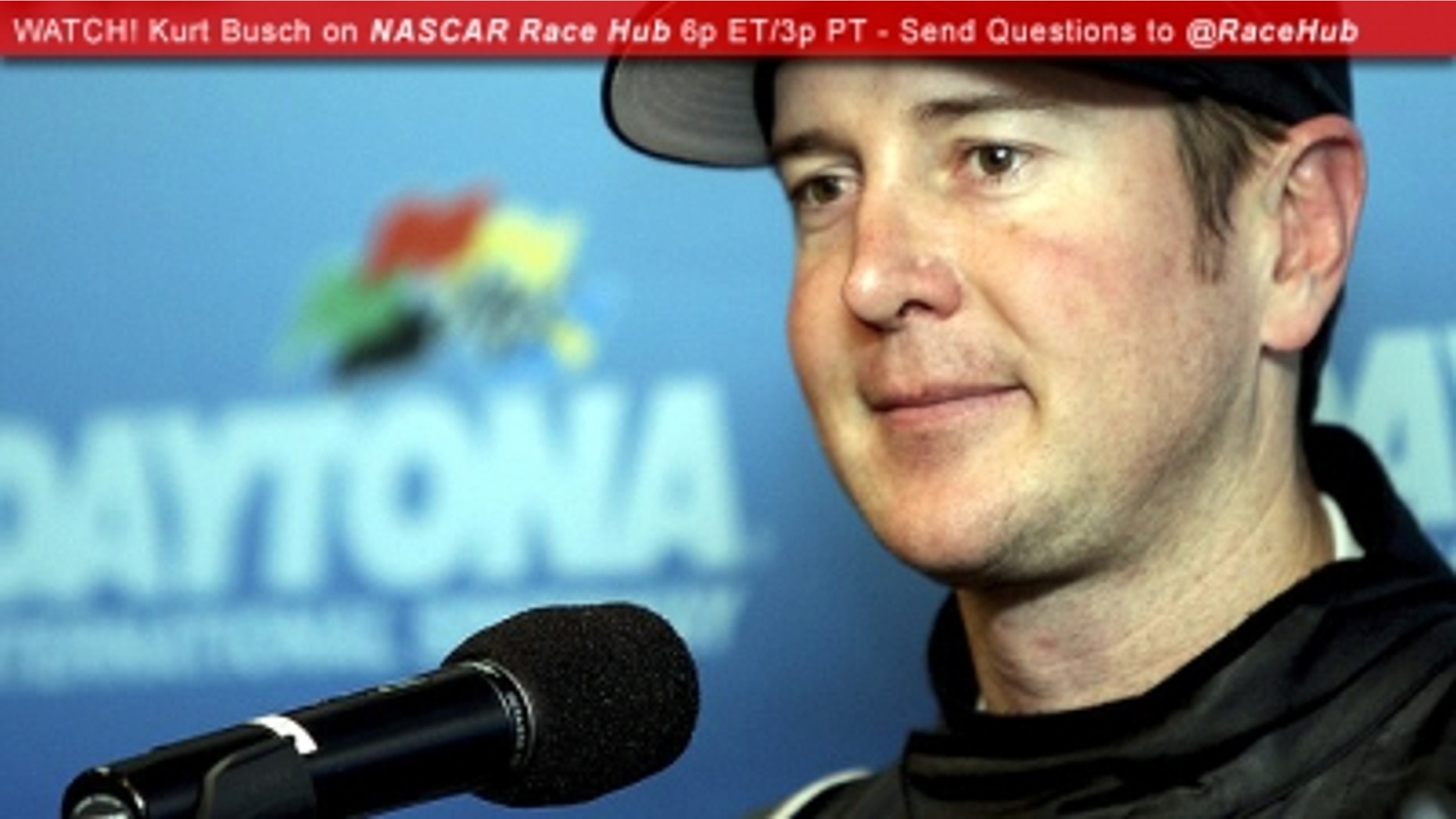 There is no mistaking the passion in Kurt Busch's eyes or the emotion in his voice when discussing the Daytona 500 and what it would mean to finally win it.
Busch, who will be a featured guest on SPEED's NASCAR Race Hub tonight at 6 p.m. ET, has come agonizingly close to winning the biggest race on the NASCAR Sprint Cup schedule three different times. He finished second to Michael Waltrip in 2003, second to Jeff Gordon in '05, and in '08, famously pushed his then-Penske Racing teammate Ryan Newman to victory.
This year, of course, is different than years past. After enduring the winter of his discontent, when a very public meltdown at Homestead-Miami Speedway led to his departure from Penske Racing, Busch is going to great lengths trying to re-establish himself as one of the sport's elite drivers. Spend five minutes with him and it's crystal clear that the 2004 NASCAR Sprint Cup champion is fired up, fit and focused.
Busch's high-profile exodus from Roger Penske's organization last year resulted in him moving to the one-car, 18-employee Phoenix Racing team for 2012, a deal that almost certainly will be one-year only. But Busch is determined to make the most of it with his new team and car owner James Finch.
What would it mean to him to win this Daytona 500?
"A huge achievement," Busch said Tuesday during an exclusive interview with SPEED.com. "... (Daytona) is a place that makes legends, it's the track that you have to respect the most. And to have won the Daytona 500, the spectacle that it is, it defines a driver's career sometimes. And to do it after this off-season could mean that much more."
Driving for a single-car team will be less of a problem at Daytona International Speedway than it will at, say, your typical 1.5-mile track. Busch won't be a longer shot to win this year's Super Bowl of stock-car racing than 2011 Daytona 500 winner Trevor Bayne was — after all, Bayne won last year's in only his second NASCAR Sprint Cup start, driving for a part-team that hadn't won a race in a decade. And he did it one day after he turned 20.
Busch, on the other hand, will be in a Hendrick Motorsports-built car, with a Hendrick engine and sponsorship from Hendrickcars.com for the Daytona 500. While that doesn't automatically elevate him to one of the favorites, it at least gives him a fighting chance. Especially at a restrictor-plate track.
Phoenix Racing won its only Sprint Cup race at Talladega Superspeedway in April 2009 with Brad Keselowski. Busch said the smaller teams have a better shot at success at Daytona and Talladega than they do elsewhere.
"With the rule changes, and the way the sport has evolved, that's why you're seeing Cinderella stories happen (at plate tracks) ," Busch said. "A cute line to say might be, you choose an underdog to be a favorite at Daytona and Talladega."
Busch said he his extremely grateful for the support Rick Hendrick has given him in the off-season. It has Hendrick who spoke to Finch and recommended Busch, saying he'd be a good choice as driver of the No. 51 Phoenix Racing Chevrolet.
"It's nice to have a buddy system in this garage area," said Busch. "And people stand up and put their arm around you sometimes when you need it most. And Rick has been a tremendous individual to me over the years and this is just beyond my expectations."
Hendrick, for his part, thinks Busch will be a good fit at Phoenix this year. "I'll tell you, I think — they're not going to surprise me — but he (Busch) has got something to prove, James has got something he wants to prove, and I think that car is going to run really well," Hendrick said.
Tom Jensen is the Editor in Chief of SPEED.com, Senior NASCAR Editor at RACER and a contributing Editor for TruckSeries.com. You can follow him online at twitter.com/tomjensen100.