CUP: Bowyer 'Crimson' For A Day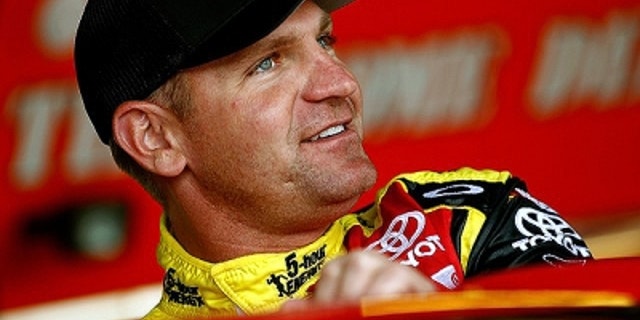 A Kansas native, Clint Bowyer is a University of Kansas sports fan through and through, but he's OK with the crimson University of Alabama car he'll be driving at Talladega Superspeedway Sunday.
The No. 15 Michael Waltrip Racing car will be wrapped in crimson and white colors in celebration of last season's national football championship won by Alabama. On its quarter-panels, the Toyota will carry the 14 years the Crimson Tide has won the national title.
The car no doubt will be a favorite of fans at Talladega Sunday, and it's no surprise that diecast models are available.
"I'm a pretty big KU fan," Bowyer said Tuesday. "I think everybody knows that. But the Alabama partnership came along with [sponsor] Aaron's, and the SEC partnership that they have after they had Alabama on it, and winning the national championship this year. Certainly [I'm] a KU fan, but respect all athletics and certainly respect what they've accomplished in the past years. It's going to be fun to have the Alabama colors for one day."
Bowyer has won the past two fall races at Talladega and figures to be in the mix again Sunday – if he can be in the right place at the right time.
"You have to have a car capable of doing it," Bowyer said. "You have to be as a driver in that situation to have that opportunity, and you have to have a little luck to see it play through. That is restrictor plate racing right there in a nutshell.
"It seems like if you get behind, you can be the best driver in the world with the fastest car. If the hole's not there, you can't make one. If they're three and trying four-wide in front of you and you've got a big head of steam coming, there is nothing can you do but checkup and fall back in line."
The tandem draft is expected to play a role again in Sunday's race, although perhaps a smaller one than in recent events.
"It is kind of a difficult situation, in my opinion, riding around there on your own," Bowyer said. "Obviously, as a race car driver, you want control all by yourself. But I kind of liked the teamwork and working with each other and getting the most out of each other and making a game plan, and working on it, perfecting it and seeing it play out at the end. It was pretty fun and gratifying for me."
Mike Hembree is NASCAR Editor for SPEED.com and has been covering motorsports for 30 years. He is a six-time winner of the National Motorsports Press Association Writer of the Year Award.