Cristiano Ronaldo, Lionel Messi Face Off in 'El Clasico'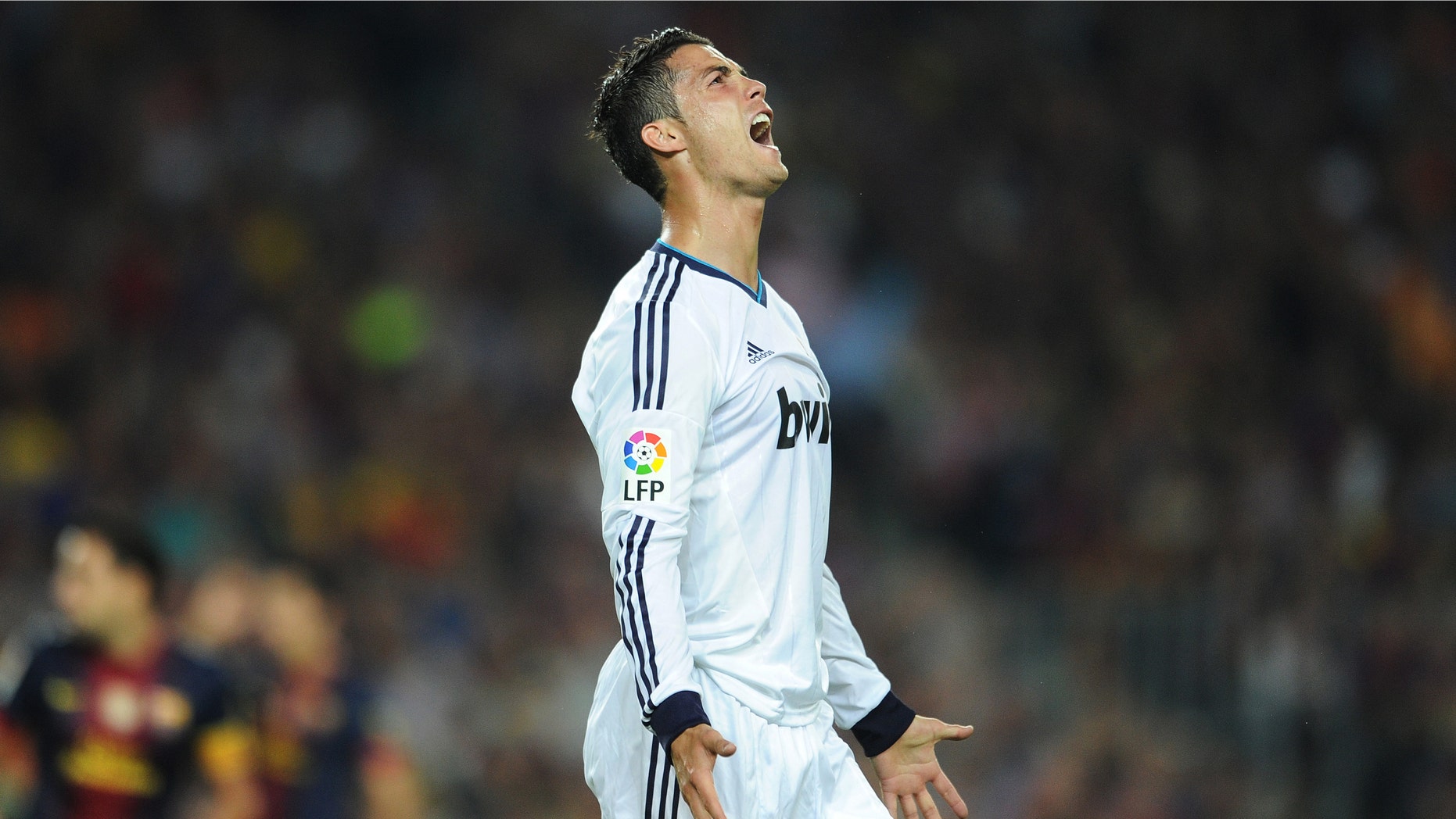 There are two ways to view Real Madrid's 2-2 draw in the El Clasico at Barcelona at Nou Camp on Sunday.
On one hand, the tie ended Barcelona's amazing streak of six consecutive wins to start the Spanish La Liga season.
On the other hand, the deadlock did nothing in helping cut into Real's huge deficit this early in the season.
Barcelona still remains atop the First Division, with a 6-0-1 record and 19 points, as the team from Madrid finds itself trailing by eight points with a rather ordinary 3-2-2 mark and 11 points. Atletico Madrid (5-0-1, 18) was in a position to tie Barca for the league lead in points if it defeated Malaga in a late Sunday encounter.
It should come as no surprise to any soccer fans as to who scored for both sides. The legendary Lionel Messi struck twice for Barca, as did Portuguese great Cristiano Ronaldo for Real in this entertaining confrontation.
Martin Montoya, who came on as a defensive substitute for the injured Dani Alves in the opening half, almost walked away as the unlikely hero for the hosts as he launched a long-range shot that bounded off the crossbar in the 89th minute.
After three minutes of stoppage time, the game was in the history books.
"We were superior at times but it was a very even game," Barcelona midfielder Sergio Busquets told Spanish television. "Everything is the way it was but with one match less."
Barca is not necessarily known for its defense, as Real demonstrated first half in front of a capacity crowd of 95,000 and the millions watching worldwide on TV or the internet.
Ronaldo ended a remarkable eight-day span in which he scored eight goals. Those spoils included a pair of hat-tricks in a 5-1 dismantling of Deportivo Coruna in league play last Sunday and in a 4-1 rout of Ajax (Netherlands) in the UEFA Champions League on Wednesday.
Not surprisingly, it was Ronaldo who opened the visitors' account as he converted a superb pass from Karim Benzema, who played the star a pass on the left side of the penalty area. Ronaldo did the rest, firing a shot past goalkeeper Victor Vales at the near post.
Ronaldo became the first player to find the back of the net in six successive Clasicos, breaking a record he held with former Chilean great Ivan Zamorano.
Several minutes later, Benzema almost doubled the lead as he clanged a shot off the post while he fell backwards, a goal that certainly would have put Barcelona on its heels.
The hosts, however, recovered and struck for the equalizer in the 31st minute on a Real defensive error. Messi got a hold of a deflected Pedro cross. Pepe could not control the ball and the Argentine international had a relatively easy tap-in from four yards.
It was the third consecutive Clasico, and the fifth time in history, that Messi and Ronaldo scored at least one goal.
A pretty remarkable achievement from opposing star players.
But those two were far from finished as they matched goals in the second half.
This time it was Messi's turn to go first. Xabi Alonso fouled a Barcelona player some 30 yards from the goal, although a jeering crowd wanted the referee to show the Real midfielder a second yellow card for the infraction. Messi stepped up and curled a beautiful shot over the defensive wall and past goalkeeper Iker Casillas into the upper corner for a 2-1 Barca lead in the 61st minute.
But only five minutes later, Ronaldo matched that score as Mesut Ozil set up the Portuguese international, who slotted it home into the corner.
As always, this Clasico is just another line in the story as there is never any real final word when these two teams clash.
The next time these two archrivals meet will be at Santiago Bernabeu, when Real hosts Barcelona on March 3. Real has plenty of time to make up that eight-point deficit, but the Spanish powerhouse squandered a wonderful opportunity to make it a bit closer on Sunday.