Cricket star Kieran Powell holds workout in hopes of transitioning to MLB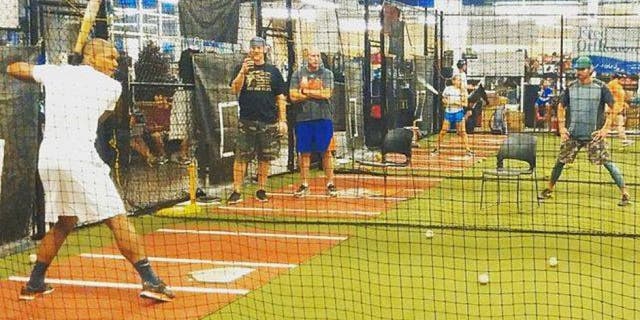 Kieran Powell is a breakout star in the sport of cricket, but he recently decided to turn his attention to baseball after a contract dispute with his club in the West Indies.
On Wednesday, Powell had another baseball workout and, according to the Houston Chronicle's Evan Drellich, "at least half" of MLB's 30 organizations were on-hand to watch.
MLB.com's Adam Berry passed along a photo of Powell at his workout, along with a list of the teams that were there:
Drellich states that Powell is considered a "longshot" to be appealing enough to warrant a contract from an MLB team, but it's pretty apparent at this point that quite a few clubs are intrigued by the 25-year-old.
He's already had workouts with the Milwaukee Brewers before this latest practice, too.
Wednesday's workout took place in Bradenton, Florida, and afterward Powell spoke to the New York Post about his day (as quoted by Mike Puma):
The concept of a cricket star moving on to conquer the baseball world is indeed rather interesting (and was essentially the plot of the 2014 Jon Hamm movie "Million Dollar Arm"). Will the story of Kieran Powell follow a similar path, or will he eventually return to cricket and abandon the idea of an MLB career? Time will tell, although it's already obvious he has the attention of several teams.