Cowboys safety raves about Ezekiel Elliott's impact on the defense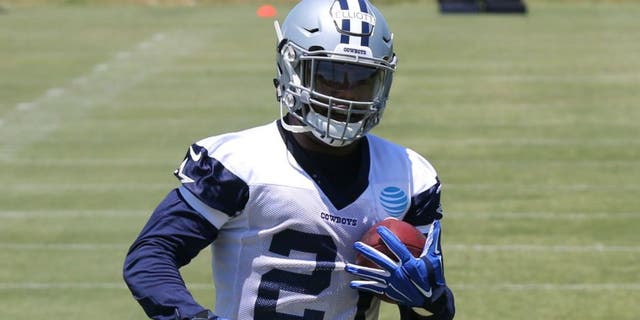 NEWYou can now listen to Fox News articles!
The Dallas Cowboys' offseason has been an absolute roller-coaster ride. The high points have come mainly on offense -- drafting Ezekiel Elliott, Tony Romo and Dez Bryant being healthy again -- but the lows have been crushing to the defense.
Presumed starting pass rushers Demarcus Lawrence and Randy Gregory have been suspended for the first four games of the season, and middle linebacker Rolando McClain will have to sit out the first 10 games after failing another drug test. That leaves three gaping holes at positions where the Cowboys were already fairly thin, which will certainly hurt their overall defense greatly.
Fortunately, they added their best "defender" on offense: Elliott. That may sound like a confusing statement, but it's not. Elliott is going to help Dallas' defense greatly with his ability to keep it off the field. Much like DeMarco Murray did in 2014, Elliott is going to carry the load, take pressure off of quarterback Tony Romo, and allow the defense to get plenty of rest throughout games.
"He's definitely a three-tool player that can just play on every single down," safety Barry Church said on Sirius XM NFL Radio. "And it helps out the defense a lot. It takes up our play downs by a lot. That also happened in 2014 when we had DeMarco Murray. He was punishing defenses and we were three-and-out here, three-and-out there, and we were fresh in the fourth quarter. That's how we won all of our games, by getting takeaways in the fourth quarter, but that was because we were fresh.
Church is looking forward to the Cowboys returning to their form of 2014, when they won 12 games and nearly reached the NFC Championship game.
"Hopefully, we can get back to that same formula, where we're just grounding and pounding people and then we're just coming in there and cleaning things up," he said. "So we'll see what happens, but he has all the talent in the world."
The selection of Elliott was a bit surprising when the Cowboys drafted him fourth overall given the defensive talent that was still on the board. Some believed defensive back Jalen Ramsey would be the pick with his ability to solidify the secondary for the next decade, but Elliott's immediate impact was too good to pass up -- especially due to the success Dallas had with Murray two years ago.
That season, Dallas had the third-most rushing attempts in the league and was second in rushing yards. As a result, the Cowboys had only 996 plays run against them, the third fewest in the NFL. The difference in the number of plays their defense was on the field for wasn't huge from 2014 to 2015 (just 38 plays), but the Cowboys were still committed to the run -- they just weren't as successful last season.
Elliott is substantially better than any other back Dallas has on its roster, and he's going to be a player who rarely comes off the field. In doing so, the Cowboys' defense will hardly ever be on it. He helps on both sides of the ball, which is exactly what Dallas needs with these looming suspensions.