Copa America: Mexico, Reeling From a Hooker Scandal and Missing Players, Tries to Find its Way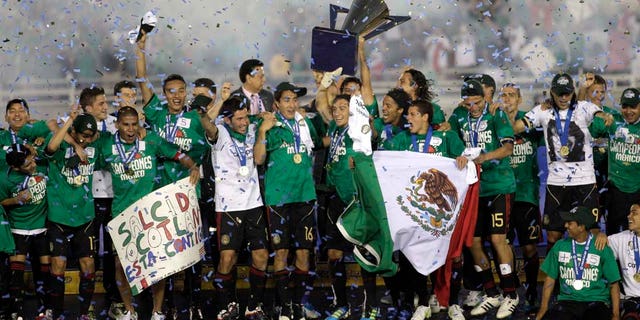 Another international tournament, another scandal for Mexico.
During the CONCACAF Gold Cup, five Mexican players, including two starters, were suspended by the Mexican Football Federation for failing a drug test due to eating tainted meat prior to the competition.
For Copa América, the team has taken it to yet another level, in the worst possible way. Eight players were banned for disciplinary reasons after consorting with prostitutes in its team hotel in Quito, Ecuador, earlier this week.
Not exactly the way you want to prepare for a tournament a week after putting your stamp on your confederation's top competition.
Gone are strikers Marco Fabian de la Mora, Javier Cortes and Néstor Calderón, midfielders Jonathan dos Santos, the younger brother of Giovani dos Santos, Jorge Hernández and David Cabrera and defenders Néstor Vidrio and Israel Jiménez.
In are defenders Kristian Alvarez and Osvaldo Alanis, midfielders Ulises Dávila, Diego de Buen, Edgar Pacheco, Antonio Gallardo and Carlos Orrantia and striker Alan Pulido.
El Tri overcame their Gold Cup suspensions by running the table, winning all six of their matches, including a scintillating final performance against their archrivals, the United States, transforming a two-goal deficit into a 4-2 trouncing at the Rose Bowl last Saturday.
The same result and ending is not expected this time, not with the likes of host Argentina, Brazil and Uruguay – not to mention last year's World Cup – standing in the way.
Besides, this ban is much different. The five Gold Cup players did not realize the meat was tainted. The Copa players knew exactly what they were doing. This suspension will follow these players around for the rest of their careers, like a Scarlet Letter A on their chest. You have to question their judgment, or lack thereof.
How the suspensions will affect this team is a good question. Will the team bond together, not unlike what transpired at the Gold Cup, or will it fall apart? No one will know until the Mexicans' first game against Chile on Tuesday (they also play Perú on July 8 and Uruguay on July 12).
So coach Luis Fernando Tema certainly will have his work cut out for him and the team in Group C along with Uruguay, Chile, which participated in last year's World Cup, and Perú.
One thing is certain: forward Giovani dos Santos, one of the heroes of the Gold Cup triumph, will be the key piece of this side. Dos Santos is pulling a rare double by playing in back-to-back international tournaments. The last time we saw dos Santos, he was making life miserable for the U.S. defense on the right flank. He also put his personal exclamation point on the competition with his marvelous goal in the 76th minute.
However, dos Santos won't have the supporting cast he enjoyed at the Gold Cup – Javier "Chicharito" Hernández, Andrés Guardado and company. How he performs without them will go a long way on El Tri's eventual success and how he can market himself to a new team.
Once a member of famed Barcelona, dos Santos eventually signed with Tottenham. The English Premier League club loaned dos Santos to Racing Santander (Spain), where he enjoyed a standout season. You would think some team would take notice of this talented player performing in not one, but two major international tournaments.
Another member of the team is Sacramento, CA-born defender Miguel Angel Ponce, whom the U.S. apparently had let get away.
"I was born in America, but in my case, my family is Mexican, so I'm more Mexican than American," Ponce, 22, who plays for Chivas Guadalajara, told MLSSoccer.com last September. "If the U.S. is interested [in my services], then I haven't noticed."
Meanwhile, Costa Rica, unlike Mexico, which knew it was going to participate for a while, is a late addition; it replaced earthquake-ravaged Japan in Group A.
The Costa Ricans, who were eliminated by Honduras in a penalty-kick shootout in the Gold Cup quarterfinals, also will use a different team in Copa, mostly U-23 players.
Not much is expected of Ticos, who will face Colombia on Saturday, Bolivia on July 7 and Argentina on July 11.
Former Mexican coach Ricardo Volpe, who is despised by Mexican fans in the United States despite leading El Tri to the 2006 World Cup – he was booed every time his picture was on the scoreboard at the Gold Cup – will direct a team in his second major tournament this summer.
It is assumed that La Volpe will utilize a lineup with players from the 2009 U-20 World Cup semifinalists. That includes midfielder Allen Guevara, one of the best players of that competition.
With his career reportedly stalled at Alajuelense in Costa Rica, Copa gives Guevara an opportunity to re-establish his international reputation, even if it will be for only three games.
It's certainly better than no games.
Michael Lewis, who has covered international soccer for three decades, is a frequent contributor to Fox News Latino. He can be reached at SoccerWriter516@aol.com.
Follow us on twitter.com/foxnewslatino
Like us at facebook.com/foxnewslatino