Conor McGregor building an army of Irish fighters following in his footsteps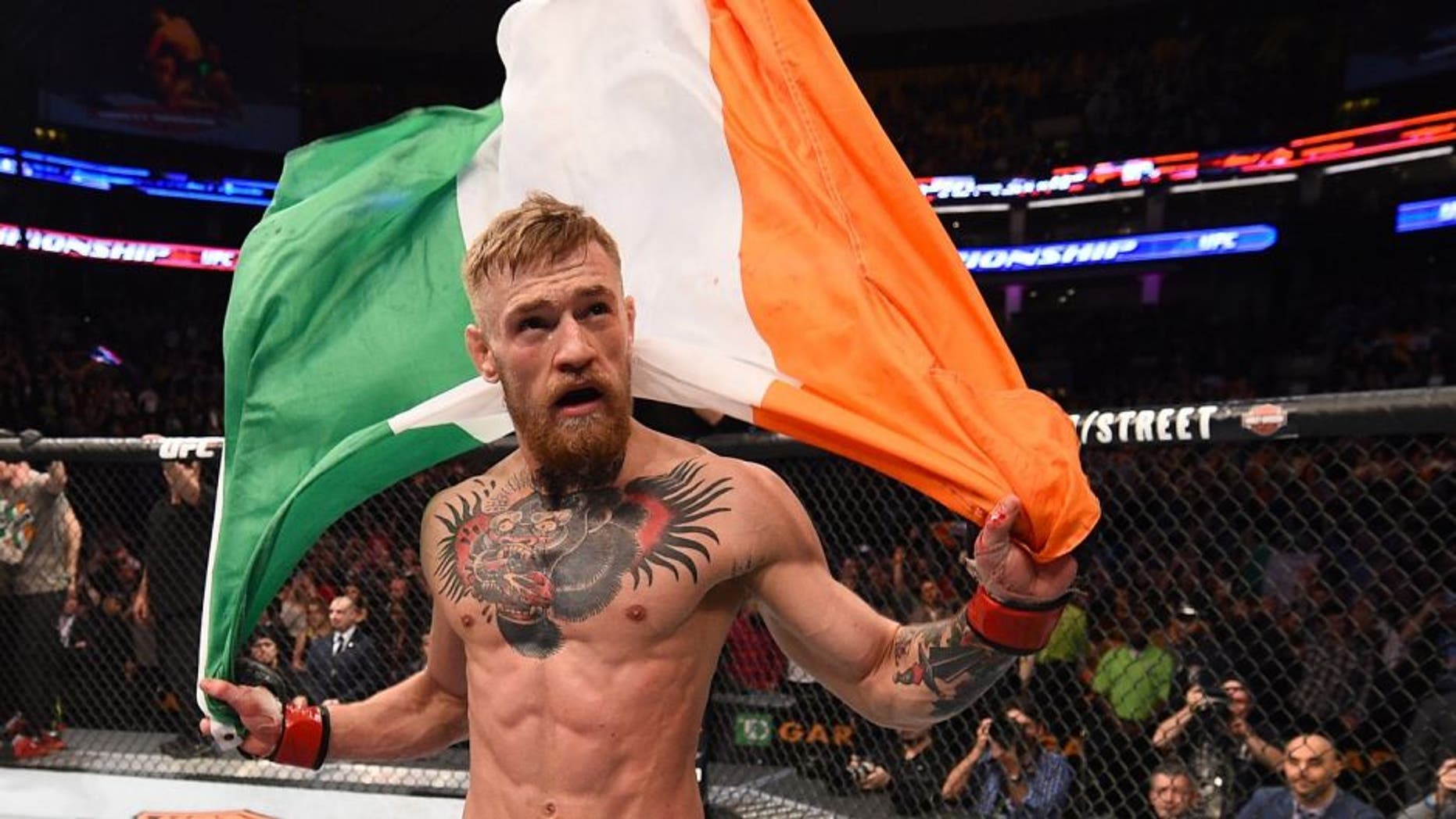 Long before Conor McGregor was selling out arenas in Las Vegas and making million dollar paydays, he was just another up and coming fighter out of Ireland trying to catch the attention of big shows like the UFC.
The European MMA scene has flourished since the UFC started to expand its business to international markets, but despite a couple of previous shows held on the Emerald Isle, Ireland never quite caught onto the sport the way countries like England or even Sweden did.
But as McGregor started to get more and more attention as part of the UFC, a massive change started to take place at the grass roots level for fighters in Ireland who wanted to follow in his footsteps. Not only did McGregor's success get more young men and women interested in MMA, but it also turned an entire country into supporters of the sport.
"The first shift kind of happened when a few of us started to fight on the international scene and have some success. Some newspapers covered stories about the fights and venues started to fill up. People started to know what I was saying when I said MMA," Chris Fields, a former "Ultimate Fighter" competitor and teammate of McGregor's told FOX Sports this week.
"Conor changed the whole thing. He brought it into the public eye in a massive way. He has 80 year olds watching it. He has become a superstar. He dragged it onto national TV where one of his fights did bigger viewing figures than any Champions League match the channel ever had. Conor changed the game."
As Fields explains it, when he first started fighting in Ireland not only was he competing in buildings that probably should have been condemned, but no one understood that what they were doing wasn't something akin to the WWE.
"It was very much a niche sport back in the day. We fought in local halls once or twice, it almost resembled a scene from "Snatch"," Fields said. "One of my fights was cancelled on the day because the ceiling of the venue was too low -- and I didn't get paid. The people that didn't think what we were doing was professional wrestling thought we were insane."
The expansion of MMA in Ireland has also landed with promotions now going there to put on shows with attendance numbers that seem to grow with every card.
BAMMA, a popular regional show that started out of England and then expanded into Ireland, has put on two shows in Dublin in recent months with staggering numbers for attendance. According to BAMMA officials, the first card promoted in Dublin last year drew around 5,000 fans before a second show took place just a week ago with over 6,000 fans in attendance.
John Kavanagh, who is McGregor's head coach and mentor out of the Straight Blast Gym in Dublin, says that "The Notorious" has started to turn MMA into a national sport when most people didn't even know it existed before a few years ago.
Add to that, the next generation of MMA hopefuls have sprung up around Ireland thanks to McGregor making it into the UFC and serving as a role model to other young fighters who want nothing more than to follow in his footsteps.
"There's so many kids now. I think I have 185 kids in my gym now under 18," Kavanagh revealed. "That's obviously a big number. There's a very growing scene around Ireland for amateurs and juniors. This is only the beginning. What are these kids who are 9, 10 or 11 years of age now, fast forward 8 or 9 years and they've got all that training behind them. Conor's definitely the tip of the spear but there's an army behind him.
"One of my guys who was making his amateur debut last Saturday in BAMMA sold 400 tickets. That will give you an idea of the following some of these guys have and that's at the beginning level. There's big shows on it seems every other month in Dublin and around the country and they all have big followings. It's becoming our national pastime."
Thanks to the attention McGregor is receiving, promoters are starting to look more and more at his teammates and other young Irish fighters who might be the next big thing to come out of the country in the next few years.
James Gallagher and Dylan Tuke are two particular names that Kavanagh points out as the next generation of MMA fighters, who are not only disciples of McGregor's but also have the chance to possibly even surpass him one day in large part due to their dedication and commitment to training and fighting.
"To look at those guys just at 19 and the skill level they're at and how quick they're developing, it's frightening," Kavanagh. "If you want to use Conor as a comparison, four years into training, as opposed to where they are at four years into training -- there is no comparison.
"The game's evolved so fast and what we're doing is more and more refined and scientific that we're getting these guys working at a level that took 10 years to do before and they are doing it in four years."
Gallagher actually quit school at 15 because he knew deep down that his future was in fighting. So he packed his bags and actually moved in with Kavanagh during the week while he was training so he could learn alongside the pros on a daily basis.
"John let me move in with him to be able to train full time. I just loved training and didn't want to do anything else, it's all that I think about, my life just revolves around MMA and I wouldn't have it any other way," Gallagher told FOX Sports.
"Being around all the pros and my coach John from a young age is what made me the fighter I am today I don't really believe in luck but I feel lucky to be able to train with these guys day in and day out."
There have been a lot of comparisons drawn already from Gallagher to McGregor but even at 19, he's already smart enough to know that to be successful in combat sports you have to carve out your own niche.
Gallagher is honored to hear his name uttered alongside McGregor, who has become a friend and a teammate over the last four years, but he's hoping to make his own way in the sport while picking up some really impressive victories as part of the BAMMA roster for now.
"It makes me feel proud! But I am not the next Conor McGregor, I do not plan on being the next Conor McGregor," Gallagher said. "I am James Gallagher. Conor has showed me the way he has done it now it's up to me to take it to that next level."
The growth of MMA since McGregor's rise to fame is undeniable but what is the next step in the evolution of the sport in his home country?
McGregor has only fought in Ireland once since joining the UFC although he's long talked about bringing the promotion back for a monstrous show at an outdoor stadium in Dublin for one of his title defenses. The UFC has scoffed at the idea due to poor weather in Ireland for an outdoor show not to mention a city wide curfew in Dublin that could affect the event's ability to put on a card later in the night.
Still, Kavanagh believes a stadium show put on by the UFC would be the push Ireland needs to not only take part, but to absolute take over as the breeding ground for the next superstar who will follow in McGregor's shoes and beyond.
"That's when it would become mega mainstream," Kavanagh said. "That would certainly bring it to a whole new level."