Complete 180: Harvey had hand in innings mess, but he can fix it, too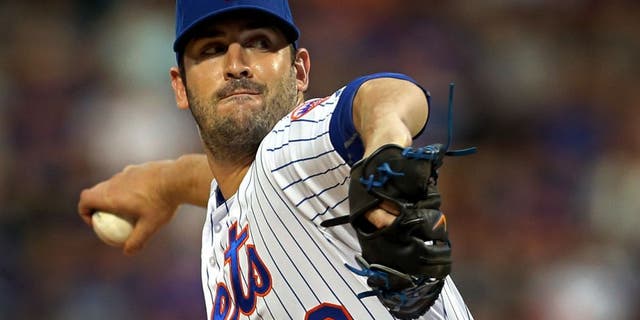 Scott Boras is getting what he wanted. The Mets have yet to determine an exact plan, but they seemingly are heeding the warnings of Matt Harvey's doctors, backing off their plan to pitch him much beyond 180 innings.
My question is this:
After all of the noise, all of the bickering, all of the backlash that Harvey received, did the end for Boras justify the means?
I'm fairly certain the agent would say yes, explaining that he was only answering reporters' questions and advocating for his client. Boras might even have gone public because he couldn't get anywhere with the Mets in private. In the end, his concerns not only were heard, but acted upon. Mission accomplished.
The casualty is Harvey's reputation. At least for now, it has changed for the worse. And depending upon how all of this plays out, he might never be viewed the same.
Boras, though, is not the only one who bears responsibility for this mess. Harvey brought some of his problems upon himself. And the Mets should have resolved this entire matter long ago.
I don't want to be over-dramatic -- Mets fans will embrace Harvey again if he vanquishes the Nationals on Tuesday night and contributes during the postseason, and an inflamed media will embrace him again, too.
Still, so much of this was unnecessary.
It's difficult to imagine another agent engaging in a public dispute with a team in the middle of a pennant race. It's also difficult to imagine another agent putting his client in position to receive such intense criticism.
Then again, Boras works for Harvey, not the other way around. Harvey could have saved himself a lot of trouble by ordering Boras to keep everything behind closed doors, and by telling reporters Saturday what he wrote in The Players Tribune the next day -- that he indeed intended to pitch in the playoffs.
Boras never said that Harvey would be shut down; in fact, in his initial interview with Jon Heyman of CBS Sports, the agent said that Harvey would "love" to pitch in the postseason. Harvey, for that matter, never said that he would be shut down, either. In his initial group interview, he just avoided the question.
Boras and Harvey might say that the media overreacted. Others might say that the negative reaction -- from teammates as well as fans and media -- forced Harvey to acknowledge definitively that he wanted to pitch in the playoffs.
Mets third baseman David Wright spent several innings talking to Harvey on the dugout bench Sunday. Wright declined to reveal the nature of the conversation. But a source with knowledge of the discussion said, "David made the point that needed to be made."
"It's not just about you, Matt. We all understand that you need to protect your future. But you are part of this team."
A team that, by the way, should have anticipated grandstanding from an agent who has employed such tactics for more than a quarter-century.
Why didn't the Mets firmly resolve Harvey's innings limit with Boras before the start of the season? Or did they resolve it and then scramble to readjust when they moved within reach of the playoffs?
Boras said publicly that Harvey's surgeon, Dr. James Andrews, suggested a firm limit of 180 innings. The Mets were operating with a soft target slightly above that number. Harvey currently is at 166 1/3 innings.
Under the revised plan, which is not yet final, Harvey might start only one more game in the regular season after Tuesday night. How such a disruption in his schedule will affect him, no one knows.
Say this for the Nationals -- they were on the same page with Boras when they shut down Stephen Strasburg in 2012. The Mets knew who they were dealing with. Under a different general manager but the same ownership, they had fought with Boras over Carlos Beltran's knee surgery in '10.
The issue is trust, and Boras was not going to fully trust a team that has had its share of medical missteps over the years, a team that has had three other young starters undergo Tommy John surgery -- Steven Matz, Zack Wheeler and Jacob deGrom.
In the end, Harvey came off looking poorly, but starting Tuesday night, he will be back in control. Starting Tuesday night, he can make everything right. Starting Tuesday night, he will have the ball in his hand.