Cody Garbrandt says 'scared' Bryan Caraway knows he'll get KO'd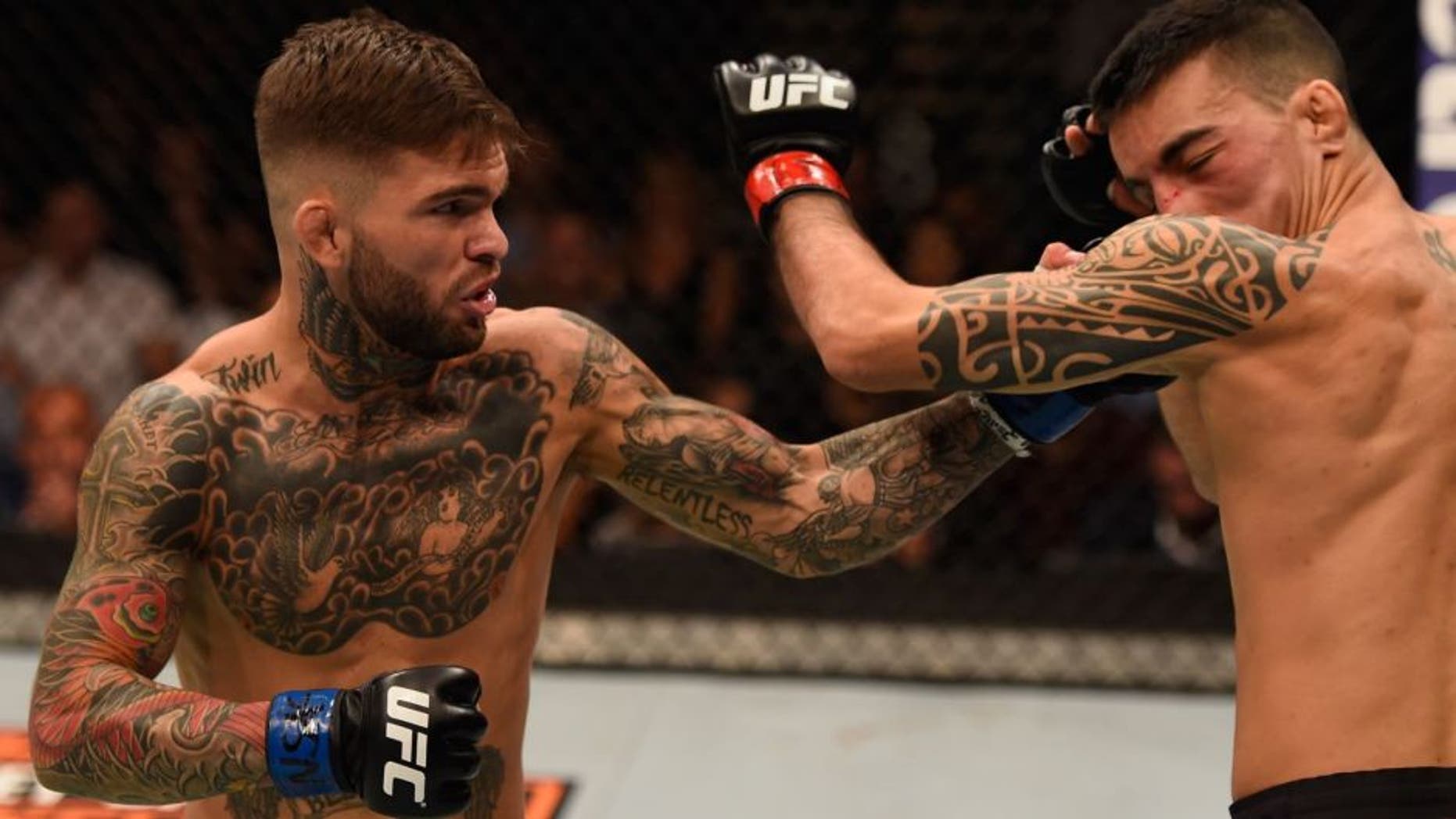 Following his first-round knockout over previously undefeated fighter Thomas Almeida on Sunday night, Cody Garbrandt met with UFC officials Tuesday to discuss his future with the promotion.
Garbrandt is only four fights into his UFC career, but he's already made quite an impact with three knockouts as he climbs into the top 10 rankings at bantamweight this week. His conversation with the UFC covered many topics, including his return to the Octagon later this year.
"It's life-changing. Every time after weigh-ins, Dana has that speech about going out there and putting on a show because he knows you are one fight away from being a superstar and you have to go out and perform," Garbrandt told FOX Sports on Wednesday. "I'm always tuned in and listening to him. He gets you pumped up, and he goes 'I've got (expletive) goosebumps about this card.' That whole night I thought about that. This was the fight that could change my life.
"I performed and got the 'W', and I'm having lunch with Dana, Lorenzo (Fertitta) and Sean (Shelby). Life is good."
According to Garbrandt, he's already requested his next fight take place at UFC 203 in Cleveland, which is only about an hour away from his hometown in the Buckeye state.
Garbrandt also told the UFC that he wanted to fight Bryan Caraway after the veteran bantamweight defeated Aljamain Sterling earlier in the night last weekend on the same card.
"Hopefully on the UFC 203 card and hopefully Bryan Caraway will stop making so many excuses why he doesn't want to get his ass beat by me," Garbrandt said. "I know he fears me, but I want him to respect me. It's another thing after another thing. First it was I'm not highly ranked, and now that I'm ranked in the top 10 he wants to fight another guy. It's like if you don't want to fight me, should I jump ahead of you for the title shot and not fight you?
"I'd like to fight Bryan Caraway at UFC 203, and hopefully we get that done in the next few days."
Caraway has said he believes he's deserving of a title shot and that a matchup with Garbrandt would almost be a step down in his journey toward the belt after beating Sterling, who was previously ranked No. 4 in the world.
Needless to say, Garbrandt doesn't agree.
"I asked for (Bryan) Caraway, he believes he's next in line for a title shot with a win over (Sterling), but that's (expletive) bull (expletive). You don't skip me," Garbrandt said. "I had a dominant win. I left no doubt in my mind that I'm the best in the division, and he gets a title shot over me? No. If that's the truth, you fight me for the No. 1 contender's spot. He says he credits himself for being durable and being able to take a punch?
"Well I'm the best, heaviest, fastest puncher in my division, maybe some of the best in the sport, and I'm not going to say that because I want to stay humble, but in my division I'd say I'm the hardest hitter. So why don't you put your chin against my hands?"
Garbrandt sees Caraway's reasoning for not fighting him as a poor excuse because he'd get finished in brutal fashion and then all the ground he gained by beating Sterling would evaporate in an instant.
"He knows I knock him out," Garbrandt said. "I have respect for Bryan with the whole Aljo fight, but I will take your block off. He knows it, and that's why he doesn't want to fight me.
He wants to jump ahead and say he deserves a title shot. He doesn't deserve a title shot. Fight me. If you're the baddest dude, then come fight me in September. Let's do that. If you can beat me, then that's a title shot. He's definitely scared. -- Cody Garbrandt
"I have respect for him, he impressed me in his last fight, but it doesn't impress me when he said he doesn't want to fight me when I ran through a top-ranked guy in under three minutes. Rankings don't matter. That doesn't matter about rankings at all. He's trying to have an excuse not to fight me."
Garbrandt is still waiting to hear the decision from the UFC regarding what's next, but he hopes Caraway is listening and will accept his challenge to fight in Cleveland.
"I knock Bryan Caraway out 10 times out of 10 times," Garbrandt said. "100 percent I knock him out. I knock him out whenever."