Cleveland Browns get first win in nearly two years, defeat NY Jets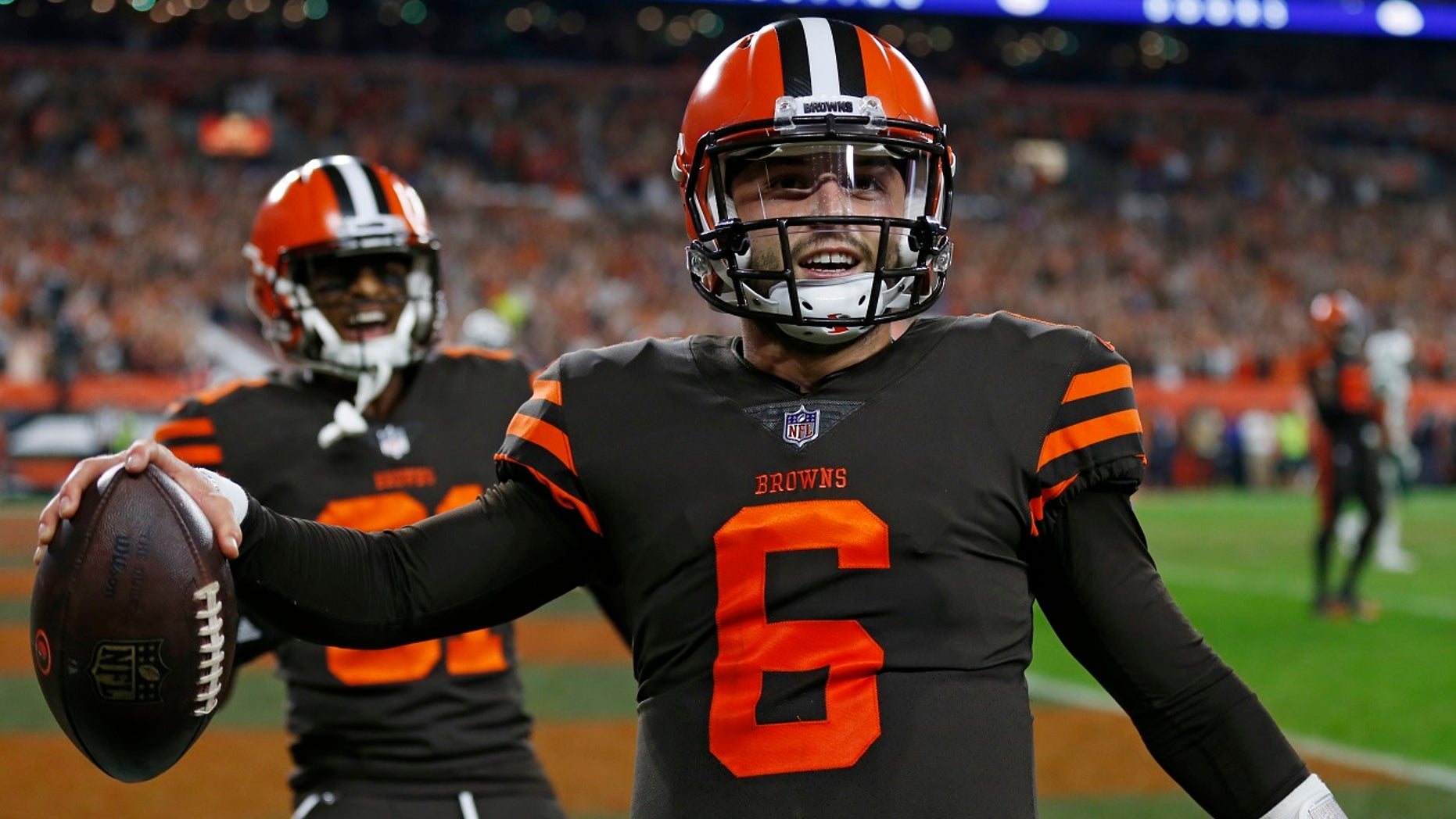 The winless drought for the Cleveland Browns is finally over.
It took nearly two years, but the Browns, led by rookie quarterback Baker Mayfield, got their first victory in 635 days Thursday night.
With Cleveland trailing 14-0, Mayfield -- the No. 1 overall pick in this year's NFL Draft -- entered the game to replace injured starter Tyrod Taylor with just under two minutes to play until halftime.
He went on to lift the Browns to a 21-17 victory over the New York Jets.
Cleveland fans can finally celebrate after a painful 19-game losing streak – the NFL's second-longest since the 1970 AFL-NFL merger.
Mayfield led four scoring drives and completed 17 of 23 passes for 201 yards in just over a half of play after Taylor suffered a concussion.
Carlos Hyde scored twice from 1 yard out to help deliver the Browns their first win since Christmas Eve of 2016.
Cleveland's FirstEnergy Stadium erupted as the clock expired and refrigerators around the city stocked with Bud Lights were finally unlocked for fans to revel in the moment.
Isaiah Crowell had two touchdown runs for the Jets (1-2), who seemed in control when they took a 14-0 lead and knocked Taylor from the game.
The Jets rookie quarterback, Sam Darnold, who Clevleand passed on in the draft for Mayfield, had one last chance to win with 11 seconds left in regulation, but ended up throwing an interception.
Newly signed Browns kicker Greg Joseph made field goals of 45 and 27 yards after being signed just three days ago.
Browns coach Hue Jackson got just his second win in 35 games since being hired by owners Dee and Jimmy Haslam, and this win will ease some of the pressure he's been feeling to get Cleveland turned around.
While Cleveland is undoubtedly enjoying the victory, Jackson will soon have to answer a tough question – ride Mayfield, or go back to Taylor when he recovers.
Mayfield was expected to watch and learn this season, but the injury to Taylor and the rookie's impressive comeback could lead to a shakeup in Cleveland's original plan.
The Associated Press contributed to this report.