Chiefs' secondary snags five -- that's right, five -- interceptions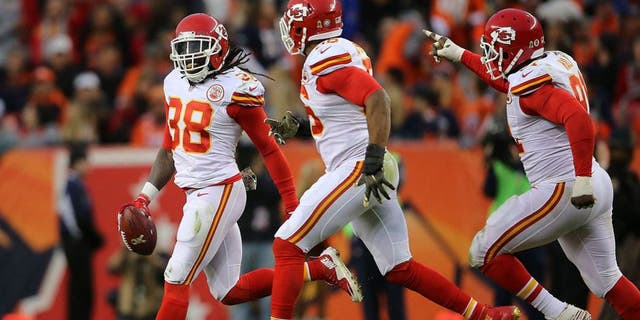 The Broncos might've fared better if they just ran the ball on Sunday. Doug Pensinger Getty Images
Kansas City's defense wasn't done playing when Peyton Manning sat down.
So, safety Eric Berry gave his replacement the same treatment his defense gave Manning for three long quarters.
It didn't matter who the Broncos trotted out to pass. The Chiefs' defense swarmed to lame-duck throws and, more often than not, came down with them.
The floodgates opened early and didn't let up. Rookie cornerback Marcus Peters stepped in front of a pass on the third play from scrimmage and hauled a pick in.
From there, cornerback Sean Smith, linebacker Josh Mauga, and safety Ron Parker each grabbed another turnover. Manning exited; that's when Berry got his mitts on a Brock Osweiler pass.
That made five for the game -- or one pick fewer than their entire total from 2014.