Chargers coach McCoy refutes Gates' comments about Rivers' 'severe rib injury'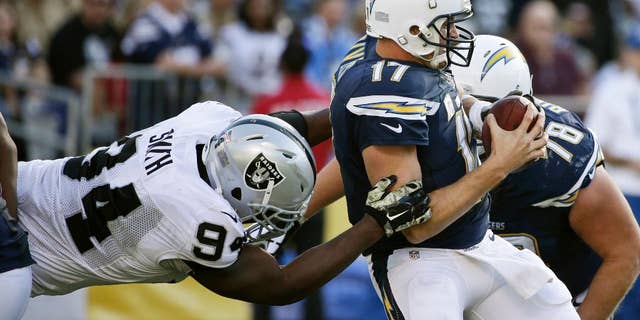 SAN DIEGO – Chargers coach Mike McCoy has refuted star tight end Antonio Gates' comment that quarterback Philip Rivers has a severe rib injury.
Rivers was injured twice in Sunday's 13-6 victory against winless Oakland but remained in the game.
Afterward, while commenting on Rivers' toughness, Gates said: "For those who don't know, he's been dealing with a rib injury, a very severe rib injury. So he's been toughing it out these last three, four weeks."
Asked Monday about Gates' comment, McCoy said: "Philip's never missed a snap in practice and he hasn't been in treatment with James, so I would not say severe injury." McCoy was referring to trainer James Collins.
___
Online: http://pro32.ap.org/poll and http://twitter.com/AP_NFL