Cards open 10-game homestand against struggling Blue Jays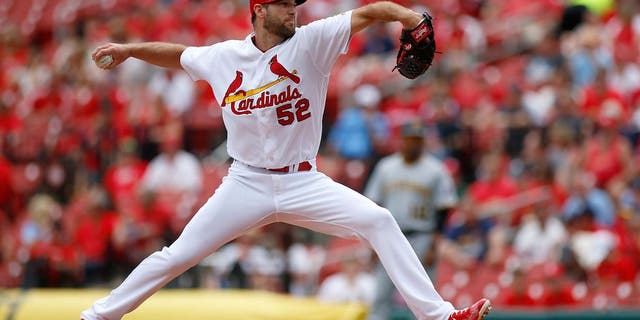 The St. Louis Cardinals are still making mistakes.
"Whether it's errors on the field or on the bases," manager Mike Matheny said after the Cardinals' 6-4 win in Milwaukee on Sunday, "it's something that right now we can't do and expect to win on a consistent basis."
However, the difference between the regular season's first two weeks and last week was that St. Louis (9-10) overcame its miscues. The Cardinals swept the Pittsburgh Pirates at home with three consecutive 2-1 wins, then took three of four over the Brewers to continue their long run of success in Milwaukee.
The rested Cardinals try to reach the .500 mark Tuesday night when they open a season-high, 10-game homestand with the first of three games against the injury-plagued, struggling Toronto Blue Jays.
It will be Toronto's first trip to Busch Stadium since 2011, and it couldn't come under worse circumstances. At 5-14 after a 2-1 road loss to the Los Angeles Angels on Monday night, the Blue Jays own the worst record in baseball.
They are presently playing without the left side of their infield -- third baseman Josh Donaldson (calf) and shortstop Troy Tulowitzki (hamstring) are on the disabled list -- and the guys they have aren't picking up any slack. The Blue Jays have scored fewer runs than any American League team exceptKansas City and are 13th in batting average as well as 14th in strikeouts.
What's more, the schedule-maker did Toronto no favors with this trip. The Blue Jays played a Monday night game that ended at 10:11 p.m. Pacific time, and then they had a postgame flight during which they lost two hours to the clock and landed in the wee hours of Tuesday morning in St. Louis.
The Tuesday night pitching matchup doesn't look like a great one on paper for Toronto, either. The Blue Jays run Marco Estrada (0-1, 2.63 ERA) to the mound against Michael Wacha (2-1, 2.41 ERA). Estrada is 0-5 with a 5.10 ERA in 17 career outings (eight starts) against the Cardinals.
Most of those happened when he pitched for Milwaukee, but Blue Jays manager John Gibbons warns not to put too much stock in history.
"He's a different pitcher now than when he was in the National League," he said to MLB.com. "The thing about Marco, I don't think it matters who he's facing. If he's on, he's proven he can shut down the best American League lineups."
Estrada certainly did that Thursday, firing six scoreless innings and whiffing seven against Boston at Rogers Centre. But Chris Sale was equally tough, and the Red Sox bullpen outpitched the Toronto relievers for a 4-1, 10-inning decision.
Wacha is coming off a 2-1 win against Pittsburgh on Wednesday, when he gave up just four hits in 6 2/3 innings in his third consecutive quality start. This will be his first career outing against the Blue Jays.
Toronto will pitch Mat Latos (0-0, 7.20) on Wednesday night against Carlos Martinez (0-3, 4.76). Adam Wainwright (1-3, 6.27) is scheduled to work Thursday's series finale against a Blue Jay to be determined. Toronto was hoping that Aaron Sanchez (blister) could come off the 10-day disabled list to make the start in the series, but it was reported Monday that Sanchez wouldn't be ready for the assignment.