Cardinals Give Yadier Molina 5 Years, $75 Million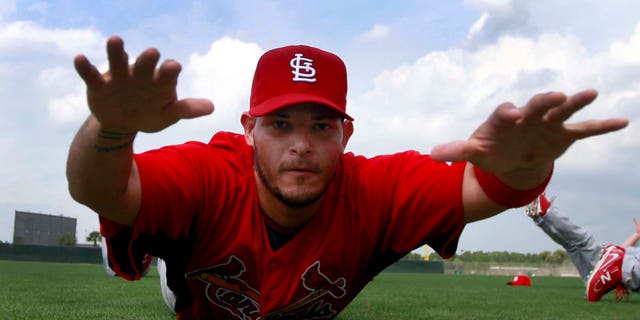 St. Louis Cardinals catcher Yadier Molina agreed to a five-year, $75 million contract Thursday that starts next season and will keep him a Cardinal through the 2017 season.
The deal makes Molina, a four time Gold Glove winner, long known for his premier defense and with a much improved bat is now the second-highest paid catcher in the majors.
"He's the best catcher in the game," teammate Carlos Beltran said. "When you have the best catcher in the game you have to sign him. It's great for the organization, to keep a guy like that."
Unlike Molina's close friend Albert Pujols, who bolted for a 10-year, $240 million deal with Anaheim in December, the Cardinals stepped up before another of their cornerstone players entered the final year of his contract. Chairman Bill DeWitt Jr. called Molina a "franchise-type player."
"I don't think there was added pressure," general manager John Mozeliak said. "When you look at a core or elite type player, that's how we view them."
Spring Training: Baseball's Best Storylines Part One
The total price tag could easily top $90 million over seven seasons with Molina due to make $7 million this year and a mutual, $15 million option for 2018. The deal trails only the Twins' Joe Mauer (eight years, $184 million) among catchers.
Molina won his second World Series with St. Louis last fall and said, "I'm happy to be a Cardinal for 5-6 more years. I'm looking to like six more championships. This is a great organization."
"I grew up here, I feel good here," Molina said. "It was my first choice to stay here."
Talks accelerated after Molina's longtime agent, Melvin Roman, arrived at the team's spring training site last week. Roman has represented the catcher since he signed his first contract with St. Louis in 2000, when Molina was a fourth-round pick.
Spring Training: Baseball's Best Storylines – Part Two
"The whole process was very easy," Roman said. "We worked very hard to get it done."
The 29-year-old Molina is a lifetime Cardinal and one of the best defensively at any position, winning a platinum glove last season in voting by fans. He also is coming off the best offensive season of his career.
Molina batted .305 in 2011 with 14 home runs and 65 RBIs, and added 12 RBIs during the team's World Series title run. He's been durable, too, averaging 138 games the last three seasons.
Put it all together, and the body of work stood out for the Cardinals.
"He's at the peak of his career and we're just thrilled to have him," DeWitt said. "He's a premium player, plus he plays so much. We were both highly motivated to get this done."
Molina is the youngest and most talented of three brothers to catch in the major leagues. His arm has been particularly deadly on pickoff picks at first base with Pujols, but he'll need to develop teamwork with Berkman this season.
Molina has thrown out 44 percent of basestealers for his career, better than Mauer's 35 percent, with 41 pickoffs. The opposition rarely runs on him, averaging just 56 attempts his seven full major league seasons.
Based on reporting by the Associated Press.
Follow us on twitter.com/foxnewslatino
Like us at facebook.com/foxnewslatino