Capitals are not running from Stanley Cup expectations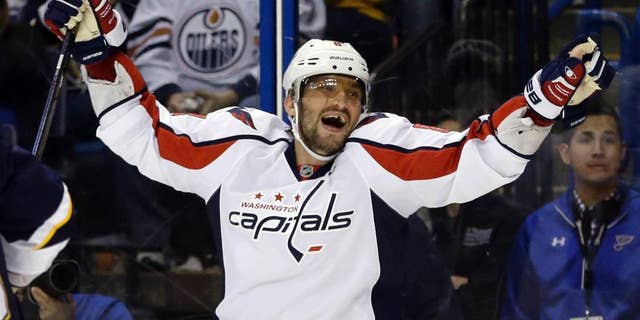 ARLINGTON, Va. – Once again, the Washington Capitals are atop the NHL as the best regular-season team. Once again, the pressure's on them as the favorite to win the Stanley Cup and prove this year won't bring another early playoff exit.
Expectations have never been higher for Alex Ovechkin and the Capitals, six years after their first Presidents' Trophy and with their window drawing to a close. Being the best team over 82 games was worth nothing to Washington in 2010 when it lost in the first round to the Montreal Canadiens, but this team isn't running from the notion that it's Stanley Cup or bust.
"We're here to win a championship," general manager Brian MacLellan said. "Anything less than that is unsuccessful in my mind."
MacLellan isn't the only one who holds that belief. The Capitals finished 11 points ahead of the field and boast the top goal-scorer in Ovechkin, arguably the best goaltender in Braden Holtby and one of the deepest defenses around.
With the defending-champion Chicago Blackhawks looking not nearly as formidable as years past and no other dominant team in either the East or the West, this looks like the Capitals' year. Ovechkin has heard that so much and yet hasn't made it past the second round in seven previous tries.
"Every year you ask me the same question, 'This is the year, this is the year?'" Ovechkin said. "You never know what's going to happen in the playoffs. It's a total different thing."
The unpredictability of playoff hockey is the biggest obstacle standing in the Capitals' way. So much has to go right, from health to matchups to goaltending, and only eight of 29 Presidents' Trophy winners have gone on to win the Stanley Cup.
Coach Barry Trotz brushes off the idea that winning the Presidents' Trophy is a disadvantage. He'll take the home-ice advantage throughout the playoffs, which is especially valuable to a team that won 29 of 41 games in its own rink.
"Other than (home ice), we're entitled to nothing," Trotz said. "I can't go to the bank and they're going to give me anything. I can't go to the store, they're not going to give me anything for it. There's nothing."
Center Nicklas Backstrom remembers that empty feeling from six years ago when hot goaltender Jaroslav Halak ended the Capitals' season in seven games. When they were on the verge of winning the Presidents' Trophy last month with seven games to spare, Backstrom deadpanned that "it doesn't mean anything."
That loss is still an open wound in Washington.
Five players remain who took part in that series, and defenseman Karl Alzner said this group is wiser and less arrogant than in 2010 when there was a noticeable "strut" in their step entering the playoffs. Ovechkin, Backstrom, Alzner, defenseman John Carlson and forward Jason Chimera are still around, but they've been joined by veteran defensemen Brooks Orpik and Matt Niskanen, Cup-winning forward Justin Williams and blossoming star center Evgeny Kuznetsov — players who don't bear those scars.
"I think that you have a mental block sometimes against teams, players, whatever it is — goalies," Alzner said. "Bringing in new players, new faces that don't have that mental block helps you get over it."
Trotz is also fresh, in his second season with the Capitals after 15 years with the Nashville Predators. But this is also uncharted territory for Trotz, who said he's never gone into a playoff series as the prohibitive favorite, something Washington will be when it opens against the Philadelphia Flyers.
The regular-season success made the Capitals justifiable Cup favorites. Ovechkin said this team is much stronger mentally than in years past, and former coach Bruce Boudreau sees a group more prepared for Presidents' Trophy expectations than when he was behind the bench in 2010.
"When we won the Presidents' Trophy, they were young," said Boudreau, now coach of the Anaheim Ducks. "Sometimes when you're young, you think you've got the world by the tail and everything is going to happen great. These guys have gone through some rough times since that time, and so they know what they're doing. ... They're ready to have their turn."
And not just the Capitals' turn to make the conference final for the first time since 1998. That would be a step forward and a sign of progress, but with Ovechkin nearing the end of his prime and so much going for them, the Capitals have a bigger opportunity to seize.
"We're here to win it all," MacLellan said. "I don't know that if we get to the third round, does it make us feel any better? No. The only thing that makes you feel better is you win. ... We recognize where we're at and we want to win a championship."
___
Follow Stephen Whyno on Twitter at http://www.twitter.com/SWhyno .