By the Numbers: Who is the Bigger Star Conor McGregor or Ronda Rousey?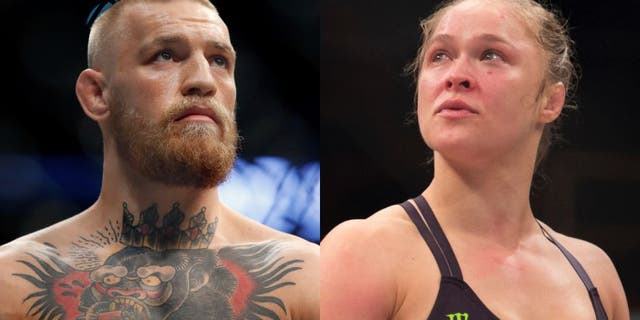 NEWYou can now listen to Fox News articles!
"By far. Not even close, by far the biggest star ever."
~ Dana White
Those are words from UFC president Dana White when addressing former women's bantamweight champion Ronda Rousey ahead of her next fight being announced against Amanda Nunes on Dec. 30.
White has stated several times that the UFC has never seen a fighter with more impact in the sport than Rousey, but she has some serious competition from featherweight champion Conor McGregor.
McGregor has pulled in monstrous numbers on pay-per-view for the UFC while also becoming the highest paid fighter in the sport with a reported $40 million earned over the past year. He then became the first ever UFC fighter to land on the Forbes' 100 highest paid athletes list as well.
It's a tough debate to settle considering Rousey has also managed to crossover into the mainstream with appearances in high-profile films such as "Furious 7", "Entourage" and "The Expendables 3" while becoming the face for brands such as Buffalo Jeans.
Of course, the UFC probably has no complaints either way considering McGregor and Rousey attract more attention than anybody else in the history of the sport. So arguing about which one is the bigger star only seems to add more money to the bottom line.
Still, it's an interesting topic to debate so we've compiled some numbers available from pay-per-view buys, social media interactions and financial earnings to settle the question once and for all -- who is the bigger star: Conor McGregor or Ronda Rousey?
PAY-PER-VIEW BUYS
First off, as a privately held company, the UFC isn't required to release any financial information including pay-per-view buys from any of their events.
Still, information has become available through interviews with notable executives like Dana White or reliable sources such as veteran reporter Dave Meltzer at the Wrestling Observer, who has released pay-per-view numbers for sporting and entertainment events for decades.
Of course, the numbers for pay-per-views are still ultimately just reported and the UFC hasn't confirmed or denied if any of the figures are accurate.
For the purposes of this report, we will just examine the last three pay-per-view cards headlined by McGregor and Rousey:
CONOR MCGREGOR
UFC 194: Aldo vs. McGregor -- 1.2 million buys
UFC 196: McGregor vs. Diaz -- 1.6 million buys
UFC 202: Diaz vs. McGregor 2 -- 1.65 million buys
RONDA ROUSEY
UFC 184: Rousey vs. Zingano -- 600,000 buys
UFC 190: Rousey vs. Correia -- 900,000 buys
UFC 193: Rousey vs. Holm -- 1.1 million buys
It's also worth noting that McGregor's last pay-per-view in August for the rematch with Nate Diaz is reportedly the biggest selling card in UFC history with 1.65 million buys, trumping the prior record holder with UFC 100 in 2009.
Based solely on the last three fights, McGregor has sold a reported 4.45 million pay-per-view compared to Rousey with 2.6 million pay-per-view buys.
Advantage Conor McGregor
SOCIAL MEDIA
There are several different way to measure social media impact when it comes to McGregor and Rousey. When speaking about total followers, the race isn't even close with Rousey far and away the bigger star on Facebook, Twitter and Instagram.
RONDA ROUSEY
Facebook: 11.1 million
Twitter: 3.2 million followers
Instagram: 8.6 million followers
CONOR MCGREGOR
Facebook: 4.3 million followers
Twitter: 2.68 million followers
Instagram: 7.4 million followers
Advantage Ronda Rousey
SOCIAL MEDIA IMPACT
Now these are a different set of rules entirely when it comes to social media impact for fighters. The Nielsen ratings system recently started gauging ratings on social media for television for sports with statistics returned for three of Rousey's most recent fights and two of McGregor's. The final fight -- the rematch with Nate Diaz -- fell into a new type of social media ratings with both Facebook and Twitter statistics and thus the information wasn't available at the time of publication.
For the purposes of this section we will look specifically at Rousey's two fights against Bethe Correia and Holly Holm and compare them to McGregor's fights with Jose Aldo and the first bout with Nate Diaz. Also worth noting, Nielsen measures Twitter interactions from three hours before the event through three hours afterwards. All information courtesy of the Nielsen ratings system.
RONDA ROUSEY
UFC 190: Rousey vs. Correia had 934,000 total engagements on Twitter with 283,000 mentions of Rousey's own Twitter handle @RondaRousey.
UFC 193: Rousey vs. Holm had 927,000 total engagements on Twitter with Rousey's handle mentioned 115,000 times.
CONOR MCGREGOR
UFC 194: McGregor vs. Aldo had 603,000 total engagements with McGregor's own handle @TheNotoriousMMA being mentioned 75,000 times.
UFC 196: McGregor vs. Diaz had 844,000 mentions with McGregor's handle mentioned 66,000 times.
It must be noted, however, that while Rousey has more interactions based on her fights, McGregor has a much bigger reach in terms of total retweets and "likes" on his posts. McGregor's tweet about retiring from the sport earlier this year has been the most retweeted post by an athlete in 2016 with over 160,000 retweets and more than 200,000 likes.
Advantage Ronda Rousey
LIVE GATES
This is a comparison of the live gate -- total money earned for attendance -- for the three most recent cards available for Rousey and McGregor. These totals are reported by the UFC following the end of each event.
Again, we are specifically looking at the last three fights for both Rousey and McGregor. In Rousey's case, gate totals were not reported for her fight against Bethe Correia at UFC 190, so we had to look at her last headlining bout against Sara McMann from UFC 170 instead.
RONDA ROUSEY
UFC 170: Rousey vs. McMann -- $1.558 million (10,217 in attendance at the Mandalay Events Center in Las Vegas)
UFC 184: Rousey vs. Zingano -- $2.675 million (16,577 in attendance at the Staples Center in Los Angeles, Calif.)
UFC 193: Rousey vs. Holm -- $6.8 million (56,214 in attendance at Etihad Stadium in Melbourne, Australia)
CONOR MCGREGOR
UFC 189: Aldo vs. McGregor -- $10.1 million (16,516 in attendance at MGM Grand Garden Arena in Las Vegas)
UFC 196: McGregor vs. Diaz -- $8.1 million (14,898 in attendance at MGM Grand Garden Arena in Las Vegas)
UFC 202: Diaz vs. McGregor 2 -- $7.692 million (15,539 in attendance at T-Mobile Arena in Las Vegas)
Advantage Conor McGregor
FIGHT CARD APPEAL
When Rousey and McGregor fight, it not only benefits them but often times the people who compete on the undercard. For instance at UFC 205 this weekend in New York, McGregor is the headliner but his opponent Eddie Alvarez and fellow champions Tyron Woodley and Joanna Jedrzejczyk are expected to reap the benefits as well due to receiving pay-per-view points from the event.
Events headlined by Rousey or McGregor are so popular that there are managers or competitors who will specifically try to get on one of those shows for maximum exposure.
FOX Sports polled several prominent mixed martial arts managers asking them this question -- if you were putting one of your fighters on a card, who would you rather have headlining -- Conor McGregor or Ronda Rousey?
Out of the six managers reached for comment, five said that they would rather have their fighter compete on a card headlined by McGregor.
"I think right now it would have to be Conor. Just based on numbers," one manager said when speaking to FOX Sports.
"100-percent Conor. He redefined the game," another manager wrote when responding by text message.
Another manager brought up the fact that Conor is the better choice also because he has better competition to help him sell the fights he's in.
"Conor without a doubt. He has bigger name people to fight," the manager wrote in a text message to FOX Sports.
Only one manager out of the six chose Rousey with his/her response as follows:
"Ronda by far. She's a bigger star, keeps it real and she respects all fighters and the game itself. Business and financially speaking, Rousey is way above. Principle, professionally, ethically speaking, Rousey is way above."
Based on the reactions from the managers, it appears it is more beneficial to fight on a McGregor card than anywhere else in the UFC right now.
Advantage Conor McGregor
SALARIES
There's no exact way to determine who makes more between McGregor and Rousey outside of their reported fight purses when they compete in a state where those figures are readily available. Sadly, Rousey's last two fights took place in Brazil and Australia and neither reports those salary figures to the media.
With that said, the salary figures that we can used based on information available comes from the Forbes' highest paid athletes list, which combines fight purses, pay-per-view bonuses, sponsorships and endorsements.
These figures are solely what's being reported by Forbes, a leading financial magazine, but neither McGregor or Rousey have confirmed these numbers. These are the most recent numbers reported by the magazine and also the highest reported earnings for either fighter.
Conor McGregor -- $22 million
Ronda Rousey -- $14 million
According to Forbes, both McGregor and Rousey earned a reported $4 million from their endorsements/sponsorships, so that category is dead even. It's the fight salaries where they separate with McGregor pulling in $18 million with Rousey at $10 million.
Advantage Conor McGregor
RESULT: Conor McGregor is ahead in 4 out of 6 categories
Of course there are always a million different metrics that are nearly immeasurable like which one of the athletes is better known to the general public or who has a bigger impact with endorsements.
At the end of the day, these were the six categories with the most readily available information that could be compared between the two athletes. When it was all said and done, McGregor definitely had a bigger footprint, especially when it comes to the amount of money he generates for the UFC. Rousey undoubtedly had the advantage when it came to social media and overall social media impact during her fights, but it's impossible to say if those interactions equate to more star power than McGregor.
McGregor might have Rousey beat in a few of these categories, but it's clear that they are the two biggest stars in the sport today and there's a good chance they may go down as the most prolific stars in the history of the UFC.