Butch Jones' 'pride' in Tennessee's culture is misplaced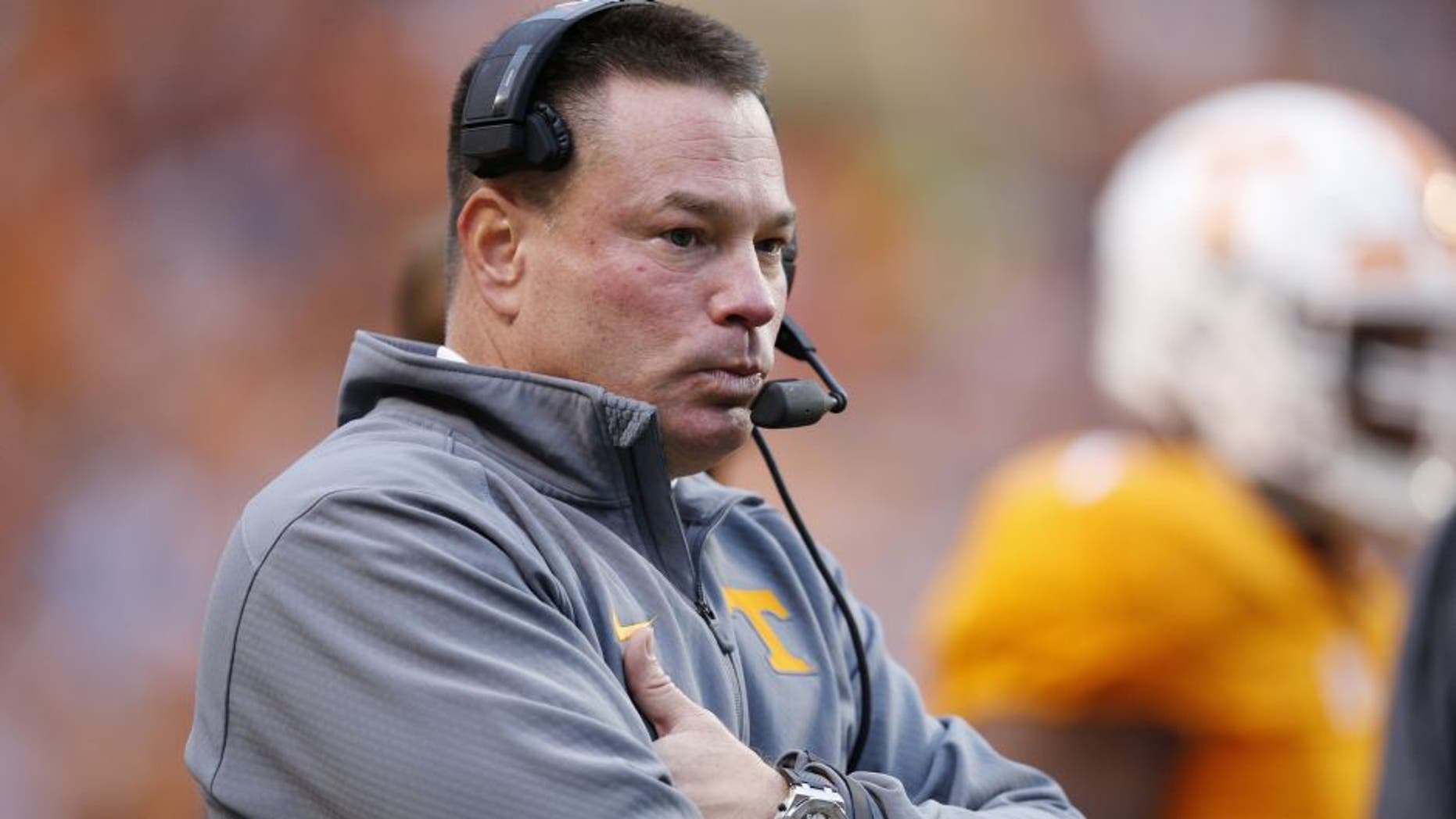 Butch Jones and his Tennessee football program are under fire.
There's a Title IX lawsuit pending against the school in which eight women allege that UT created a culture that enabled sexual assaults, with seven plaintiffs alleging they were sexually assaulted by athletes. In that lawsuit, there's a sworn declaration from former Tennessee wide receiver Drae Bowles that says that after he helped a woman who said she was raped by two Tennessee football players he was attacked by a teammate in the Vols locker room and was called "a traitor" by Jones.
These are serious allegations -- €" serious enough that should they be affirmed, Jones should lose his job.
Jones has called Bowles' claims "false attacks" on his character.
At the SEC's spring meetings in Florida on Tuesday, Jones doubled down:
"I feel strongly as everybody in our organization that we've done the right things. I'm proud of the culture that we have built," he said.
That pride is misplaced.
The fact that one of Jones' former players would make such a shocking statement in a sworn declaration -- €" under the threat of perjury -- €" is an indication of the culture around the Tennessee football program.
Defenders of the Tennessee program claim that this is a frivolous lawsuit, but that's not the case. Allegations like the ones made in this lawsuit don't happen a vacuum. The fact that a case of this scope can be brought forward is at least a minor indictment of the culture at UT.
Bowles' claims are yet to be refuted (he has given conflicting interviews, but the only statement that matters, right now, is the one he gave under the threat of perjury), the Title IX lawsuit is still pending, and Jones' job is still on the line.
(If it isn't, then the culture is even worse than alleged.)
Jones also declined Tuesday to compare the situation at Tennessee to the one at Baylor.
Perhaps that's because if Baylor is considered a precedent, UT is in dangerous territory. There are plenty of correlations.
The claims by the now eight unidentified female plaintiffs paint a damning picture of Jones and the UT administration, alleging that they "acted by an official policy of deliberate indifference to known sexual assaults" and that they acted in this manner despite "express warnings and notice" from a high-level administrator at the school.
To treat those accusations as frivolous is tone-deaf and foolhardy. For Jones to defend the school's culture Tuesday, despite the claims of this pending lawsuit, lacked tact and foresight. That simple statement could haunt him his entire career.
The circumstances alleged against Tennessee are frighteningly similar to those at Baylor, where coach Art Briles was dismissed and athletic director Ian McCaw resigned following an independent review of the school's culture and institutional response toward sexual assault.
Nine days before he was dismissed by the school, Briles sent out a tweet with the tone-deaf hashtag #truthdontlie, effectively losing the benefit of the doubt in the public eye in the process.
Briles will find it hard to find another head coaching job in college football. It'll probably become tougher once the lawsuits begin at Baylor.
Tennessee's case is already in the legal system.
Jones and the University of Tennessee are innocent until proven guilty, and Jones has the right to defend himself, but he should be more careful with his public comments regarding the case -- €" anything he says can and will be used against him, if not in a court of law, then in the court of public opinion. Losing in either scenario would put Jones out of a job.