Broncos' Marshall reveals why Gronk is hard to cover: 'Because he pushes off'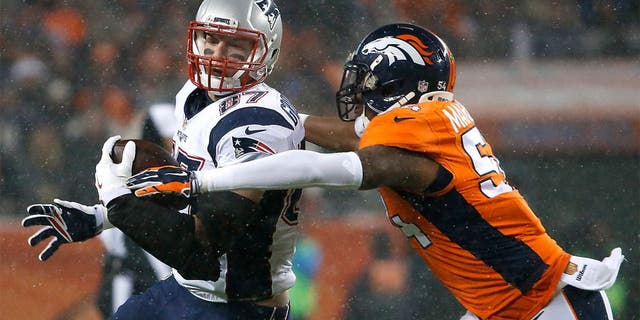 Several coaches around the league have shared their theories on how to cover Rob Gronkowski. Former Miami Dolphins head coach Dan Campbell said he wanted to "put the whole secondary on him." Rex Ryan wishes he could have put "King Kong" on Gronkowski earlier in the season, but even King Kong would have a hard time limiting the dominant tight end.
The Denver Broncos are up next in attempting to stop Gronkowski, and while they have the best pass defense in the league, it won't be easy. Linebacker Brandon Marshall shared his thoughts on why Gronk is so tough to cover, and it wasn't a compliment by any means.
Via ProFootballTalk:
As harsh as that is, Gronkowski has had trouble with penalties this season. He's been called for offensive pass interference five times this season, which is tied with Mike Evans for the most in the NFL. Of course, some of that comes with his massive size and strength as a receiver, but the officials clearly believe he's been guilty of pushing off in the past.
Marshall could be tapped to cover Gronkowski in this one, but it'll likely be a big corner like Aqib Talib or a safety on the All-Pro. The Broncos have the talent and size to matchup with Gronkowski for the most part, but he's going to get his touches and will be a challenge to stop in the red zone.
Of course, the last time these two teams met, Gronkowski suffered a knee injury that forced him to miss one game. Gronk is healthy once again and will be motivated to get a win over the Broncos this time around.