Brandon Marshall warns Giants about calling out Odell Beckham: 'They can lose him'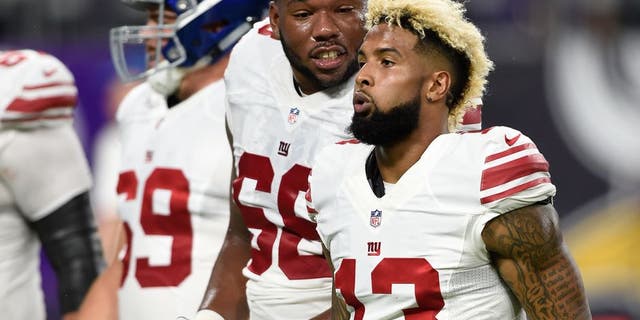 Aside from their 2-2 record, the New York Giants have a bigger problem on their hands -- and he also just happens to be their best player. Odell Beckham Jr. and his emotional outbursts have become the most-discussed topic surrounding the Giants, including teammates speaking out on the situation.
Eli Manning voiced his opinion, as did Ben McAdoo, but fellow wide receiver Brandon Marshall of the New York Jets is cautioning the Giants to tread lightly. Calling out Beckham will do more harm than good, according to the outspoken Marshall.
"Those guys over there need to be really careful. They don't need to be speaking out on their teammate. They need to keep that in-house, because they can lose him," Marshall said, via the New York Daily News. "They need to rally behind him and give him the support he needs and handle that stuff in-house, whether good or bad. Because whether they like it or not, he's the best player on that team."
There has been talk from some suggesting the Giants should bench Beckham and put him on the sideline until he gets his emotions right. Marshall said that's "not good business," given the impact Beckham has on each and every game.
Considering how electric OBJ is on the outside, Marshall isn't wrong for saying that'd be an unwise move.
"He's the type of guy that he can play with anger; he can play with rage. Like, that's not a distraction for him. He doesn't need a sports psychologist for that, because he's still going to make that magnificent one-hand catch. The problem is, it may be a distraction to his teammates," Marshall said. "Guys don't (want to) answer the same question every single week. But as far as him personally needing help? He doesn't need help. He's still going to produce and be the beast that he is. But when your teammates have to answer that question over and over again, that's when it becomes a problem."
Marshall admits Beckham could channel his frustration "a bit better," but sticking him on the bench won't help that. There's no question the Jets receiver is on Odell's side in this situation, and he's probably right about the Giants "playing with fire" by calling him out publicly.
Regardless of how the team handles the situation, something needs to be done because Beckham has undoubtedly become a distraction.