Blackhawks, Ducks earn dramatic wins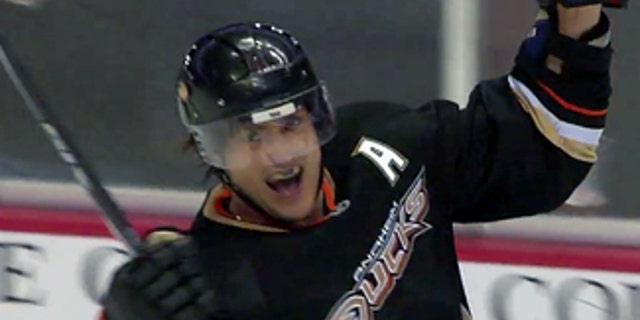 Both the Anaheim Ducks and Chicago Blackhawks needed wins Monday night. Thanks to great performances from two great players, both teams earned two big points.
There were only two games (featuring four Western Conference teams) on the NHL schedule, but the League wasn't short on drama as Marian Hossa ended a back-and-forth affair in Detroit when he beat Joey MacDonald via the power play 51 seconds into overtime to lift Chicago to a 3-2 win against the Red Wings.
Just a few hours later, the Anaheim Ducks received a five-point performance from future Hall of Fame winger Teemu Selanne in a 5-4 victory against the Colorado Avalanche at the Honda Center.
"He's a special athlete doing special things at a really remarkable age," Ducks coach Randy Carlyle said of Selanne. "He doesn't feel anywhere near the twilight of his career. He thinks he can continue to go out and score goals. He proves it night in and night out. The puck follows Teemu Selanne around. When he gets it, he has a knack for finding holes. He is scoring big goals for our hockey club at a critical time of the year."
There's little doubt Chicago would have preferred an Anaheim loss Monday night, but the Hawks' victory was still an important one. While the Blackhawks are still in eighth place in the Western Conference, the defending champs moved three points ahead of ninth-place Calgary. Chicago also has two games in hand on the Flames.
"None bigger all year," Blackhawks coach Joel Quenneville said of Monday's win. "It was a huge win coming off a very disappointing loss (against Anaheim) the other night. I liked the energy we had from the outset. It was a playoff game for us. Great pace. Great hockey game."
Here's a look at how the races in each conference shape up after Monday's games:
Eastern Conference
Division leaders:
Philadelphia (100 points) has a game in hand on both Washington and Pittsburgh. The Flyers play their Pennsylvania rival at the Consol Energy Center on Tuesday.
Washington (98 points) finished its six-game road trip with a 4-2-0 mark. The Caps now return home for a game against Southeast Division rival Carolina on Tuesday.
Boston (94 points) clinched a playoff berth on Sunday. Seven points ahead of Montreal in the Northeast Division, the Bruins are back in action Tuesday when the Blackhawks visit TD Garden. The "Original Six" showdown can be seen on Versus in the U.S. and TSN2 in Canada at 7:30 p.m. ET.
The next five:
Pittsburgh (98 points) enjoyed Monday off but has a huge game on Tuesday. The Penguins will not only have a chance to reach 100 points, but they'll also have an opportunity to tie the Flyers, who will still hold a game in hand.
Tampa Bay (91 points) returns to action Tuesday when it hosts Ottawa. The Lightning are coming off a home-and-home split with the Hurricanes, ending a four-game losing streak with a 4-2 victory in Carolina on Saturday. They have a game in hand and a four-point lead on both the Canadiens and Rangers in the race for the fifth seed.
Montreal (87 points) will look to avoid setting a franchise record by finally scoring a goal when Atlanta comes to town Tuesday. The Canadiens have been blanked in three consecutive games, the first time that's happened since October 1949. They're now seven points behind the Bruins in the Northeast and Boston also holds a game in hand.
New York Rangers (87 points) don't play again until Wednesday, when they will put their current 6-0-1 run on the line in Buffalo. Henrik Lundqvist, who will likely get the start, leads the NHL with 11 shutouts.
Buffalo (85 points) has a game in hand on both the Rangers and Canadiens. The Sabres have a back-to-back set coming up, visiting Toronto on Tuesday before coming back to HSBC Arena to meet the Rangers on Wednesday.
On the outside looking in:
Carolina (80 points) gets back in action Tuesday, making a trip to face red-hot Washington. The Hurricanes are five points back with only seven games remaining.
Toronto (78 points) is seven points out of eighth place with six games remaining. The Leafs' season is basically on the line Tuesday night, when Buffalo visits the Air Canada Centre.
Western Conference
Division leaders:
Vancouver (109 points) was off Monday night, but still had a chance to clinch the No. 1 seed in the West. That was put on hold, however, once Detroit was able to force overtime against Chicago. The Canucks are in Nashville on Tuesday.
Detroit (98 points after Monday's 3-2 OT loss to Chicago) played without No. 1 goaltender Jimmy Howard, but Joey MacDonald was solid and helped the Wings earn a point in the standings. That allowed Detroit to move one point ahead of San Jose as the teams battle for the No. 2 seed.
San Jose (97 points) doesn't play again until hosting the Stars on Thursday. The Sharks now trail the Red Wings by one point in the conference due to the latter's OT loss to Chicago on Monday night.
The next five:
Phoenix (93 points) has a golden opportunity to have home-ice advantage in the opening round of the Stanley Cup Playoffs for a second straight year. The Coyotes lead the Kings and Predators by a point, but have played two more games than L.A. and one more than Nashville. Phoenix will host Dallas on Tuesday at Jobing.com Arena.
Los Angeles (92 points) moves forward without the services of leading scorer Anze Kopitar, who reportedly will not return at any point during the playoffs after an MRI on Monday revealed torn ligaments caused by a high ankle sprain. The Kings play in Edmonton on Tuesday.
Nashville (92 points) is taking advantage of a schedule that features plenty of home cooking down the stretch, carrying a six-game winning streak into Tuesday's game against Vancouver at Bridgestone Arena. Four of the Predators' last six games at home.
Anaheim (91 points after Monday's 5-4 win against Colorado) won its second straight thanks to a five-point night by Teemu Selanne. The fantastic Finn became the fourth player in NHL history to record a hat trick at the age of 40. The Ducks have another big game on Wednesday night at Calgary.
Chicago (90 points) picked up two more points on Monday night with its overtime win at Detroit, but remained in eighth place due to Anaheim's win against Colorado. The Blackhawks, who still have a game in hand on both Nashville and Anaheim, visit Boston on Tuesday night in a game that can be seen on Versus in the U.S. and TSN2 in Canada.
On the outside looking in:
Calgary (87 points) spent Monday hoping Anaheim and Chicago would lose. No such luck. Now three points behind the Blackhawks and four back of the Ducks, the Flames only have five games remaining and are idle until hosting Anaheim on Wednesday.
Dallas (86 points) has a tough road ahead, facing Phoenix on Tuesday and then visiting all three California teams. The Stars have only two games remaining at American Airlines Center.