Bears CB has chance to prove worth after demotion, scathing criticism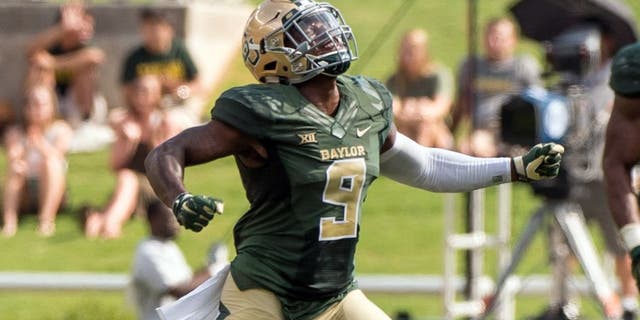 Baylor cornerback Ryan Reid has an interception in each of the last three games. Jerome Miron USA TODAY Sports
Baylor cornerback Ryan Reid should have a mountain's worth of motivation to get him going for Saturday's game against No. 12 Oklahoma.
If the team aspect of needing to win to stay unbeaten and keep playoff hopes alive isn't enough, Reid can take the individual road. Not only was he demoted prior to No. 6 Baylor's last game at Kansas State, he was then singled out in a Sports Illustrated article by an anonymous Big 12 assistant coach:
"Their secondary is very average," SI quotes the assistant coach. "Their field corner (Ryan Reid) is very average, their safeties are not great in space and their linebackers are very average. I'm not trying to say they are bad, but against a Top 5-tier team, that's where they'll struggle."
Hello, Oklahoma. And these aren't the same Sooners the Bears kicked around the last two years. The Bears held OU to 26 total points in the last two games. At the end of last season, Sooners coach Bob Stoops scraped his offense and turned back to the Air Raid, this time led by Mike Leach disciple Lincoln Riley.
Reid, who entered the K-State game and promptly grabbed an interception, his third consecutive game with a pick, didn't balk when defensive coordinator Phil Bennett decided to go with junior Tion Wright to start the game.
"There really wasn't (any animosity)," Reid told the Waco Tribune-Herald. "We talked about it during the week. It's that time of the year, Tion has been sitting back and he has learned a lot and knows a lot. There is no reason why he shouldn't be out there. Him starting it off, it wasn't a big deal. I felt fresh when I went out there, and that's the whole plan, just keeping us corners fresh."
MORE NEWS: Want stories delivered to you? Sign up for our College Football newsletters.