Baltimore Ravens' Kaare Vedvik can't remember apparent assault, police report says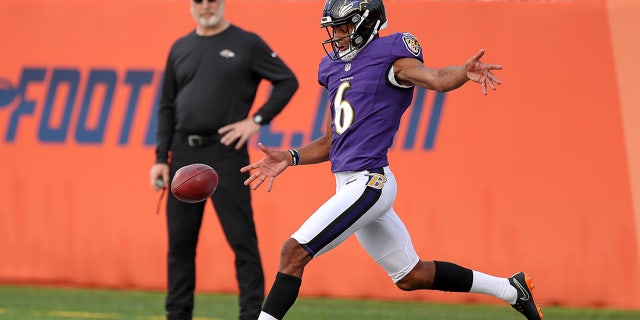 A rookie Baltimore Ravens kicker who was found badly beaten over the weekend said in a police report released Tuesday he doesn't remember the circumstances leading to the apparent assault that landed him in the hospital.
Paramedics found Kaare Vedvick, 24, in the 2000 block of Boone Street around 4 a.m. Saturday with injuries to his head, in addition to his wallet and cellphone missing, FOX45 reported.
The 24-year-old Norwegian said he was out with teammates in the city's Fells Point neighborhood before splitting up. Teammates called Vedvik around 3 a.m., who said he was "good," but fewer than three hours later he ended up in the hospital, according to WBAL.
The report redacted Vedvik's injuries, but said that his wallet and phone were missing.
Police noted in the report that Vedvik "could not remember how it happened or how he ended up on Boone Street," and that authorities twice attempted and failed to speak with the 24-year-old at the hospital.
TRUMP MOCKS NIKE OVER KAEPERNICK AD BACKLASH: 'GETTING ABSOLUTELY KILLED'
"We can't compel a statement out of a victim," Baltimore Police Department spokesman T.J. Smith told the Baltimore Sun. "We can't force anyone to make a statement."
Baltimore police said the incident remains under investigation.
Ravens coach John Harbaugh said Tuesday he's going to tell his young players to "be a little smarter," and that Vedvik will stay on the Ravens' non-football injury list.
"My dad said nothing good happens after midnight, and it was well after midnight," Harbaugh told reporters. "We're just grateful, and I think he's just thankful for the fact that he's ok and that he's going to be fine, and that's the most important thing."
The Associated Press contributed to this report.