Astros' Tucker attributes power surge to new role in lineup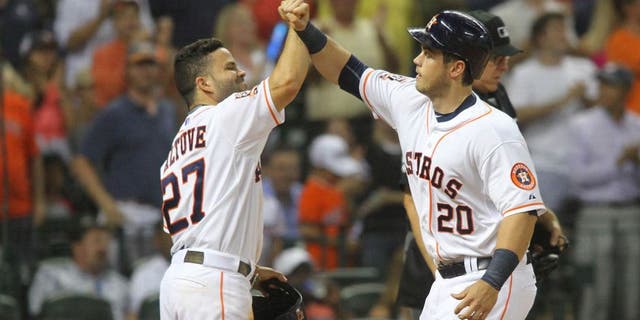 Houston Astros rookie Preston Tucker has accomplished a lot in his first few months in the big leagues - but he hadn't had a multi-homer game until Wednesday night.
After collecting two key home runs in the Astros' 4-2 win over the Boston Red Sox, Tucker told Jaylon Thompson of the Houston Chronicle where he thought that power came from.
Specifically, he said it might have something to do with the fact that he hit second for Houston, something he said is a relatively new experience for him: "It's new to me. I did it a little bit in Double A, I think the year before last. It's kind of cool being like a table setter for a lot of the RBI guys and it's different you know different thing for me to do but you know I think I'm getting used to it behind Altuve and hitting in front of Correa. So I'm not minding it."
It sounds as if he might stick in the two hole for now, especially if he keeps producing. His manager A.J. Hinch wasn't totally surprised by his breakout game: "I don't think his power is going to surprise anybody. Tucker can put the bat on the ball and hit it really hard. His hand strength is really good. When he is using left center field, he is a pretty complete hitter."