Astros' Chris Devenski is simply 'the hottest pitcher on the planet'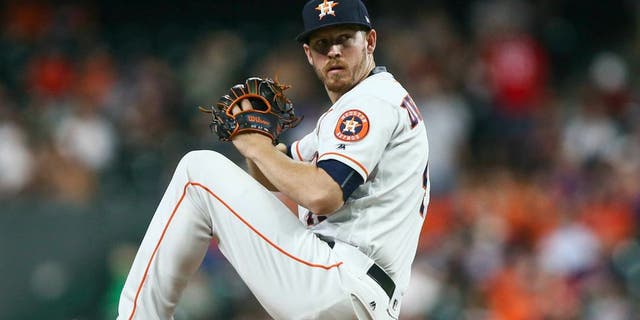 NEW YORK -- Theyre all special, every single one of them, even the worst of the 750 players in the major leagues. Which is why it is so startling to hear the Astros talk about right-hander Chris Devenski a reliever, for heavens sake with something approaching awe.
Stud, Astros catcher Brian McCann says. STUD. He just has a different mindset. I say to him all the time, If you werent playing baseball, youd be a Navy SEAL. You want him on your side.
McCann, a 13-year veteran, is hardly alone in that assessment.
He has this inner drive I havent seen too often in players, reliever Will Harris says. Hes prepared every day more than anybody else on the field. Hes worked harder than anybody hes going to face in the game. I think it gives him a mental edge.
Adds center fielder George Springer: The word, competitor, doesnt describe his mindset. It doesnt matter if hes thrown three or four days in a row, if you call his name, hes coming out there. He has this presence about him: Im going to come in this game. And Im going to sit all of you down.
General manager Jeff Luhnow goes even further.
When hes on the mound, Luhnow says, he wants to get guys out as badly as anybody Ive ever seen.
And boy, does he succeed.
Devenski, 26, is following up his breakout rookie year with more ridiculous numbers this season, all while again performing in a variety of roles that make him the poster boy for modern bullpen usage.
Through 35 games, Devenski leads all American League relievers in innings (23) and all major-league relievers in strikeouts (42). He has allowed three homers, one fewer than all of last season, but the rest of the damage against him consists of seven hits and five walks.
Since the start of last season, the Dodgers Clayton Kershaw is the only pitcher with a minimum of 100 innings pitched who has bettered Devenskis 2.12 ERA. Inherited runners, you ask? For his career, Devenski has allowed only three of 37 to score.
His fastball averages 93.7 mph, but his changeup is so good that Devenski actually has thrown that pitch at a higher rate this season, according to Fangraphs (42.5 percent to 39 percent). He also has developed a slider as a solid complement, increasing the use of it to 17.9 percent.
Steve Mitchell-USA TODAY Sports
That changeup, it doesnt seem to do the same thing twice, says Astros outfielder Josh Reddick, who was 0-for-5 against Devenski last season as a member of the Athletics.
I faced him one time last year. Bases loaded, two outs, I knew it was coming. I sat on it and still couldnt hit. People are going to sit on that pitch, and hes still going to get you to swing and miss. And then all of a sudden, 95 is by you.
Devenskis manager at Double A, Rodney Linares, nicknamed him, The Dragon. The pitcher keeps a plastic toy dragon in his locker, even on the road. The Astros later this season will give away bobbleheads of him riding a dragon, which Devenski describes as an honor.
The Astros also call him, Devo, but Devenski agrees that, The Dragon, is fitting.
Its a cool nickname, he says with a smile. I feel I embrace my inner beast at times.
The Astros took an unconventional step in late February 2012, removing right-hander Brett Myers from their rotation and naming him their closer. Myers went on to boost his trade value by converting 19 of 21 saves, and that July the White Sox acquired him for two minor-league pitchers and a player to be named.
The player to be named was Devenski.
As White Sox assistant GM Buddy Bell recalls, right-hander Matt Heidenreich and lefty Blair Walters were the dudes in the package going to the Astros. Neither is currently active in affiliated baseball, while Devenski the White Soxs 25th-pick out of Cal State-Fullerton in 2011 was at Yankee Stadium on Thursday night, pitching two scoreless innings in a 3-2 victory that gave the Astros the best record in the major leagues.
Not bad for a pitcher who practically was an afterthought in 12.
David Manning-USA TODAY Sports
When youve got a 25th-round pick and youre trying to get Brett Myers to help get you over the hump, whatever the (scouting) reports are dont mean a whole lot, says Bell, who at the time was the White Soxs farm director, but not involved in trade discussions.
The White Sox, though, also saw the quality that came to define Devenski the way he competed, Bell says. That Aug. 31, just four weeks after joining the Astros organization, Devenski threw a 16-strikeout, no-hitter for the Astros Class A affiliate in Lexington, Ky.
The promise of that night was fleeting Devenski advanced in 13 to the extreme hitter-friendly environment of Class A Lancaster, Ca., and was shellacked for a 7.88 ERA in 75 1/3 innings. But he performed better at Lancaster in 14, and finished the year at Double A in Corpus Christi, Texas.
His breakthrough came in 2015, when his 3.01 ERA for Corpus Christi ranked second in the Texas League. Devenski, as a starter in the Astros tandem system, pitched only 119 2/3 innings, but he ended the season by starting the Triple A National Championship Game, taking a perfect game into the sixth inning and being named the games MVP.
His reward?
The Astros declined to protect him on their 40-man roster, making him available to every other club in the Rule 5 draft that winter.
That was a bad decision with an OK outcome because he didnt get selected, Luhnow says. In retrospect, we took a little bit too much of a risk.
As it turned out, Devenski never pitched again in the minors, joining the Astros just three days into the 2016 season.
The turning point, manager A.J. Hinch says, was a start that Devenski made toward the end of that spring in an exhibition game against the Padres in Mexico City. The Astros already had assigned him to the minors. But Devinski dominated at high altitude, catching Hinchs attention with his unrelenting focus. When a need arose shortly after the season started, the Astros promoted him for good.
Devenskis father, Mike Devenski Jr., has an easy explanation for the origins of his sons intensity. Mike, the owner of M&M Moving and Storage in Artesia, Ca., and self-proclaimed, Dr. Junk, says, Were not millionaire people. Were hard-working people. Every day youve got to get up early in the morning. If you dont get it going, youre not going to get it done.
Chris would accompany Mike to work, and to this day he remains an early riser, his mother Shirley says, starting his spring-training workouts at 5 a.m. Mike and Shirley tell a story about Chris in the minor leagues, doing push-ups on the team bus, then running laps around on it. They also tell of how former Astros pitcher Mark Appel helped Chris become closer to God at Double A, even accompanying him to his baptism.
Its been a long process, a long journey, Chris says. Ive always tried to better myself, no matter how I do. Never being satisfied. Always being hungry.
Virtually every living, breathing reliever cherishes a set role, the better to help him establish a routine and mentally prepare for each outing.
Thats what the pitchers want, thats what the media wants, thats what the fans want, Luhnow says. But its not whats best for the team.
No, Luhnow says, a team improves its chances of winning by keeping its bullpen roles flexible provided that the manager can placate the various personalities, which in Luhnows estimation, Hinch does quite well.
The strength of the Astros bullpen Harris, Luke Gregerson, Ken Giles, et al allows Hinch to use Devenski as a sort of super-utility reliever, filling a variety of roles.
In a weaker bullpen, Luhnow says, Devenski would close. For the current Astros, who face uncertainty at the back of their rotation, he also could start. But as Hinch puts it, every night that I have Devenski available, the other side knows I can shorten the game. Thats pretty valuable, too.
Devenski, for his part, clearly does not require a set role.
It would be nice, he concedes. But for me, theres a little bit more excitement not knowing when Im going to throw and always having to prepare myself like I am.
Last season, Devenski made five starts and frequently pitched two, three and four innings in relief.
This season has been more of the same.
Devenskis first two appearances were four-inning stints in games that went extra innings. On Tuesday night, Hinch summoned him to escape a two-out, bases-loaded jam against the Braves, then work another inning. On Thursday night against the Yankees, he provided a two-inning bridge from the starter, Dallas Keuchel, to the closer, Giles.
AP
Devos prepared from the time the game starts, Hinch says. Its not easy to be that way, to carry that type of intensity, that kind of preparedness, from the first pitch on. Some of that has to do with his starter background. Some of its just how hes hard-wired, who he is.
Devenski agrees.
Thats just who I am, I guess, he says. I love this game. I never will back down from a challenge.
If Devenski was less diligent -- if he simply relied upon his talent without outworking most everyone -- his teammates might perceive him differently.
The Astros, though, hold Devenski in such high regard, he diffuses any tension that might arise from his standout work in an unpredictable role, work that would elevate him on most every other club.
When guys perform the way he has, its very threatening threatening to roles, threatening to jobs, Hinch says. Our guys have been remarkable at helping him along the way, but also understanding that he can have a great influence on us.
As an example, Hinch cites a conversation that he had with Harris earlier this season Harris, who made the 2016 American League All-Star team yet remains something of an unsung hero in his third season with the Astros.
As Hinch recalls, Harris said, Devos available. Do I even need to put my spikes on today?
Harris was joking, but his message, in Hinchs view, was clear:
This guy is the hottest pitcher on the planet. Theres no chance youre going to pick me over him. So, do I even need to pitch?
Thats the respect Devenski commands in the Astros clubhouse the kind of respect accorded to a player who is unmatched in his preparation, ready to compete at any moment, willing to do anything for his team.
A respect that yes, borders on awe.
The dude, hes an animal, Springer says. I love when he comes into the game.