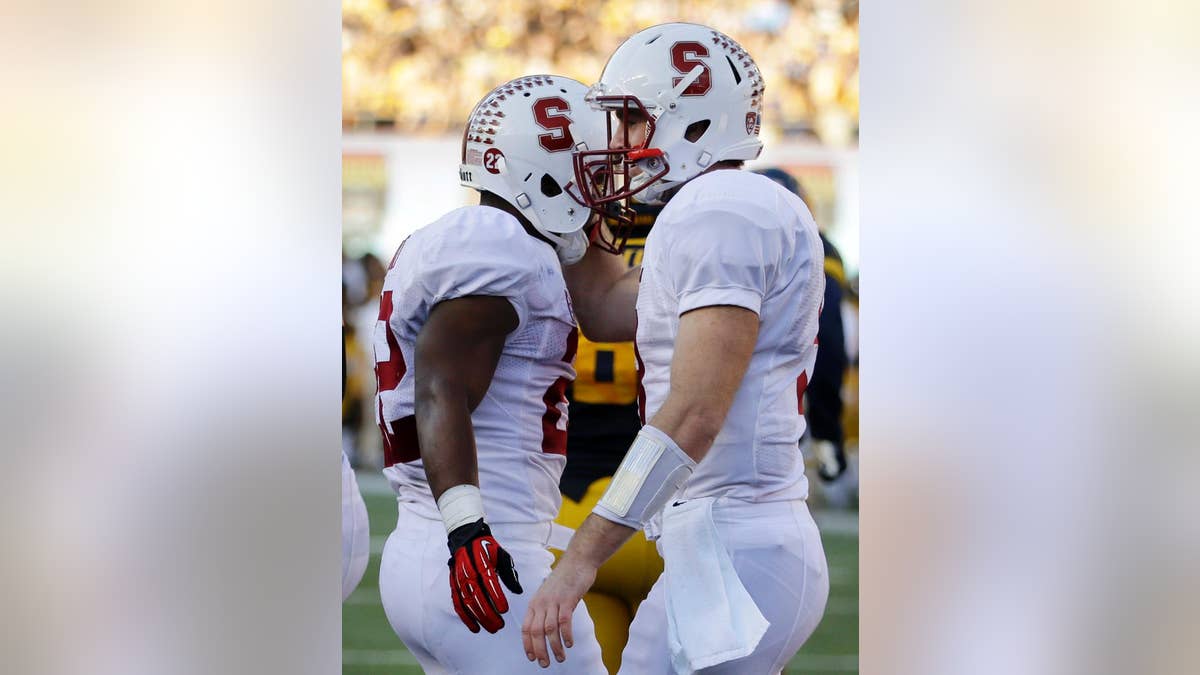 PASADENA, Calif. – Just one hurdle remains between No. 9 UCLA and the Pac-12 South title.
Trouble is, Stanford has been an insurmountable obstacle for Brett Hundley, coach Jim Mora and the Bruins (9-2, 6-2 Pac-12).
The Cardinal (6-5, 4-4) have won six straight meetings between the California schools heading into the Cardinal's latest trip to the Rose Bowl on Friday. Hundley and Mora have lost three times to Kevin Hogan and coach David Shaw in the previous two years alone, and they were forced to watch while the Cardinal played on the Bruins' hallowed home turf on the past two New Year's Days.
With a win, UCLA advances to face Oregon in the Pac-12 championship game in Santa Clara, California, next week. With a loss, the Bruins must watch the title game on television while knowing Stanford still has their number.
"If that doesn't motivate you, I don't know," Bruins receiver Jordan Payton said. "What we have at stake, what is in our grasp — everything is there for us as long as we keep winning."
Hundley realizes the stakes in what's likely to be his home finale after three record-breaking years at UCLA, but he isn't making it personal. His 39th consecutive start is just a chance to keep the Bruins moving toward a shot at the College Football Playoff.
"I've done a lot throughout my career here, and hopefully we can pull out this win on Friday," Hundley said. "That's our goal. You can't worry about what you have done, what you haven't done."
Stanford clinched bowl eligibility last week, but a rocky regular season means that its new postseason destination won't be nearly as glamorous as the Rose Bowl, where the Cardinal went 1-1 in the past two years. Shaw doesn't believe they should be motivated by the chance to spoil UCLA's season yet again, but their familiarity with Pasadena surely won't hurt.
"The surroundings won't be foreign to us, which is great," Shaw said. "But it's different than the Rose Bowl (game). The fans won't be split. The Wisconsin fans and the Michigan State fans were loud, but they didn't have the whole stadium. We're going to have a really, really small section of the Rose Bowl. It's going to be all UCLA."
Here are some more things to watch in the schools' 86th meeting:
REAL-TIME RESULTS: We'll be able to watch the Pac-12 South race decided simultaneously on two fields about 485 miles apart Saturday afternoon: Arizona is hosting Arizona State for the Territorial Cup in Tucson at the same time UCLA takes on Stanford. The Bruins, Wildcats and Sun Devils all have 6-2 conference records, but UCLA won its head-to-head matchups with both Arizona schools. If the Bruins lose, the Territorial Cup winner takes the division.
BIG LOSS: Receiver Ty Montgomery, the Cardinal's best skill position player and kick returner, will miss the game with a right shoulder injury. Stanford already has the lowest-scoring offense in the high-octane Pac-12, but Hogan will have several experienced targets in Montgomery's place.
SHUTDOWN D: UCLA's offense has scored at least 30 points in seven of its last eight games, but Stanford has allowed 30 points just once this season. Hundley and the Bruins need a breakthrough after getting held to 51 combined points in three meetings with the Cardinal over the past two years.
BRUINS ROLL: Ever since a one-sided loss to Oregon dropped the Bruins out of the Top 25 in mid-October, they've won five straight in increasingly impressive fashion. Another win would give UCLA its first back-to-back 10-victory seasons since 1997-98.
NO SURPRISES: These teams' familiarity should lead to a high-level game. UCLA has studied Stanford's old-school approach on both sides of the ball. "Lots of runs, lot of power, and some physicality up front that we haven't seen in the Pac-12 yet," said Bruins linebacker Eric Kendricks, one of 12 seniors likely finishing their Rose Bowl careers. "They do different things than everyone else, but this is my fourth time playing them in three years, so I know what to expect. We're ready."
___
AP Sports Writer Antonio Gonzalez in Stanford, California, contributed to this report.