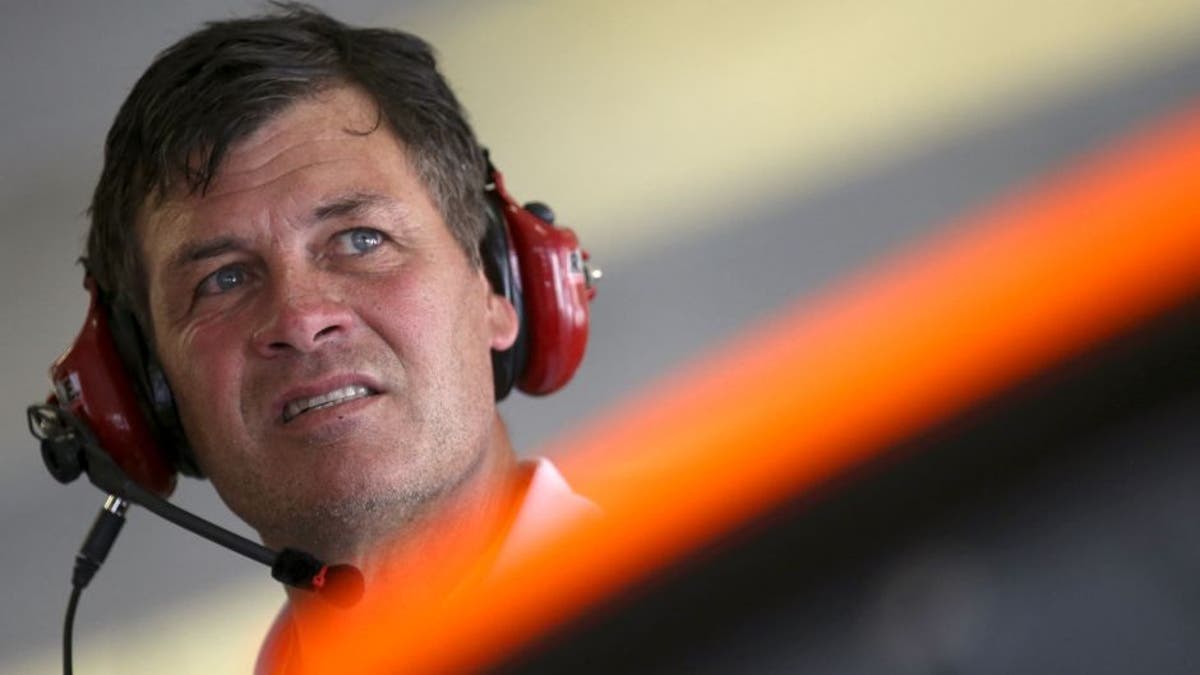 The saga of Michael Waltrip Racing keeps getting curiouser and curiouser.
A quick recap:
At noon on Thursday, MWR issued a one-paragraph statement saying team co-owner Rob Kauffman was buying an undisclosed share of Chip Ganassi Racing with Felix Sabates.
Twelve minutes later, CGR issued a one-paragraph statement essentially confirming the earlier MWR statement.
Late Thursday afternoon, Waltrip issued a statement of his own saying his personal focus was on 2015 and fulfilling prior commitments to the team's partners and Toyota.
Friday morning, Sabates issued a statement that confirmed CGR will be a three-car team in 2016.
At Pocono Raceway on Friday, MWR driver Clint Bowyer stood behind his team's hauler and told reporters there is "change on the horizon." Bowyer then added, "There's a lot of work to be done in the future and we're all working on it and when I have something to tell you guys you all know me and I'll tell you."
Later in the day Friday, Toyota issued its own statement, which read in part, "Rob has not disclosed the plans for Michael Waltrip Racing past the 2015 racing season. Toyota and TRD remain focused on winning races and championships with our team partners this year."
Meanwhile, multiple sources confirmed to FOXSports.com that MWR's shop in Cornelius, N.C., is up for sale, with at least one potential buyer already scheduled to visit.
Saturday afternoon, it was Kauffman's turn to speak, which he did for 2 minutes and 41 seconds at Pocono. He did not field any questions.
"First and foremost, I think it's important to realize that Michael and I own Michael Waltrip Racing, we control Michael Waltrip Racing together," said Kauffman. "We're business partners. We're great personal friends. So any idea that, like, I'm leaving or taking anything is actually misplaced. What we're really doing is integrating the businesses, trying to get the most competitive product on track, do the best for all of our partners. That's really our focus."
Kauffman then reiterated that for the remainder of this year the goals remain to get one or both of MWR's cars into the Chase for the NASCAR Sprint Cup.
"In terms of our plans, whether we have three cars, four cars, two roofs, one roof, that's all yet to be determined," Kauffman continued. "And how we do in the 2015 season will help determine whether that happens. If we do a great job, that'll be one outcome, if do a less-great job, probably another. And I think it's going to be pretty obvious to you."
Presumably, doing a "great job" means getting at least one MWR car in the Chase. Doing a "less-great" job would mean getting shut out of the Chase for the second consecutive season.
That dovetails with statements Waltrip has made in the past. In an exclusive interview with FOXSports.com in the summer of 2013, Waltrip was asked if making the Chase was worth millions of dollars per car.
"I would say it's safe to say that because of the purse and sponsor incentives, but [it's] more than that," said Waltrip. "It's about survival. You have to be a Chase team if you want to be here for the long haul."
But wait. There's more.
"Our business model doesn't work without us making the Chase," Waltrip said flatly. "We invest in our cars and our team and we tell our sponsors that with the way we built our team, we're going to make the Chase, we're going to win races."
To that end, Kauffman addressed the challenging economics of operating a Sprint Cup team.
"Everyone knows the teams are under quite a bit of pressure," Kauffman said Saturday. "The competition is within tenths of a second. People are battling for it. On the business side, it's very difficult for the teams to maintain a sensible business model. ... I think you're going to see more consolidation along the way here."
Kauffman said partnerships will be essential to survival. "There aren't really any one- or two-car teams that aren't affiliated with much larger organizations," said Kauffman. "I think the days that you can have a lone wolf and be successful in this sport are long past. I think this is just another chapter in the book of this stuff."
So what does it all mean?
Reading between the tea leaves, it appears Kauffman and the Ganassi organization have agreed to work together, but are only in the starting stages of deciding how their partnership will be set up and operated going forward. There are myriad sponsors to consider, not to mention employees, two automakers, drivers, crew chiefs, multiple facilities and much more.
Surely, in a perfect world, Kauffman and Ganassi would have preferred to have had all the details pinned down before going public with the announcement. But when it was leaked by the Sports Business Journal earlier this week, it forced their hands.
As for Kauffman's statement that performance over the remainder of the year will determine the outcome of how the partnership shakes out, rest assured the folks who work at MWR are feeling a pronounced sense of urgency right now. And like the rest of us, they're wondering what's going to happen next.