Al Horford opens up about why he chose to sign with the Celtics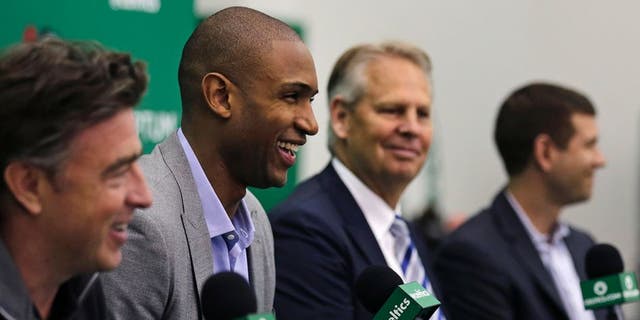 NEWYou can now listen to Fox News articles!
Al Horford was synonymous with the Atlanta Hawks, spending his first nine years in the league as one of the cornerstones of the franchise.
But his tenure ending this summer, when the versatile big man opted to sign a four-year, $113 million deal with the Boston Celtics. In a Q&A with the Atlanta Journal-Constitution, Horford explained why he felt it was time to move on and why the Celtics were the right fit.
"It was extremely difficult but at the end looking at the future of the team and having an opportunity to win in a different scenario for me," said Horford, a four-time All-Star. "It wasn't an easy decision for me but I think at the end Boston just felt it was the best fit for me when looking at everything from their players top to bottom, the amount of players they had and the potential there."
The Celtics' young roster has been missing a go-to player the past two seasons, when Boston defied expectations and made the playoffs despite what appeared to be a rebuild. Horford said he had a list of teams that intrigued him when the season ended, but it was the Celtics' togetherness that sold him on Boston.
"After the season, my agent and I sat down and looked at the possibilities of other teams if it didn't work out in Atlanta," Horford said. "There were three or four teams that emerged in case things didn't work out that I would look at. It started to be more realistic on July 1st. When I took the meetings with the other teams, I met with Boston and other teams as well, when I sat with them I just saw the roster and their vision.
"There was a lot of impact on me with Danny Ainge and coach (Brad) Stevens," Horford said. "It was a very positive meeting. Two of their owners were in the meeting and three or four of their players were there too. They seemed like a very close group and were focused on what their goal was and they got my attention. I wasn't sure in what direction I was going to go. But I knew in order to leave Atlanta it was going to take a very special situation."