A win is nice, but Roush Fenway Racing has bigger aspirations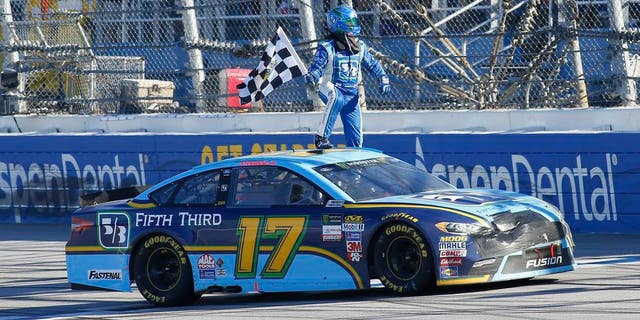 In NASCAR, no one stays on top forever. And when a top driver or team stumbles, its a lot harder to get back to the top than it was to get there in the first place.
Witness Roush Fenway Racing.
Jack Roush, who came up racing sports cars and drag racing cars, founded his NASCAR team in 1988 and slowly built it into a powerhouse. In 2003, the team won its first championship with Matt Kenseth, then won another with Kurt Busch in 04.
And 2005 was downright remarkable: The Roush organization won 15 of 36 races and got five drivers into the playoffs at a time when the entire playoff field was only 10 drivers.
As recently as 2011, Carl Edwards tied for the championship with Tony Stewart but lost on a tiebreaker for most race victories.
But the teams performance has fallen off in recent years. Roush Fenway won five races in 2011 and five more in 12, then three in 13, two in 14 and none in the last two seasons, when the team failed to make NASCARs playoffs both times and didnt have a single driver finish better than 20th in points. Thats a huge drop-off for a proud team.
Team founder Roush, who turned 75 years old last month, has had his share of personal challenges, too. Roush survived two plane crashes, one near Talladega in 2002 where he nearly drowned, and another at an airshow in 2010, the second crash costing Roush an eye and breaking his back. Earlier this season, Roush missed several races for medical issues.
But Roush is nothing if not resilient, and his team is, too.
Two years of heartache suddenly got erased on Sunday, when Ricky Stenhouse Jr. broke the teams 101-race winless streak at Talladega Superspeedway with a stirring last-lap pass of Kyle Busch to capture the GEICO 500.
Even before Talladega, Stenhouse, and teammate Trevor Bayne,were running much better this year than in the prior two seasons. Still, theres nothing like a victory to regain credibility and boost internal morale.
Team president Steve Newmark had no doubt what Stenhouses victory meant for the organization.
I think if you polled everyone at Roush Fenway, they still believed, Newmark said. They didn't feel like we went anywhere. So I know we've heard the term resurgence a lot, but I think that we always felt like we had the right personnel, the right talent in our drivers, and there was a belief that we would get back there, and so I think this is just kind of affirmation of the work that's been put into it.
And Roush is already looking ahead, not back.
I knew that we had the right mix of people in the right places this year, and if we'd just if it would gel and we'd have a little bit of good fortune that we would win races, and we'll win a race with Trevor before the year is over unless I miss my guess, Roush said. But hopefully we can get ourselves ready for this last 10 races to make a championship run. That's what I'm thinking.