A-Rod Benched for Pivotal Game 5 Against Orioles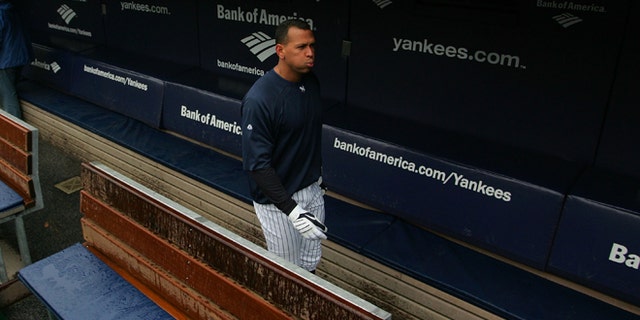 Alex Rodriguez will start the New York Yankees' biggest game of the year on the bench.
After being pinch hit for in Games 3 and 4 against the Baltimore Orioles, the $275 million third baseman was removed from the starting lineup for Game 5 on Friday.
Eric Chavez is set to start at third base, while Game 3 star Raul Ibanez will be the designated hitter in the winner-take-all series finale.
The 37-year-old Rodriguez is 2 for 16 (.125) with no RBIs and nine strikeouts in the series. With runners on second and third and one out in the eighth inning of a 1-1 game Thursday night, he struck out against side-arming right-hander Darren O'Day. Baltimore went on to win 2-1 in 13 innings.
Since helping New York win the 2009 World Series, Rodriguez is 10 for 66 (.152) with no homers and six RBIs in postseason play. He hasn't homered in 84 at-bats since Sept. 14.
With the Yankees trailing 2-1 in the ninth inning of Game 3, manager Joe Girardi sent up Ibanez to bat for A-Rod, and Ibanez hit a tying home run. Ibanez homered again in the 12th to give New York a 3-2 win.
Baltimore led 2-1 in the 13th inning in Game 4 when Chavez batted for Rodriguez and lined to third for the final out.
Fifth on the career list with 647 home runs — 115 behind Barry Bonds' record — Rodriguez has been slowed by five trips to the disabled list in five seasons: for a strained quadriceps (2008), hip surgery (2009), a strained calf (2010), knee surgery (2011) and a broken hand (2012).
Before the start of spring training in 2009, he admitting using performance-enhancing drugs while he was with the Texas Rangers from 2001-03.
As for the rest of the Yankees' lineup, Derek Jeter was back at shortstop after being moved to DH for a game because of a sore left foot. Jeter led off, followed by left fielder Ichiro Suzuki, second baseman Robinson Cano, first baseman Mark Teixeira, Ibanez, right fielder Nick Swisher, center fielder Curtis Granderson, catcher Russell Martin and Chavez.
Yankees ace CC Sabathia was on the mound, opposed by Jason Hammel in a rematch of the opener, won by the Yankees 7-2.
Reporting by the Associated Press.
Follow us on twitter.com/foxnewslatino
Like us at facebook.com/foxnewslatino