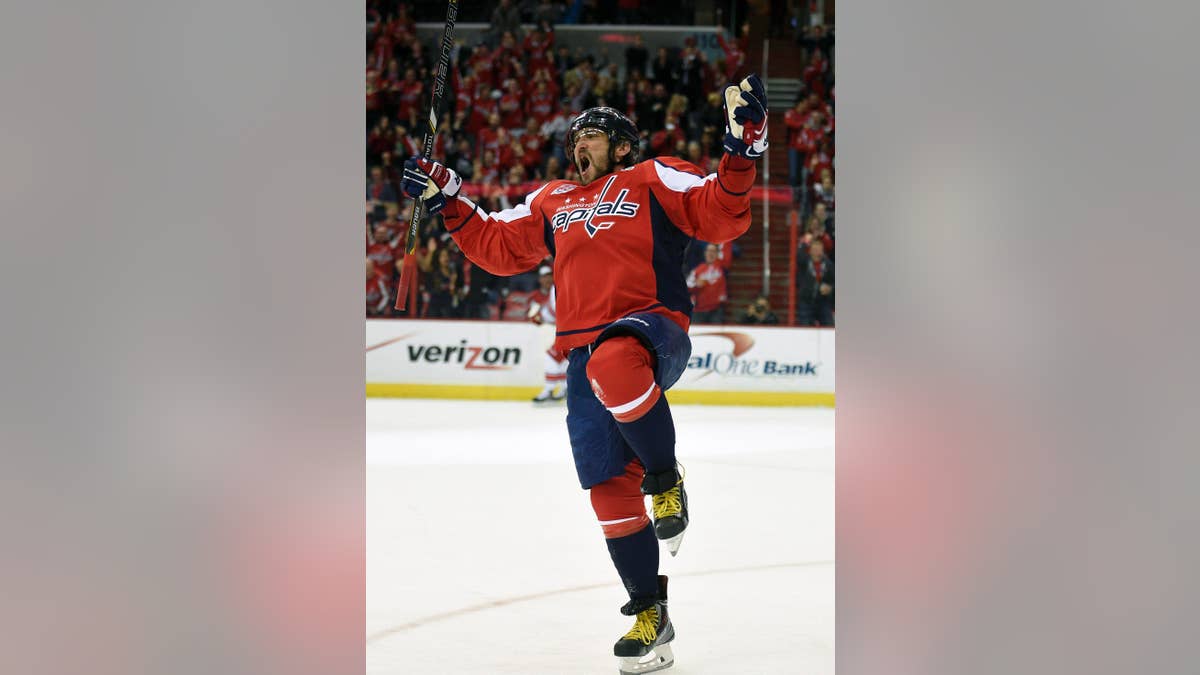 WASHINGTON – Alex Ovechkin is 29, and his hair is flecked with gray nowadays. His coaches and linemates keep changing, as have the ways opponents try to stop him.
After 10 years in the NHL, one thing that stays the same about the guy known as Alex the Great: He can get the puck in the net.
Putting his name in the company of such past hockey superstars as Wayne Gretzky, Mike Bossy and Mario Lemieux, Ovechkin is now one of only six players with at least a half-dozen 50-goal seasons. The Russian wing reached that milestone for the sixth time Tuesday night by scoring in the first period of the Washington Capitals' 4-2 victory over the Carolina Hurricanes.
"We're sort of immune to it now, really," Capitals defenseman Mike Green said with a chuckle. "We don't expect it, but it's amazing how he does it every year. It's one of the most difficult things to do, and he seems to find a way to accomplish that, season after season."
As the rookie of the year in 2005-06, Ovechkin scored 52 goals. He had a career-best 65 two seasons later, followed by 56, then 50. After three seasons in a row with fewer than 40 goals, he regained his touch a year ago with 51.
"Much different than my first year. They give more attention to where we are. They put the best guys, best defensive line, against us," Ovechkin said. "Obviously, if you have two or three shots on net, you have to score one."
On Tuesday, he had four shots, and his goal was the 472nd of his career, pulling even with Peter Bondra for the most by a Capitals player. Later against Carolina, Ovechkin recorded his 419th career assist, passing Michal Pivonka for No. 2 in franchise history, three behind current teammate Nicklas Backstrom.
Ovechkin and Backstrom have spent much of their time in the league as linemates, but with the season heading into its final two weeks, first-year Capitals coach Barry Trotz shook things up last weekend, separating his two best offensive threats.
How did that work out? In two games alongside Evgeny Kuznetsov and Joel Ward, Ovechkin has three goals and one assist.
Trotz also moved Ovechkin moved back to left wing, his primary position for most of his career. A year ago under previous coach Adam Oates, though, Ovechkin played mostly on the right side.
When Oates became the fourth coach to depart the Capitals during Ovechkin's tenure, whispers resurfaced about whether the player was too tough to deal with. Trotz heard that talk — and says now it was unfounded.
"It's way better than expectations coming in. All the things that people were telling me were false and untrue. It's been a joy to work with Alex and be a part of the same group that he's with," Trotz said. "It's been really enlightening to me, and I'm trying to make it enlightening to everybody else that this is a good hockey player that can do some special things."
Only Gretzky and Bossy, with nine 50-goal seasons each, have reached the half-century mark more often than Ovechkin. Lemieux, Marcel Dionne and Guy Lafleur had six apiece.
"I mean, the potential there to put up staggering numbers, all-time numbers, is incredible. He's almost at 500 before he's 30 years old," Capitals forward Brooks Laich said. "And his game has changed, too. Even defenses have changed. He's done it on the left side; he's done it on the right side. ... He's a treat to play beside."
___
Follow Howard Fendrich on Twitter at http://twitter.com/HowardFendrich