2016 New York Mets Preview & Fantasy Baseball Draft Prep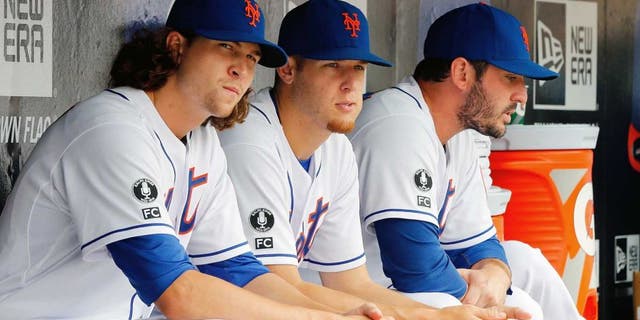 The Mets were a surprise World Series entrant last season. They brought back Yoenis Cespedes to maintain lineup legitimacy, and have a new middle infield. However, the fantasy stars here are still the pitchers.
(Note: When a player's fantasy draft status is mentioned - e.g., "he's an SP4" - the number is based on 12-team mixed leagues. ADP references are from NFBC drafts.)
ALSO SEE: TEAM PREVIEWS ARCHIVE
Key additions: 2B Neil Walker, SS Asdrubal Cabrera, SP Zack Wheeler
Key losses: 2B/3B Daniel Murphy
Projected Lineup
1. Curtis Granderson RF
2. David Wright 3B
3. Yoenis Cespedes CF
4. Lucas Duda 1B
5. Neil Walker 2B
6. Michael Conforto LF
7. Travis d'Arnaud C
8. Asdrubal Cabrera SS
Granderson batted .259 after three terrible bad-BA seasons, and looks like an OF4. He should hit 25-ish home runs again, but don't draft him unless you've got a BA cushion ... Can Wright stay healthy? He hasn't played more than 150 games since 2012, which is also the last time he surpassed 20 homers. Wright is too risky to be a top-12 third baseman ... Cespedes is going as a high-end OF2 after his ridiculous August/September as a Met (17 HR, 44 RBI, .604 SLG). He seems more likely to be the .260, 25-homer guy he was from 2012-14 than to post a repeat. Be careful ... The FOXSports.com analysts have Duda ranked lower than his ADP. In 2015, he ranked ninth at his position in homers (27), 15th in runs (67) and 16th in both RBI (73) and BA (.244) ... Walker doesn't run, but he didn't rank outside the top 12 at his position in the other four categories. If you have enough speed later in your draft, Walker will be a solid MI pick ... There's chatter of a breakout for Conforto, but he's being drafted as an OF4, and his GM said recently that it's "premature to say he's going to play every day." He should be a pretty good player at some point - maybe even this season - and the current draft slot sounds right ... d'Arnaud is being ranked and picked among the top 6-8 catchers due mostly to potential, as he hit 12 home runs in 67 games last season. He might slug 20 homers if he can stay healthy, but that's often the issue with him ... Aside from some up-and-down batting averages, Cabrera has been very consistent from 2012-15, and ranked among the top 13 at his position in all five fantasy categories last season ... Manager Terry Collins said in January that Wilmer Flores will be a super-utility player this season.
Projected Rotation
1. Jacob deGrom
2. Matt Harvey
3. Noah Syndergaard
4. Steven Matz
5. Bartolo Colon
CL: Jeurys Familia
We've got deGrom ahead of Harvey, but the ADP flips them the other way. Debating would be nitpicking, and both are SP1s ... Syndergaard was terrific in 24 starts with the Mets, and his talent stacks up to both deGrom and Harvey. He's only being drafted lower (SP ADP of 15) because his track record is shorter ... Matz followed a stellar half season at Triple A with six strong starts (with a lat muscle tear mixed in) for the Mets, and we're already drafting him as a top-30 starter? He's talented, but come on ... Colon isn't worth drafting in mixed formats, and might just be a placeholder until Zack Wheeler returns from Tommy John surgery at midseason ... Familia ranked third in the majors with 43 saves, with an excellent strikeout/groundball combo. We've got him ranked eighth among closers, but won't argue if you draft him higher.
Sleeper: d'Arnaud, Conforto and Matz are the popular choices because they're young. But Conforto is the only one of the trio without a premium draft price, so let's go with him. If things break right, he could hit 25 homers with a very good BA (think .290-.300).
Top Prospects
Brandon Nimmo, OF - Nimmo handled himself well in a season split between Double A and Triple A, but he seems like a good OBP guy without much power.
Gavin Cecchini, SS - Batted .317 with seven home runs at Double A last season, but he's currently blocked by Cabrera – who signed a two-year deal – and Flores.