10 years gone: Remembering 'The Hitman' Ryan Bennett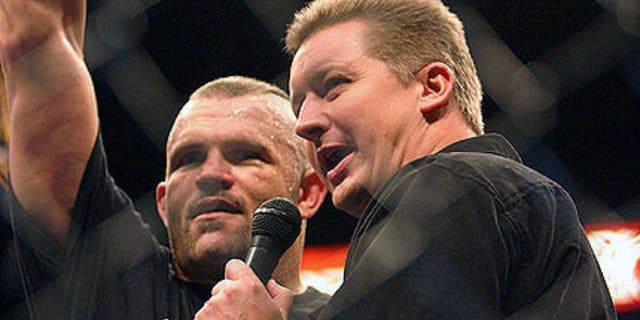 It seems like yesterday when I was standing in the middle of a Best Buy in Pittsburgh, Pa., on a lunch break from my job when my cell phone rang and when I looked at the caller ID, the name read "Ryan Bennett."
Ryan greeted me with his usual exuberance and excitement as he did virtually every time I spoke with him. On that day, Ryan was calling me to share the news that he had confirmed Tito Ortiz and Ken Shamrock were about to become the coaches of "The Ultimate Fighter" season 3.
He wasn't asking me to double check with sources or to write the story so we could break the news. Ryan called to tell me because he was so passionate about mixed martial arts that he just had to share it with someone else and the person lucky enough was me.
It's those stories that I remember most about Ryan Bennett -- the man I called my mentor and the person most singularly responsible for involving me in MMA when I first showed an interest in covering the sport 14 years ago.
May 31, 2016, marks 10 years since the MMA world lost Ryan Bennett and his impact on the sport is still felt through the athletes and people he touched. Ryan Bennett died after his car lost control on a Utah highway and rolled off the road. His is wife Tonya and their four children, who were also in the vehicle, all survived.
Not only did Ryan found MMAWeekly.com, one of the first independent websites to cover MMA, but he was a local sportscaster in San Luis Obispo who paid attention to the sport years prior to the UFC packing arenas and boasting millions of Pay-Per-View sales.
Long before Conor McGregor and Ronda Rousey were household names, Ryan Bennett was making sure that people knew about Chuck Liddell and Tito Ortiz and other UFC stars because he had a passion for MMA that was unmatched.
Ryan's love for MMA eventually landed him a job with the UFC where he was an in-ring interviewer for several events. He would go onto become a commentator for several promotions, including the WEC, Rumble on the Rock and K-1.
Ryan called dozens of fight cards, many of them alongside veteran broadcaster Stephen Quadros.
"Ryan Bennett wasn't just any broadcast journalist -- he was a one-stop-shop of overwhelming passion, intelligence and talent," Quadros said recently. "I was fortunate to have worked alongside Ryan during the formative years of WEC (World Extreme Cagefighting), where we had chemistry from the get go. But the one thing that stuck out for me, besides his undying loyalty, was his sense of humor.
"Sometimes Ryan would call me and we would just talk to each other in a childlike code of ridiculousness that surely would have baffled anyone who was listening in. This was always our preamble, even before we discussed more serious matters. Fun was always a tradition with Ryan and I. He was a great family man too. His love for his wife Tonya and the children was the priority in his life. Ryan Bennett was my peer, my brother and my friend, and I miss him to this day. But to me his spirit will live forever."
Ryan also hosted a daily MMA radio show called "Sound Off," where he welcomed in some of the biggest and best guests every single day.
Ryan's enthusiasm about the sport was infectious and he knew how to get the absolute best out of every person he would interview.
There were shows where UFC executives like Dana White and even matchmaker Joe Silva would call into his show just because Ryan was discussing something that they had to weigh in on at the time. If a fighter had something to say, Ryan was almost always the person they wanted to say it to.
It's hard to believe that it's been 10 years since Ryan left us.
Ryan's impact on MMA has been undeniable and even a decade later, the people who knew him best will never forget what a profound influence "The Hitman" had on them and on their lives.
"He had a way with fighters. He had a way with people," UFC Hall of Famer Liddell said. "It's that charisma, that energy and part of it was him being a huge fan. He was one of those people that was always friendly and it was hard not to like him."
Liddell's friendship with Ryan stretched back much further than his time working in the UFC. Ryan worked as the sportscaster for the local NBC affiliate in San Luis Obispo where Liddell lived, but back in those days few people knew what MMA stood for much less recognized that a future legend was training in their town.
Ryan knew so he would routinely take camera crews to Liddell's gym to do features and stories on him and slowly but surely the local community began rallying around "The Iceman" as he started to rise up the ranks in the UFC.
Those are the moments Liddell remembers most about Ryan because he cared when nobody else bothered to pay attention to him or the sport of MMA.
"I remember he came to do this show, he was doing a sports show in San Luis (Obispo) and he'd come and do a workout with the guys," Liddell said. He'd go work out with guys who did football or whatever and one day he came back to do a workout with us. So we had him doing this conditioning workout, hitting the bag a little bit and about halfway through he runs out and runs to the back and comes back out and we're like OK what happened? Afterwards we were talking to him and he ran to the back to throw up and just came back out and went back to doing the work out with us. He was tough. That was funny. We made him puke halfway through it but it was funny."
"It was great having a big fan at our local sports department in our local news because sports at that time didn't really think we were that big of a deal back then. So someone being a fan of the sport helping out with that really pushed us and gave us coverage locally. It really helped and meant a lot to us back in the day."
Liddell remembers the night he defeated Ortiz at UFC 47 in 2004 and Ryan was sitting cage side as a member of the media. When Liddell landing the final punch that put Ortiz down, Ryan jumped up in celebration almost out of instinct because he couldn't help but applaud his friend picking up such a huge win.
Of course, he was admonished for celebrating -- a big no-no in the media - but Liddell said that kind of reaction is what made Ryan such a special person because you knew he cared and never minded showing it.
"I gave him a hug and they were like 'you can't be doing that!' but back then a lot of the guys back then weren't quite neutral. He was a friend of mine so it was hard to keep that neutral, with that much emotion for that big a fight," Liddell said looking back at that night.
Former UFC welterweight title contender Frank Trigg probably spent more time with Ryan than virtually anybody else outside of his own family because they co-hosted the "Sound Off" radio show for years together.
Trigg was a top-ranked fighter when he first got involved with the show, but looking back, he admits he actually wanted nothing to do with MMA journalism or broadcasting at the time.
"You've got to remember, Ryan was the one that dragged me into broadcasting. He literally kept pestering to come on and be a part of the MMAWeekly Radio show," Trigg said. "He kept dragging me in and I was like 'I'm not that good' and at the time most people covering the sport didn't have a clue about the sport. They were coming from boxing or they were coming from point karate systems and they were trying to put that genre onto mixed martial arts. So most of these guys that were reporting on it, that were talking about it, had no idea what they were talking about. So I didn't want to have anything to do with it.
"Of course he said, since you know so much why don't you come and fix everything? So he dragged me into it and that's how I got started."
The show Ryan and Trigg hosted together is still remembered fondly by tons of fighters and huge groups of fans. Interviews like the one they conducted with Joe Riggs and Nick Diaz after they got into a fight at a hospital after their bout at UFC 57 is the stuff of legend.
Ryan also had a real impact in how the sport was covered because with his background in broadcast journalism, he never wanted something to go on his show or his website that wasn't accurate and created with the utmost respect to the fighters and the sport at large.
Of all the many contributions Ryan made over the years, Trigg says that one of the things that he remembers most because it was a game-changer for the media as a whole.
"As far as I can remember, Ryan was the first real sports broadcaster that followed MMA and covered it from a real sense," Trigg said. "Everyone's game had to get better because Ryan was reporting from a real journalist's standpoint. Everybody else had to report better and it changed the game with how things were reported and how things were looked at."
Ryan's influence was felt with other journalists as well -- despite never actually working with some of them.
"The first thing that must be said about my friend Ryan Bennett is he cared so much," veteran journalist Josh Gross said. "Ryan's passion was genuine and infectious, and it drove everything he did professionally and personally. Coming up in traditional sports media, Ryan jumped into MMA coverage well before most outlets dared to consider the notion and his premonition of the sport's ascendency has proven true.
"In an alternate reality we would have been rival journalists chasing down scoops and battling it out for web traffic. Fortunately, Ryan was bigger than that. Anyone lucky enough to know Ryan would understand. He is forever missed."
Ryan's co-workers -- myself included -- learned so much from him. More importantly, he was a friend. Ryan seemed to always care more about what was going on in your life than talking about himself.
"It's difficult to put into a few words what Ryan Bennett's influence was," MMAWeekly editor Ken Pishna said. "Even those that didn't know him personally knew what a tremendous talent he was on the microphone, whether it was on MMAWeekly's Sound Off Radio or in the Octagon doing post-fight interviews for the UFC. He had that special something about him that people trusted. You couldn't help but let down your guard and open up to Ryan.
"Ryan was that guy you trusted because he was open and honest and lifted others up to be greater than they knew they could be. It happened for me and everyone around me that worked with Ryan."
After Ryan died, fighters like Trigg and Yves Edwards put his name on their fight shorts because Ryan meant so much that they wanted to pay tribute.
At his funeral, numerous fighters were in attendance and despite having reputations for being some of the toughest athletes in all of sports, there wasn't a dry eye in the house.
As I type this story through a haze of tears, it's still tough to think about Ryan and realize that he's been gone for 10 years. If I look at my phone and dig through my contacts, I can still find Ryan's number because after all this time, that's one thing I still can't let go.
Looking at that number, I'm not filled with sadness but instead a sense of joy because I can think back to that earlier story and numerous others when Ryan called me for no other reason than to talk and chat about our shared love of mixed martial arts.
There was only one Ryan Bennett and there will never be another like him -- but for those of us that knew him and loved him, we are all luckier for having him in our lives.