Shark bites paddleboard at Cape Cod beach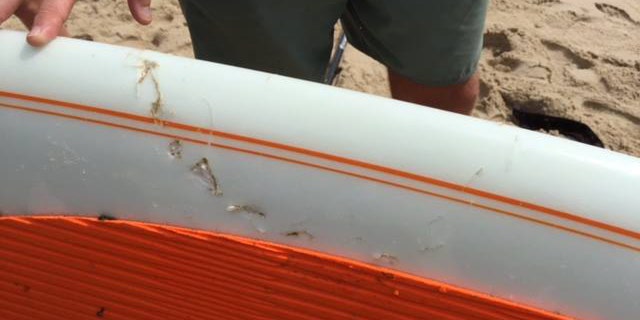 A paddleboarder at a beach in Massachusetts had a very close encounter Wednesday with a shark that took a bite out of the board, forcing officials to close the beach.
The paddleboarder was about 30 yards off shore of Marconi Beach in Cape Cod in about 3 feet water around 10 a.m. when the encounter took place, according to a post on the Cape Cod National Seashore Facebook page.
The 69-year-old man who was on the board was not bit by the shark, officials said, adding that "seals were observed swimming nearby."
GREAT WHITE SHARK LURKS OFF CALIFORNIA BEACH IN STUNNING DRONE VIDEO
As a result of the close encounter, Marconi Beach is currently closed to swimming until further notice.
The National Seashore ranger staff is investigating the incident, along the Atlantic White Shark Conservancy.
The latest incident took place just one day after beachgoers on another Cape Cod beach witnessed a bloody sight when a shark tore a seal apart during a feeding frenzy, sending swimmers fleeing from the water.
TERRIFYING GREAT WHITE SHARK ATTACKS IN CALIFORNIA: PREDATOR TARGETS KAYAKER, PADDLE BOARDER
The gruesome scene was spotted on Nauset Beach, 14 miles south of Wednesday's incident, where a pool of red blood in water had nearby swimmers screaming and heading toward the shore.