With Immigration Reform Clock Having Run Out, Activists Contemplate What's Next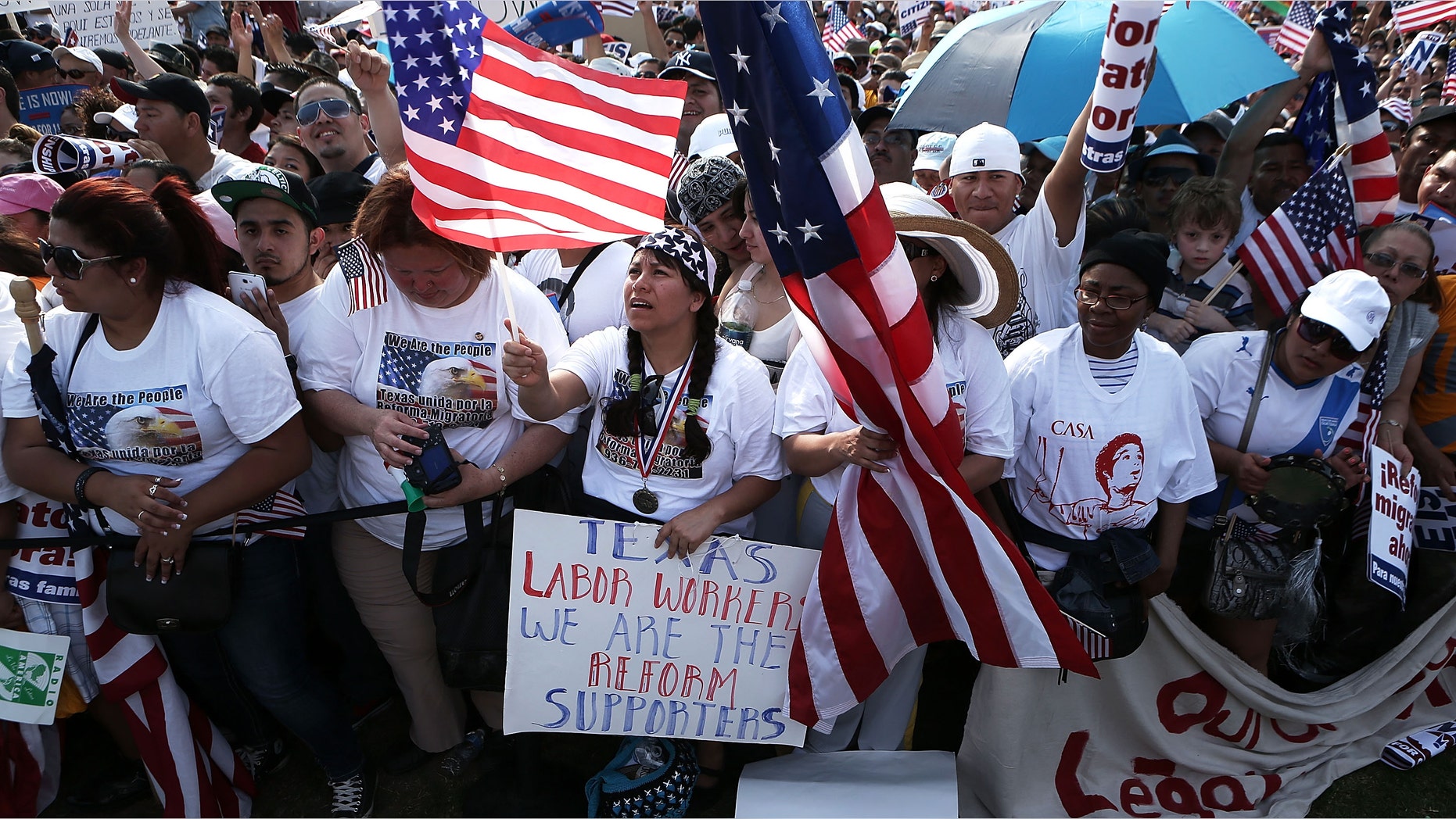 With all chance of passing a sweeping immigration reform gone in the remaining five legislative days of 2013, advocates of an overhaul of the system are trying to figure out what to do next.
The rallies and demonstrations have not let up.
On Monday, young immigrants from Florida, North Carolina and Texas arrived in Washington, D.C., to push for immigration reform.
They delivered letters to lawmakers' offices describing the impact that the deportations of their parents and other family members had on them. They held a press conference to argue for reform and staged a skit that starred "Grinch Boehner," after the House Speaker John Boehner, and blamed him for tearing families apart.
Also on Monday, immigration reform activists in California were planning to begin a four-day fast outside the offices of Rep. John Campbell to call on Congress to work on a measure. They are the latest in a fasting movement that began in mid-November in Washington.
On Tuesday, the Bipartisan Policy Center (BPC) plans to make the case for immigration reform with a press event at its D.C. offices to mark the release of a study that shows that "immigration reform would produce powerful benefits to the U.S. economy," according to a statement issued by the group.
"Notably, the study showed that immigration reform would jump-start the housing market by increasing spending on residential construction by an average of $68 billion annually over a 20-year period."
The BPC event will include Ed Brady, CEO of Brady Homes, former Housing secretary Henry Cisneros and former U.S. Senator Mel Martinez.
BPC president Jason Grumet said that the impasse in Congress on immigration reform is no reason to assume the issue is dead.
Boehner a few weeks ago dashed remaining hopes of a vote on an immigration bill this year when he stated it would not happen during this session. But he recently hired a veteran immigration reform activist, BPC's Becky Tallent, to focus on immigration-reform work.
Frustration has been mounting among advocates of more flexible immigration policies over the stalled effort in the House of Representatives to bring a measure to a vote.
Republicans in the House, where they have the majority, have resisted bills that would offer a path to legal status to undocumented immigrants.
The Senate passed a bipartisan immigration reform measure in June that provides such a path as well as, among other things, tightens security along the border, steps up interior enforcement and expands foreign worker visas.
"The House is going to continue to chart its own course on immigration reform. Becky [Tallent] understands the issues – both those that should be on the table and those that have derailed past reform efforts," said Grumet, BPC's president. "Becky's recent experience forging solutions among BPC's diverse task force members will serve her and Speaker Boehner well in the months ahead. She will be a crucial resource in crafting legislation that can pass the House and be signed by the president."
Groups that oppose immigration reform measures that would let undocumented immigrants legalize their status also vow to continue to work to make sure it doesn't happen.
Roy Beck of NumbersUSA, which has played a critical role in the defeat of past reform efforts, said recently that his members would keep up the pressure on lawmakers not to pass an "amnesty" for people who have broken immigration laws or measures that would allow more foreign competition for U.S. jobs.
Boehner refused to commit to bringing a bill or bills to a vote in 2014 when asked recently by reporters at a daily briefing. But Alex Nowrasteh, immigration policy analyst at the Cato Institute, a libertarian think tank, believes an election year may work in favor a measure being passed.
"There is obviously not enough time to pass immigration reform in 2013," Nowrasteh  said. "The Syrian crisis, Obamacare's disastrous rollout, and the government shutdown, among other things, got in the way."
"The last three  immigration reforms that became law – including Reagan's 1986 amnesty – happened during election years," he said. "Immigration reform laws in 1986, 1990, and 1996 were all controversial but were passed by Congress and signed into law during those years, and it could happen again in 2014."
Follow us on twitter.com/foxnewslatino
Like us at facebook.com/foxnewslatino