With a family like this: Nevada GOP candidate's relatives tell voters to pick rival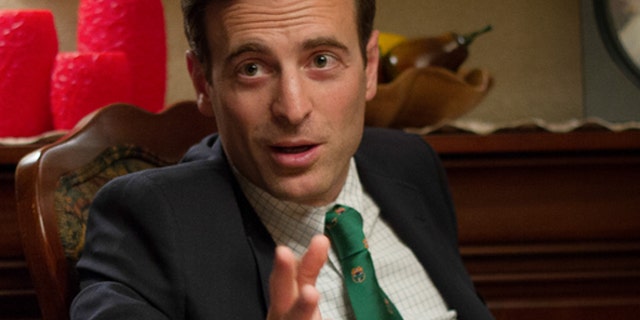 That's going to make for an awkward Thanksgiving.
Adam Laxalt is running for attorney general in Nevada as a Republican, but is being opposed by an unusual group: his own flesh and blood. In fact, some of Laxalt's extended family members have written a public letter urging voters to pick Laxalt's Democratic opponent, Ross Miller, instead of their relative.
Laxalt's campaign consultant Robert Uithoven dismissed the letter as a desperate move from Miller's campaign, and said Laxalt "doesn't have anything bad to say" about his relatives.
"The only reason our opponent would exploit this issue and circulate this kind of thing is he sees himself losing his political career," Uithoven told FoxNews.com.
In the letter, which was published Thursday by the Las Vegas Sun, the seven family members said they felt they had to speak up in support of Miller "to maintain the integrity of our home state of Nevada."
"Know that our message does not originate from a Republican, Democratic or even family affiliation," the letter says. "It has to do with the most basic question all voters must ask themselves when they step into the voting booth, 'Who really is the best qualified candidate for attorney general for the state of Nevada?'"
The message was signed by Adam Laxalt's aunts, Kevin and Neena Laxalt, as well as his cousins Kevan, Kristin, Michelle, Peter and Meggan.
A FoxNews.com request for comment from the Miller campaign was not immediately returned.
Uithoven said there are many family members that support Laxalt's campaign, and have been with the "candidate every step of the way." He said he believes the letter will have little impact because Nevada's voters are focused on real issues, not a family feud.
"Most voters, they are voting for a candidate they are not voting for a family," he said.
Laxalt's mother, who is also named Michelle Laxalt, also spoke out in support of her son.
"Nevada is full of large families, all of whom may not adore one another at all times. I doubt Nevadans are truly interested with family beefs that are not their own," she said in a statement to the Associated Press. "Many of us are so proud and supportive of Adam, his military service to our nation and his desire to serve in public office."
This isn't the first time Laxalt's family drama has made headlines.
The 34-year-old was revealed last year to be the secret child of longtime New Mexico Sen. Pete Domenici and Michelle Laxalt, whose father former Nevada Sen. Paul Laxalt, served alongside Domenici for years.
Domenici and Michelle Laxalt, who was 24 when she had her son, said at the time that they decided to go public with their decades-old secret because they believed someone was about to release the information in an attempt to smear Domenici, who had a reputation as a deeply devoted family man.
"I deeply regret this and am very sorry for my behavior," Domenici, 80, said in his statement. "I hope New Mexicans will view that my accomplishments for my beloved state outweigh my personal transgression."
Domenici was the longest-serving senator in New Mexico history when he retired in 2010 after six terms. Michelle Laxalt became a prominent lobbyist, Republican activist and television commentator after the affair.
The Associated Press contributed to this report.