Wisconsin's Walker facing opposition in own party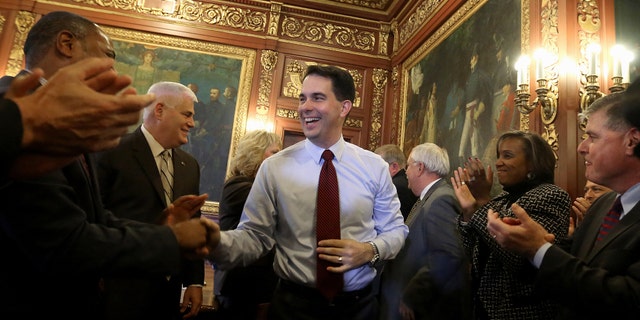 MADISON, Wis. – Republican Gov. Scott Walker has rolled over his Democratic opponents in Wisconsin, shutting down their allies in labor unions, turning back attempts to recall him and handily winning re-election in November.
But as he prepares for the possibility of taking his winning record into a campaign for president, Walker is running into trouble from an unexpected source: his own overwhelmingly Republican Legislature.
Walker, who's trying to polish an image of a governor who gets things done efficiently, is confronting lawmakers who want to flex their increased political power by wading into difficult issues, such as right-to-work legislation, to score major conservative victories.
The governor wants no part of it. He wants a buttoned-down agenda centered on the budget and tax cuts, done on a brisk campaign-friendly schedule, and is skirting big showdowns that could take months and bring hordes of protesters back into the streets in Madison, much like the turmoil of his first months in office. Walker enraged labor unions after taking office in 2011 by passing legislation that effectively ended public employee unions' bargaining rights, sparking weeks of demonstrations and a recall election that Walker survived.
His message about the new right-to-work efforts hasn't been getting through.
"My preference has consistently been I would just prefer not to have it," Walker said when asked recently about taking up right-to-work legislation that is a life-or-death issue for organized labor. Right-to-work laws prevent compulsory union membership or dues.
Walker said he's delivered that message privately to Republican legislative leaders. But GOP lawmakers, who increased their majorities in the November election to 19-14 in the Senate and 63-36 in the Assembly, want to be aggressive.
"We can't tiptoe through this session without addressing this," Republican Senate Majority Leader Scott Fitzgerald said in December on WTMJ-AM radio in Milwaukee. "We're not tackling this six months from now. We're not tackling this a year from now. ... There's no way we avoid this issue."
The conflict has injected tension into Republican ranks — and between Walker's current and future interests.
After Walker led a GOP takeover of Wisconsin in the 2010 election, he set the tone at the Statehouse, cutting taxes and passing the collective bargaining law.
Now Republican lawmakers are pressing to set the agenda.
In addition to right-to-work legislation, conservatives are talking about social issues, such as banning abortions for pregnancies after 20 weeks, and making it more difficult for prosecutors to launch secret "John Doe" investigations, which are Wisconsin's version of a grand jury probe. Walker himself has been the target of two such probes. Both issues could provoke legislative battles.
The statewide Chamber of Commerce is among the powerful interests pushing for a right-to-work law. Backers argue that Wisconsin will be at a competitive disadvantage in attracting business until it can guarantee that workers won't have to pay union dues on union-contract jobs if they don't want to. Several neighboring states have such laws.
"It just feels like this is the right time for it," said Republican Rep. Chris Kapenga, who plans to sponsor the measure.
Walker dismissed the issue as "a distraction" and said tax cuts mean more for the economy. Walker wants to cut both property and income taxes and run through several other conservative priorities, such as required drug testing for food stamp recipients and expanded school vouchers. He also needs to address a looming $2.2 billion budget shortfall, and wants the budget wrapped up faster than usual.
"You can see why he would just as soon put off things like right to work," said Charles Franklin, director of the Marquette University Law School poll, who noted that, after withstanding protests over the anti-union action in his first term, Walker would rather demonstrate smooth efficiency in contrast to the political gridlock of Congress.
He may not get his wish. The Democratic leader in the Assembly, Rep. Peter Barca, has warned that the right-to-work issue would spark mass protests similar to those four years ago.
"We'll fight this every step of the way," said Phil Neuenfeldt, president of the Wisconsin AFL-CIO.
Said Franklin, "It shows the legislative agenda is not always the same as Scott Walker's agenda."