Why Didn't You Call? Obama Tries to Rekindle the Romance with College Voters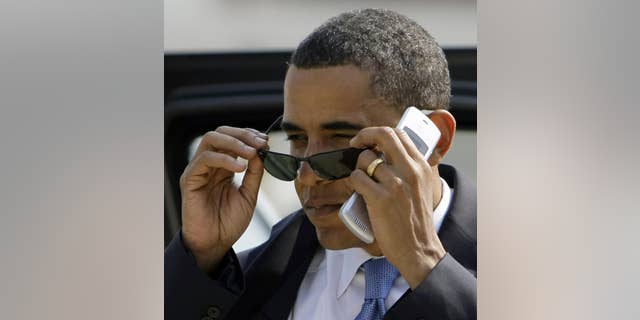 They tweeted, blogged, facebooked and proudly flaunted their "Hope" t-shirts around college campuses nationwide, but now it looks like the love affair between President Obama and the young college crowd is cooling.
As the president prepares to take over the airwaves of MTV, CMT, and BET Thursday afternoon with a townhall style event, there are questions if his outreach will have an impact.
New polls from Pew and MTVu show young voters becoming increasingly disenchanted with the president and politics in general. The poll conducted by MTVu shows 27 percent of college students are unhappy with the president's stewardship, almost double the 15 percent that had a negative view of him back in 2009.
So why the political break-up? Well, Heather Smith, president of Rock the Vote says try not treating them like a girlfriend during the Superbowl, as a neglected afterthought."I've been describing it as we had a good first date in 2008 and then we were waiting for the call back. Two years later we got the call back, but now we are a little more hesitant. You still want to go out on that second date, but it's lost the luster," Smith said.
While yes, voters are probably not ones politicians want to play hard to get with, some on the conservative side say there's much more to it."His policies have been frightening to young people who are trying to plan for the future. I don't know if cool, charisma, and celebrity are priorities for young people," conservative columnist S.E. Cupp tells Fox News.
Cupp also pointed to the fickle nature of the younger generation, saying once Generation Y gets out into the "real world" the idealism fades as bills, pressures, and mortgages mount. "When you're looking at the youth population, their tastes change. The people who voted in college are now the ones joining the work force, and they're seeing that cool doesn't get them a job or pay the bills."
But is it really a case of young voters giving Obama and Democrats the cold shoulder, or are they fed up with politics as a whole? Some political analysts say the barrage of attack ads coupled with candidates deviating from talk of actual job creation is more likely to blame. "There are a lot of partisan messages coming out of Washington right now, it's really turned people off," Smith said.
And, according to Smith, it's actually those young voters that the president can count on the most come 2012. "Overall young people still like the president, they are more favorable of him than other age groups, but when we ask how do you feel about what he's accomplished, one-third are disappointed, one-third approve and one-third say the jury is still out. That points to an opportunity for the president and other elected officials to step up and lead."
There certainly is plenty of evidence that Obama has tried to re-ignite Obamamania.
Just last month he took part in GEN44, a summit of urban, young people capped off by a performance with hip-hop artist B.o.B.
Then there was his rally in Philadelphia last weekend where he tapped another hip-hop group, The Roots, to rev up the crowd.
And before hosting the hour-long special Thursday afternoon, he headed to George Washington University on Tuesday night to take one-on-one questions from college students concerned about their futures.
With Republicans better poised than ever to take control of the House and make gains in the Senate during the upcoming midterm elections, Democrats are likely hoping these recent events (which could be viewed as the political equivalent of roses and chocolates) will help woo young voters to get to the polls.