White House's $100M mental health pledge: Token gesture or real effort at reform?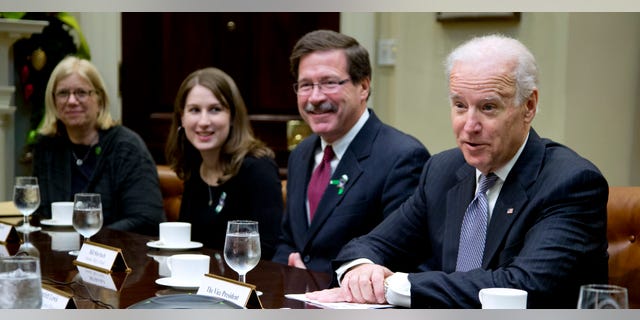 NEWYou can now listen to Fox News articles!
WASHINGTON – What does $100 million buy in mental health care across the country? Turns out, not much.
Timed with the one-year anniversary of the Newtown, Conn., school shootings, the White House this week announced $100 million for mental health programs.
The announcement came on the same day Vice President Biden met with the families of victims from the Sandy Hook shooting. And while many applauded the monetary commitment, a closer look shows that the federal funds pale in comparison to what the states have been committing over the past year -- and may do little to reverse decades of neglect.
Texas alone is committing more than twice the federal amount, having boosted its mental health funding by $259 million – the largest increase in state history.
According to the White House, $50 million of the $100 million will go to the Department of Health and Human Services budget to help community health centers hire more mental health professionals and provide additional services. The rest will be used by the Agriculture Department to improve mental health facilities in rural areas.
"It is a step in the right direction, but so much more needs to be done," Lynn Lasky Clark, CEO of Mental Health America of Texas, told FoxNews.com.
John Grohol, founder and CEO of Psych Central, also called it a "good start" in an online posting Thursday.
"But once you divide that amount by the approximately 750 community mental health centers in the country, it comes out to just $67,000 per center," Grohol said. "That's one additional mental health professional per center -- if that professional were a psychologist or such; maybe 2 if they were master's level or less."
Grohol argues that the amount of money promised is "a drop in the bucket" compared with the amount that's been gutted from state budgets over the past five years.
According to the National Alliance on Mental Illness, more than $4 billion in resources were cut from state mental health programs between 2009 and 2011.
"Lord knows we need more money for mental health services," Ron Honberg, director of policy and legal affairs at NAMI, said in a statement.
Honberg attended the White House event where the additional funds were announced.
Traditionally, financing behavioral health services has been the responsibility of state and local governments.
Over time, the federal role in funding has increased some. The implementation of ObamaCare "will likely shift the distribution of financing sources for behavioral health care, as the expansion of private insurance and Medicaid coverage will lead these sources to account for a larger share of spending," according to a report by the Kaiser Commission on Medicaid and the Uninsured.
Despite Biden's comments Tuesday that the White House has "made it a priority to do everything we can to make it easier to access mental health services," relatively little has actually been done on a national level.
Michigan Democratic Sen. Debbie Stabenow's Excellence in Mental Health Act, which would direct more resources to the mental health system, has stalled in Congress. Still, she applauded "the administration's commitment to mental health services and to reduce the stigma around mental illness."
In the year since Adam Lanza killed 20 children and six adults at Sandy Hook Elementary in Newtown, state and local governments have stepped up their efforts to offer mental health services to those who need it instead of relying on federal funding.
According to the NAMI report, 36 states and the District of Columbia increased funding for mental health services following Sandy Hook.
Lawmakers in nearly a dozen states either passed or strengthened laws that could allow more people to receive court-ordered treatment for symptoms of severe mental illness, the Treatment Advocacy Center reported.
Among other things, Texas green-lighted $20 million for hospital repairs, upped the salaries for psychiatric nurses, OK'd a $1.6 million public awareness campaign and allocated $4 million for a veteran's mental health initiative.
"It was a huge investment for Texas," Clark, with Mental Health America of Texas, told FoxNews.com. "Historically, the state has been very low in per capita funding for mental health. There are a lot of different programs the money is going toward but one of the most important is that it will eliminate waiting lists for someone who has a mental illness to go in and get help."
According to the State Mental Health Agency's latest research which tracked total dollar and per capita expenditures in fiscal year 2010, Texas was at the time one of the lowest-funded states in terms of per capita funding, coming out to $38.99 per person. Idaho was the lowest with $57.4 million, or $36.64 per person.
D.C. led the nation for the most spent per capita at $217 million or $360.57 per capita, followed by Maine at $459.7 million or $346.92 per capita and Alaska at $214 million or $310.01 per capita.
Calls to the White House and the Department of Health and Human Services were not immediately returned.