White House officials hope to refocus Trump on issues that resonate with base
White House officials have been urging President Trump to double down on the platform that got him elected into the nation's highest office, while he tries to re-energize his staunchest allies.
Advisers have been urging Trump to refocus on immigration and other issues that resonate with the conservatives, evangelicals and working-class whites who propelled him to the Oval Office.
The president has also ramped up his media-bashing through Twitter, long a successful tactic for Trump, and staged rallies hoping to marshal his base to his defense. On Monday, he used the tactic to take swipes at Sen. Richard Blumenthal, D-Conn., after he expressed support for a special counsel's probe of Trump's associates' links to Russia.
Trump's advisers are aware that a serious slip in support among his core voters could jeopardize hopes for a major, early legislative accomplishment and would certainly increase Republicans' worries about his re-election prospects.
The president's struggles already have prompted public speculation about his political future. The White House pushed back angrily Sunday against a New York Times report about Republicans preparing for 2020 presidential race that may not include Trump. The report described Vice President Mike Pence as laying groundwork in case Trump does not run. Pence called the report "disgraceful."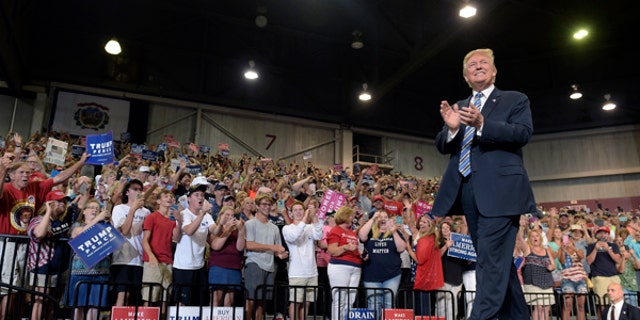 The chatter has been fueled by Trump's unsuccessful attempt to shepherd health care legislation through Congress, the drip-drip of revelations about his associates' ties to Russia and the churn of turnover and turmoil at the White House. The president's advisers have tried to drown out the bad news by focusing on his agenda.
"They are telling him just enact your program," Conway said of the president's base in a recent interview on ABC's "This Week." "Don't worry about a Congress that isn't supporting legislation to get big ticket items done. And don't worry about all the distractions and diversions and discouragement that others, who are trying to throw logs in your path, are throwing your way."
Immigration is expected to continue being a focus for Trump in the coming weeks, including a push for the border wall. Officials also are weighing a more public role for White House policy adviser Stephen Miller, a favorite of Trump backers whose hardline immigration policies irritate some congressional Republicans.
The appointment of White House chief of staff John Kelly also fits in to that effort. While Kelly was brought in primarily to bring much-needed discipline to the West Wing, officials note that he, too, is viewed favorably by some Trump loyalists for his early execution of the administration's immigration policy as secretary of the Department of Homeland Security. Kelly's appointment was particularly welcomed by senior strategist Steve Bannon, who has taken on the task of ensuring Trump doesn't drift from the promises he made to his base during the campaign.
Alice Stewart, a conservative who worked for the presidential campaigns of Sen. Ted Cruz, R-Texas, and former Arkansas Gov. Mike Huckabee, said Trump is right to make overtures toward his coalition of loyal supporters, even if some of his moves are incomplete.
"I think people realize half a loaf is better than none," Stewart said.
Mitch Harper, a former GOP state legislator and Republican activist in Indiana, said Trump will get credit from conservatives even for partial measures simply because he is "articulating things that they have not heard anyone articulate in a long time."
And what about the results? Harper said Trump supporters "are willing to wait."
Indeed, even some of Trump's advisers still marvel at the loyalty of the president's supporters. For now, conservatives are pinning the blame on Washington's failure to get health care done not on Trump, but on the handful of Republican senators who blocked legislation aimed at overhauling "Obamacare."
"I think on health care the president is viewed as someone who did everything they could," said Matt Schlapp, who heads the American Conservative Union.
The Associated Press contributed to this report.