White House: Obamas not mystery buyers of 'Magnum, P.I.' home
NEWYou can now listen to Fox News articles!
Mystery solved?
The Obamas are not the secret buyers of the beach-front Hawaiian home Tom Selleck once roamed as the star of the 1980s television show "Magnum, P.I.," according to White House spokesman Josh Earnest and an Obama associate who says he and he alone is the proud new owner.
The house sold on Monday for $8.7 million in a tricky transaction that all parties signed a secrecy pledge to, prompting immediate speculation the home would be the post-White House abode of the Obamas. But Earnest said Friday the clues don't add up to the first family being the new owners of Hawaii's most-talked about house.
"They are not," Earnest said flatly.
On Thursday, Seth Madorsky, an attorney for Marty Nesbitt, said his client bought the property and didn't have any partners or co-investors in the deal. Nesbitt is a Chicago businessman who served as treasurer for Obama's first presidential run and is chairman of the Barack Obama Foundation, which will build the president's future library.
The buyer of the 11,054-square-foot home on three acres of Honolulu beach front was listed as "Waimanalo Paradise," and the deed and mortgage are signed by Judy Grimanis, an executive assistant at a Nesbitt's private equity firm, and a former employee of Penny Pritzker, the real estate millionaire Obama tapped to be Secretary of Commerce in 2013.
The denials may chill, but likely won't kill, speculation about the Obamas saying "Aloha" after the president's second term ends. The Obamas own a home in Chicago, but recent reports have said they may relocate to New York when his second term ends. Hawaii, however, where the president lived in his teenage years, has been a recurring vacation spot for the Obamas since moving to Washington. There has also been speculation Hawaii could be the natural choice for Obama's presidential library.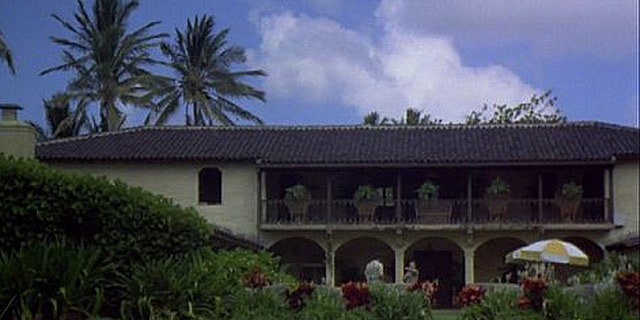 But whoever is getting the house has his or her work cut out. The home, with five bedrooms and 6 bathrooms, was originally designed in a European style by Louis Davis, and includes a tennis court, fireplace, 3-car garage, boathouse, bathhouse and maid's quarters. The home is located on Kalanianaole Highway, at the edge of a white sand beach with stunning turquoise waters fronted by a rare historic turtle pond that formed a protective salt pool. In the TV show starring Selleck, the property was portrayed as "Robin's Nest," an oceanfront estate owned by fictitious novelist Robin Masters.
"It's gone into disrepair since Magnum P.I. days. It's an 80-year-old house that has not been cared for for a while – an $8 million fixer upper," said Michael W. Perry, Hawaii's most well-known radio personality of KSSK's Perry & Price Show. "However, it is a great area, between Sea Life Park and Kailua, with the most spectacular views you can possibly get. If the place was good enough for Magnum and his friends, then it is definitely good enough for a President."
The home was purchased from former Republican state representative and environmental activist, Eve Anderson, a well-known figure in the political and windward communities, who is the step-daughter of Cox Communications heiress Barbara Cox Anthony. Anderson's grandfather was the original owner of the property.
The Associated Press contributed to this report.