White House mum on pleas from Iraq for airstrikes, as militants gain ground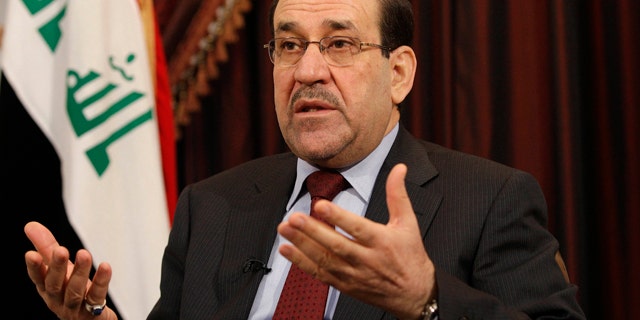 WASHINGTON – The Obama administration reportedly has rebuffed calls from the Iraqi government to carry out airstrikes against Al Qaeda-aligned militants who are on a violent march that is threatening to take over the nation's north.
The insurgents have already seized several major cities, including Mosul and most recently Tikrit.
The Obama administration is considering additional aid, but has not specified what assistance it is prepared to send. And, a little more than two years after U.S. troops withdrew from the country, Washington is not committing to helping the Iraqi government with airstrikes.
A senior U.S. official told The Associated Press that the U.S. is considering whether to conduct drone missions for Iraq but that no decision had been made.
The New York Times reported that Prime Minister Nouri al-Maliki has requested airstrikes, but so far has been turned down.
A statement from the National Security Council made no commitment, as insurgents with the Islamic State of Iraq and Syria threaten to advance.
"We are not going to get into details of our diplomatic discussions but the Government of Iraq has made clear that they welcome our support in their effort to confront [ISIS]," spokeswoman Bernadette Meehan said. "We have expedited shipments of military equipment since the beginning of the year, ramped up training of Iraqi Security Forces, and worked intensively to help Iraq implement a holistic approach to counter this terrorist threat. Our assistance has been comprehensive, is continuing, and will increase."
White House Press Secretary Jay Carney, in a statement overnight, offered "condolences" to the families of those killed, but did not specify what actions the administration would take.
"The United States will stand with Iraqi leaders across the political spectrum as they forge the national unity necessary to succeed in the fight against ISIL," he said, adding "we will also continue to provide, and as required increase, assistance to the Government of Iraq to help build Iraq's capacity to effectively and sustainably stop [ISIS's] efforts to wreak havoc in Iraq and the region."
U.S. lawmakers, though, openly questioned whether al-Maliki should remain in power, as his Shiite-led government has targeted Sunni political opponents and, in turn, inflamed sectarian tensions across Iraq.
"He's obviously not been a good prime minister," said Sen. Bob Corker of Tennessee, top Republican on the Senate Foreign Relations Committee. "He has not done a good job of reaching out to the Sunni population, which has caused them to be more receptive to al-Qaida efforts."
The panel's chairman, Sen. Bob Menendez, D-N.J., noted only lukewarm support for al-Maliki, both in Iraq and among U.S. officials. "I don't know whether or not he will actually be the prime minister again," Menendez said. "I guess by many accounts, he may very well ultimately put (together) the coalition necessary to do that."
The rampage has raised new doubts about al-Maliki's ability to protect Iraq in areas that were mostly calm when U.S. troops withdrew from the country less than three years ago. Since then, violence has roared back to Iraq, returning to levels comparable to the darkest days of sectarian fighting nearly a decade ago when the country teetered on the brink of civil war.
Al-Maliki and other Iraqi leaders have pleaded with the Obama administration for more than a year for additional help to combat the growing insurgency, which has been fueled by the unrelenting civil war in neighboring Syria. Northern Iraq has become a way station for insurgents who routinely travel between the two countries and are seeding the Syrian war's violence in Baghdad and beyond.
State Department spokeswoman Jen Psaki said it's expected that the U.S. will give Iraq new assistance to combat insurgents but declined to describe it. Beyond the missiles, tanks, fighter jets and ammunition that the U.S. has already either given or plans to send to Iraq, Baghdad has sought American surveillance drones to root out insurgents.
"The situation is certainly very grave on the ground," Psaki said Wednesday. She said the U.S. is encouraged by Baghdad's recent promise for a national unity effort but "there's more that Prime Minister Maliki can do."
"We agree that all Iraqi leaders, including Prime Minister Maliki, can do more to address unresolved issues there, to better meet the needs of the Iraqi people," Psaki said.
The Associated Press contributed to this report.