White House Approves Expansion of CIA's Drone Program in Pakistan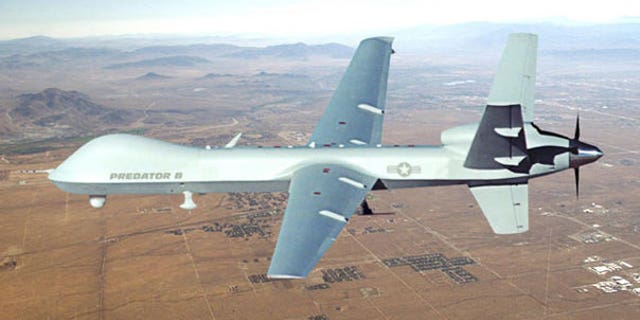 The White House has approved an expansion of the CIA's drone program in Pakistan, Fox News has confirmed.
The U.S. has used drones to kill a dozen Taliban and Al Qaeda operatives, including those linked to direct attacks on U.S. and British targets, within the last year.
Officials told Fox News on Friday that they see the program as one of the primary tools in targeting Al Qaeda -- specifically the terrorist network's leaders hiding in tribal areas of Pakistan.
The Obama administration reportedly is talking with Pakistan about expanding the program from Waziristan to Baluchistan, a controversial move since it is outside the tribal areas.
Baluchistan is where Afghan Taliban leaders are believed to be hiding.
The administration's decision corresponds with Obama's announcement Tuesday to send 30,000 additional troops to Afghanistan.
Meanwhile, lawmakers lashed out at Pakistan Thursday as an unreliable ally in the Afghan war that could spare the U.S. its bruising fight with Al Qaeda if it wanted.
"They don't seem to want a strategic relationship," New Jersey Democratic Sen. Bob Menendez said of the government in Islamabad. "They want the money. They want the equipment. But at the end of the day, they don't want a relationship that costs them too much."
A crucial ally in fighting the Al Qaeda terrorist network, Pakistan is also a major recipient of U.S. aid. President Obama and Congress recently approved a $7.5 billion aid package for economic and social programs in Pakistan in a bid to strengthen the civilian government there.
But many in Congress have grown skeptical that Islamabad is doing all it can to drive out Al Qaeda forces hiding along its mountainous Afghan border.
Obama has not said whether or how the troop buildup would accelerate attacks on the terrorist network hiding in Pakistan.
"It is not clear how an expanded military effort in Afghanistan addresses the problem of Taliban and Al Qaeda safe havens across the border in Pakistan," said Sen. Richard Lugar, the top Republican on the Senate Foreign Relations Committee.
Testifying for the second day on Obama's new war plan, the president's chief military and diplomatic advisers said Pakistan was a critical component of the strategy.
"We have a lot of work to do in trying to convince them that we're not trying to take over their country, that we're not trying to take control of their nuclear weapons, and that we are actually interested in a long-term partnership with them," said Defense Secretary Robert Gates.
The Associated Press contributed to this report.