Weight of the world crushes Dem strategy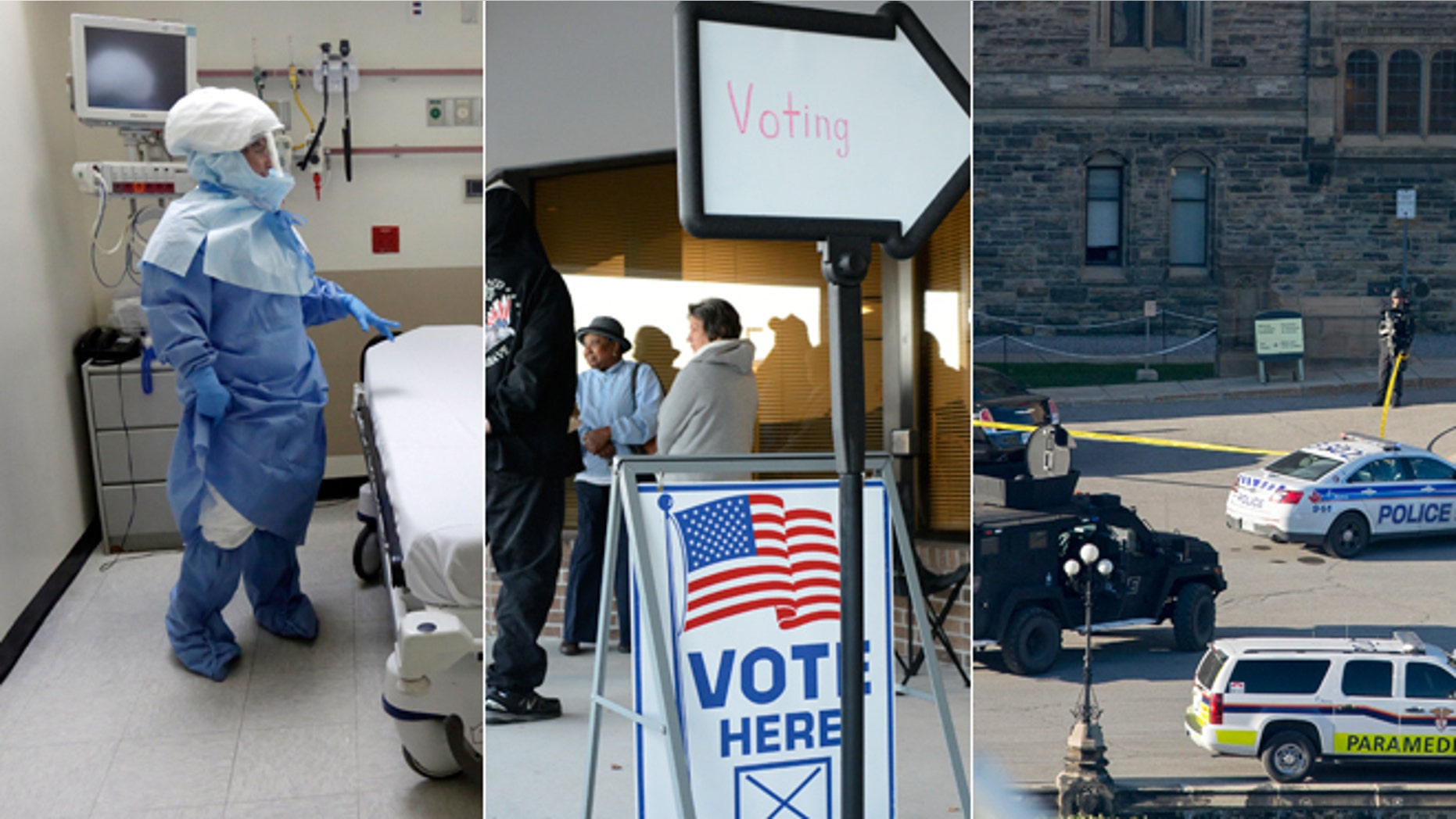 **Want FOX News First in your inbox every day? Sign up here.**
Buzz Cut:
• Weight of the world crushes Dem strategy
• Power Play: Women Defy
• Ernst readying for recount?
• Can Hillary save Martha Coakley?
• Still beats doing reality TV
WEIGHT OF THE WORLD CRUSHES DEM STRATEGY
With a difficult Senate map, a weak field of candidates and an unpopular president, 2014 was never going to be fun for Democrats. But having to make their closing argument amid an Ebola outbreak and terror attacks? That's just a disaster. It didn't have to be so, but as this week's Pew poll shows, the two parties have reverted to their traditional roles in the minds of the electorate: Republicans as the party of hard power and Democrats as the party of soft power. And the timing couldn't be worse for the blue team.

[Always Election Day: Early voting begins Saturday in Florida]

Same as it ever was - We saw signs of this in 2012 when exit polls showed Republican nominee Mitt Romney beating President Obama on key issues, including handling of the economy. But in those days, Democrats still had the edge on national security questions. No more. While Democrats are viewed more positively than Republicans in the Pew survey and other polls, Republicans win on the issues, including terrorism, foreign policy and – whoa! – immigration. Dems take the lead, as they traditionally have, on issues like women's health, education and health care. Sounds like the return of the "mommy party" and the "daddy party."

[Showbiz - Noonan: "Everyone said expectations were too high in '08, with all the charisma and Greek columns. Maybe the real story is that more than anyone else, more than his supporters, the president believed his own showbiz."]

Koch for Romney - The goal for Democrats this cycle was to localize the battle for control of the Senate by decoupling individual races from the national discussion. Knowing that voters would be in a mood to hem in the president after an unhappy start to his second term, Democrats did not work to make a case for why they should retain the Senate. Instead, they focused on why individual Republicans were not acceptable candidates, mostly by dint of the fact that industrialist brothers Charles and David Koch supported their candidacies. Obama beat Romney by making him the villain. Democrats planned to do the same thing via the Kochs: suppress potential pro-GOP turnout by focusing on cronyism and corruption in attack ads. Meanwhile, Democrats have been focused on juicing base turnout with threats of impeachment and worse. And it has worked in some races, especially Georgia and North Carolina. But it has failed in general, mainly because the rest of the world has not cooperated with the plan.

["Obama's determined detachment conveys the feeling that nobody's home. No one leading. Not even from behind. – Charles Krauthammer in his weekly syndicated column.]

Distracted from distractions - How can you really bore in on birth control pills and billionaire vs. billionaire attack ads when Russian tanks are rolling, ISIS is marauding, Ebola has hit our shores and lone-wolf terrorism is on the rise? Not only did the issue set shift to Republican advantages and Obama weaknesses, but it has also kept the national discussion, well, national. Rather than being able to shove voters' attention down to the most recent attack ad or theoretical controversy , Democrats have had to contend with news cycle after news cycle that demand attention on subjects unhelpful to the majority party.

SHAHEEN ROCKY IN GRANITE STATE DEBATE
After offering a muddled response when asked if she approved of the job President Obama is doing during a debate earlier this week, Sen. Jeanne Shaheen, D-N.H., distanced herself further from the president when asked if she would like Obama to campaign for her during a Thursday debate. "I never said I didn't want President Obama to come and campaign," Shaheen said. "The fact is, he's busy.in Washington. He's dealing with the Ebola, He is dealing with the threat from ISIS. I think he is exactly where he needs to be."  When pressed further by CNN's Wolf Blitzer Shaheen stated, "I don't think it makes sense for the president to come to New Hampshire right now."

Already an ad - WMUR: "A third-party group that has been getting a lot of local attention this year will begin running television ads highlighting an answer Jeanne Shaheen gave an a U.S. Senate debate earlier in the week. The 30-second ad, titled 'Yes or No' refers to when Shaheen was asked if she approved of the job performance of President Barack Obama 'yes or no.' Shaheen responded with "In some things I approve and in some things I don't approve,' a remark that made the audience laugh. This is part of a $1 million ad buy from the group Ending Spending."

-- 11 days until Nov. 4 --

SUNDAY MUST SEE: CHRIS AND CHRISTIE
"Fox News Sunday with Chris Wallace" welcomes head of the Republican Governor's association Gov. Chris Christie, R-N.J., to look at the pivotal races in 2014 and what his political future holds. "Fox News Sunday with Chris Wallace" airs at 2 p.m. and 6 p.m. ET on Fox News. Check local listings for air times in your area.

[#mediaBuzz: Midterm mania continues - Howard Kurtz welcomes NRO's Jonah Goldberg, Democratic Strategist Joe Trippi and Roll Call Editor Christina Bellantoni on the coverage of President Obama's role in the midterms.]

WITH YOUR SECOND CUP OF COFFEE...
Today is the anniversary of the death of baseball legend Jackie Robinson, the man who broke through Major League Baseball's color barrier in 1947. Fox News Chief White House Correspondent Ed Henry did some digging and details the little known circumstances of how Brooklyn Dodgers owner Branch Rickey turned to God as he agonized over the decision to sign Robinson. Rickey's outreach, in the office of Rev. Wendell Fifield, pastor of a Brooklyn church, is described by his wife June:  "Rickey quickly made clear that he did not want to chat. He just wanted to sit and think while the pastor continued with his work. Then the baseball man began pacing the floor, clearly struggling with something and unable to verbalize it… 'Wendell,' Rickey said, tears glistening in his eyes, 'I've decided to sign Jackie Robinson!' …'This decision was a decision so complex, so far-reaching, fraught with so many pitfalls but filled with so much good, if it was right ... I just had to work it out in this room with you,' Rickey said. 'I had to talk to God about it and be sure what He wanted me to do. I hope you don't mind.'"

Got a TIP from the RIGHT or LEFT? Email FoxNewsFirst@FOXNEWS.COM

POLL CHECK
Real Clear Politics Averages
Obama Job Approval: Approve – 41.2 percent//Disapprove – 54.1 percent
Direction of Country: Right Direction – 27.5 percent//Wrong Track – 65.8 percent
Generic Congressional Ballot:  Democrats – 42.1 percent// Republicans – 45.6 percent

ERNST READYING FOR RECOUNT?
[Iowa City, Iowa] The Gazette: "[Iowa Republican Joni Ernst's]  campaign filed open records requests this week with at least five Iowa counties, seeking materials that include training manuals, satellite voting locations, names of precinct ballot counters, recount procedures and any communications sent to her competitor, U.S. Rep. Bruce Braley [D-Iowa]… A public records request from a political candidate isn't unusual, but the volume of materials Ernst's campaign is seeking right before an election isn't typical, several auditors said. [Ernst senior adviser Derek Flowers] asks auditors to notify him if they can't provide the materials within five days — which may be a challenge for some counties… The National Republican Senatorial Committee sent a letter to the Iowa Secretary of State's Office Oct. 6 seeking election materials that included voting instructions, satellite polling locations, names of ballot counters, recount rules and any materials sent to Braley's campaign."

Chicken Man - The U.S. Chamber of Commerce is launching a new ad that is sort of a greatest hits of Rep. Bruce Braley, D-Iowa , as he has stumbled through his once frontrunning Senate campaign. The theme is the chicken dance and it is far from subtle.

POWER PLAY: WOMEN DEFY DEMS
For nearly sixty years Democrats have held an advantage among female voters, this week an AP poll revealed Republicans have closed that gender gap. Is the Democrat's "war on women" campaign finally losing its steam? Democratic digital guru Joe Trippi and Republican strategist Lauren Zelt explore what's behind this shift. Watch "Power Play with Chris Stirewalt" to see what the pros have to say.

[Dynamic or dynastic? - Read Zelt's latest column at The Hill that looks at the trend among Democrats this cycle for family dynasties. What does it say about 2016? Go on, read it.]

OBAMA: NUNN WIN MEANS DEMS KEEP SENATE
Weekly Standard: "Barack Obama called into an Atlanta radio station to urge Georgia voters to elect [Democrat] Michelle Nunn to the U.S. Senate so that the president can 'keep on doing some good work. If Michelle Nunn wins, that means that Democrats keep control of the Senate, and that means that we can keep on doing some good work,' said Obama on …an urban contemporary radio station."

[The latest CNN poll shows Nunn ahead of Republican rival David Perdue 47 percent to 44 percent.]

Nunn seems cool with Ferguson mailer - Washington Free Beacon: "Michelle Nunn (D., Ga.) dodged questions about a controversial Georgia Democratic Party flier that urges African-Americans to vote in order to 'prevent another Ferguson.' The flier features a photo of two young African-American children with their hands up holding up cardboard signs that read 'don't shoot'…"I think we need to use Ferguson as a platform to have a conversation with our communities around what kind of society we want, how to we ensure equal justice and equal treatment under the law, [Nunn said.] "As I said, I'm focused on reflecting upon what's happening in Ferguson and using that as a platform to have a conversation and moving forward in terms of talking about how do we ensure that everybody has their voice heard going forward."

Deploys dad - Former Sen. Sam Nunn, D-Ga., appears in new ad promoting his daughter Democrat Michelle Nunn saying, "I've seen time and again how Michelle works with anyone to help people and solve problems…I may be a little bit biased…but I know Michelle would make a big difference for Georgia and for our nation."

Q POLL: UDALL GAINS NO GROUND
Vulnerable incumbent Sen. Mark Udall, D-Colo., continues to trail Republican challenger Rep. Cory Gardner in the Colorado Senate race according to a new poll released today.  Gardner leads Udall, 46 percent to 41 percent in the Quinnipiac University poll.  With 11 days until Election Day, the Q survey says 92 percent of Colorado likely voters say their mind is made up, while 8 percent might change their mind.

At least she got his name right - Fox News: "[First Lady Michelle Obama] made yet another flub on the campaign trail Thursday when she apparently confused Colorado Democratic Sen. Mark Udall with his Republican rival. Obama spoke in Denver Thursday as part of a campaign event for Udall…She touted Udall's Senate record in her speech, and called him a 'fifth-generation Coloradan.' 'Mark understands what makes this state special,' she said. The only problem? Udall is not a fifth-generation Coloradan. In fact, he was born in Arizona and his father, former [Democratic] Rep. Mo Udall, served as a congressman from that state for decades. It is [his opponent, Republican candidate Cory Gardner] who is a fifth-generation Colorado resident, a fact he touts frequently on the campaign trail. His website states he has 'family roots dating back to 1886' in the state."

LANDRIEU USES NURSE TO MAKE DOMESTIC VIOLENCE CLAIM
Sen. Mary Landrieu, D-La., deploys a nurse to attack Rep. Bill Cassidy in a new ad claiming that the Republican congressman is indifferent to domestic abuse.

BEGICH SAYS HE 'TOOK ON OBAMA' AND 'FIGHTING LIKE HELL'
Sen. Mark Begich, D-Alaska, invokes his father, the late Rep. Nick Begich, D-Alaska, in a new ad, to put distance between himself and President Obama's policies that are unpopular among Alaskans. Begich appears on camera saying, "When things seem impossible I try to do what he would have done. Like when I took on Obama to open up drilling in the Arctic. I also took him on to protect our gun rights." The incumbent Democrat concludes the ad saying, "I'm fighting like hell to fix the healthcare law so that it works for Alaska."

FREEDOM PARTNERS FILETS ORMAN OVER OBAMA SUPPORT
Freedom Partners Action Fund has released two ads hitting Kansas independent Senate contender Greg Orman for being the deciding vote for more of President Obama's policies and for being "too risky" because he won't state positions on key issues. Orman, meanwhile, continues to stay out of the spotlight, responding with an ad touting his independence which seems to borrow its theme from a video for motivational speaker Joel Osteen.

NEGATIVITY EVERY MINUTE IN NORTH CAROLINA
Charlotte News & Observer: "This will come as no surprise to anyone in North Carolina with a TV set, but last week the state had more negative campaign ads than anywhere in the country, according to the Center for Public Integrity, a nonpartisan, non-profit investigative news organization…the group found there were more than 10,800 such ads last week dealing with the U.S. Senate race between [Democratic] incumbent Sen. Kay Hagan and Republican challenger Thom Tillis. That's more than one negative ad every minute, the organization found."
ObamaCare premiums spike in North Carolina - Daily Caller: "North Carolina's largest insurer is hiking its premium rates on the state's Obamacare exchange by over 13 percent. Blue Cross Blue Shield of North Carolina said in a conference call they'll be upping the price of their individual Obamacare-compliant plans by 13.5 percent on average for 315,000 people."

Hazing Hagan - WaPo: "Sean Haugh, the Libertarian candidate for Senate in North Carolina, is getting a big lift in the waning days of the election from an unlikely group praising his support for marijuana legalization and his opposition to U.S. military action abroad. The 'More Weed, Less War' online ad campaign features beaming young men and women who tout Haugh as 'sharing our progressive values,' chant 'Get Haugh, get high!' and dismiss Democratic incumbent Sen. Kay Hagan as 'out of touch'… American Future Fund … has been frequently used as a pass-through for political money on the right. In the 2012 campaign, it was a major player in a network of politically active nonprofits supported by the billionaire industrialists Charles and David Koch and other conservative donors."

ROUNDS DEFENDS VISA PROGRAM IN S.D. DEBATE
Argus [S.D.] Leader: "[South Dakota Republican Senate hopeful] Mike Rounds defended the state's EB-5 program and challenged Democratic rival Rick Weiland's positions in the first televised debate of the U.S. Senate race. Rounds, the Republican nominee, faced off against Weiland and independents Gordon Howie and Larry Pressler in a one-hour forum on South Dakota Public Broadcasting with the election less than two weeks away. On EB-5, Rounds defended the controversial federal immigrant investor program as a boon for the state, but said it should be reformed. 'This particular program in South Dakota was a tool for economic development,' Rounds said. 'This is something we have to bring back under control.' Rounds said EB-5, in which foreigners can get green cards for investing $500,000 in U.S. projects, attracted more than $600 million to South Dakota and created 5,000 jobs here."

Rounds bombs Weiland over Defense cuts - Republican Mike Rounds his hitting Democrat Rick Weiland in a new ad for receiving backing from the Council for a Livable World, an organization he says favors closing Ellsworth Air Force base, costing 4,000 jobs in S.D.

PICK SIX: MIXED MESSAGES
Neither Republican strategist Lauren Zelt nor Democratic media maestro Joe Trippi included South Dakota in their latest list of six Democratic seats that present the most direct path to majority for the GOP. They also agree Republicans' chances in Alaska are looking better. But what about New Hampshire and Colorado? Could the states that Fox News First readers put on the Pick Six bubble make it into the top tier? See what the pros think by watching "Power Play with Chris Stirewalt."

Base baiting - Which blue seats are the most vulnerable in this year's midterms? Here are the top picks among Fox News First readers: Arkansas (13.8%), Montana (13.2%), West Virginia (12.4%), South Dakota (12.1%), Louisiana (11.7%), and Alaska (8.9%).  Reader Jim Hanks notes, "The unknown is whether the mixed message of candidates saying they are not President Obama and the attempt by Obama to get out his base can energize the large minority base in places like Louisiana and Colorado."

Share your top six picks. Email them – just your top six, please – to FOXNEWSFIRST@FOXNEWS.COM or tweet @cstirewalt.

Climate Changes
NYT's Upshot says there's a 63 percent likelihood of the GOP winning the Senate, down four from Thursday.

WaPo's Election Lab forecasts that Republicans will see a net gain of eight Senate seats with a 91 percent chance they win the upper chamber, down 3 from Thursday.

Nate Silver's FiveThirtyEight Blog gives the GOP a 63.9 percent chance of winning the Senate, down just under three points from Thursday.

CAN HILLARY SAVE MARTHA COAKLEY?
The latest Boston Globe poll shows Republican gubernatorial candidate Charlie Baker moving out to a 9-point lead over the Democratic nominee, Massachusetts Attorney General Martha Coakley. The poll shows that late-deciding independent voters have broken hard for the Republican and left Coakley, who famously failed to fend of Scott Brown in a 2010 special election to replace the late Sen. Ted Kennedy. For Coakley to have fallen to 36 percent in a commonwealth where Democrats outnumber Republicans three to one is a stinging embarrassment for the party. But 2016 Democratic frontrunner Hillary Clinton is going to try to save the day with a campaign visit today (which also happens to be on the home turf of Clinton critic and possible 2016 rival, Sen. Elizabeth Warren.)

Big banks, you say? - AP: "Hillary Rodham Clinton urged Minnesota voters Thursday to 'just look at the facts' about recent economic and social progress as they decide the re-election fates of [Democrats] Gov. Mark Dayton and Sen. Al Franken and turn back scare tactics and negative ads… in a message aimed at a wider audience, Clinton said the middle-class still needs a lift and there is more work to do to regulate institutions that had a hand in the last economic meltdown. 'We've made progress, but there is a lot of unfinished business so we don't end up once again with big banks taking big risks and leaving taxpayers holding the bag,' she said."

ROMNEY HITTING THE ROAD WITH SASSE
Republican 2012 presidential nominee Mitt Romney will join Nebraska Republican Senate candidate Ben Sasse on the final leg of his 93 county RV tour Monday. "Americans face great challenges and we need thoughtful leaders to take big ideas to Washington. Ben has worked tirelessly to campaign in each of Nebraska's 93 counties and I look forward to joining him in Hastings to rally support and close out his statewide tour," Romney said in a statement.

STILL BEATS DOING REALITY TV
What do you do if you're a 63 year-old widow, down in your luck, but desperately seeking fame and fortune? If it's 1901 and your name is Annie Edson Taylor the answer is simple: go for a ride, in a barrel. Taylor, who claimed she was 40 at the time, fell on hard times after husband was killed in the Civil War. After moving around quite a bit as a teacher she got the audacious idea of being the first to ride over Niagara Falls in a barrel. On October 24, 1901, several thousand showed up to see Taylor tempt fate and the 167-foot-high drop over the Horseshoe Falls section of the ragging Niagara River. Secured inside the barrel with only some cushioning, Taylor survived the fall, escaping with only minor cuts and bruises. According to reports her first words were, "I prayed every second I was in the barrel except for a few seconds after the fall when I went unconscious." Her advice to would-be devils, "Nobody ought ever to do that again." Taylor did achieve a brief measure of fame but alas, the stunt yielded no fortune.

Chris Stirewalt is digital politics editor for Fox News.  Want FOX News First in your inbox every day? Sign up here.